This post includes affiliate links. This means that, at no additional cost to you, I will earn a commission if you click through and make a purchase. These are products and services I recommend because I use or trust them. Cookies will be used to track the affiliate links you click.
In this episode learn what the best fruit to buy this month is as we head into the holiday season.
🎧 Listen
You can listen to this podcast episode below or listen on any of these podcast players - Spotify, Apple Podcasts, Amazon Music, Google Podcasts. If you would prefer to read the text, you will find a transcript below.
📜 Read
Hey, before we get into today's episode with Thanksgiving coming up very soon, you may feel a little stressed by cooking the perfect. Turkey. If you have nightmares about your guests cutting into a still raw bird or that it's so dry that it's a choking hazard Then I recommend you remove that stress and get yourself a quality thermometer. It will literally save your thanksgiving I suggest the DOT® Simple Alarm Thermometer from ThermoWorks. You attach a probe to the unit  and then insert that into your turkey and you will know exactly when that bird is done. If you've never had a turkey cooked to temp before it will blow your mind
Now that the calendar has turned to November, that means we can only remember stone fruit. All the peaches and nectarines are done for the year. You may find some hanging on for dear life in the produce department still, but I highly suspect the quality at this point.
I have been lucky to find some good plums even this late. Sierra Honey is a late variety that I have found in Costco before that tastes pretty good. Just make sure to examine any before you buy. They shouldn't be really wrinkly.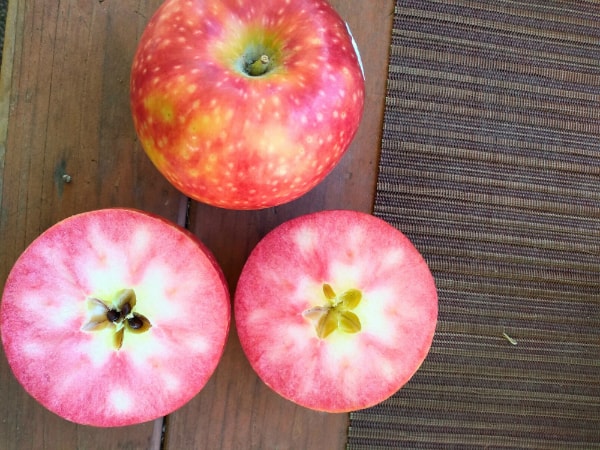 The 2023 apple harvest has ended but now more varieties are coming into stores. If you want a truly unique apple experience look for Lucy Glo and Lucy Rose apples. These apples were created by crossing another apple with Honeycrisp. What makes them unique is the inside of the apple is pink or red, not white! These apples are great for cooking so bake an apple pie for Thanksgiving with them to wow your guests. You don't even need to peel the skin.
Have you been to an apple orchard this fall? Just because they are done picking apples, doesn't mean they don't have plenty to sell. Some stay open until they run out of apples. A tip, ask them what apples they have that store well and buy lots of those to tuck away in your fridge.
I want to bring up pies again, if you like to make a pie with berries for Thanksgiving, I suggest buying frozen in this case. This usually is not a good time for any particular type of berry, so the frozen will likely be a better price and better in quality. Until we start getting into winter strawberry season, I would keep my berries purchases to the frozen department of the store.
You may have seen some fresh cranberries at the store. We are headed into the peak season where prices will come down in time for Thanksgiving. If you love having fresh cranberries for more than just cranberry sauce than you should freeze some for later use when they are no longer available in January.
It's time to start thinking about buying citrus again. November marks the beginning of the Satsuma season. These are easy to peel mandarins that are grown in California as well as in the south. They are always the first type of citrus I buy for the season. Last November I got to tour a place in Savannah that grows them.
It's too early still for any quality Navel oranges, so I would wait on buying those.
This month is the last month for the Moon Drops grapes from Grapery. These sweet, black grapes are elongated instead of round. They have a nice texture.