Learn all about the elongated black seedless grapes and why they are sometimes called Moon Drops and sometimes called Sweet Sapphire.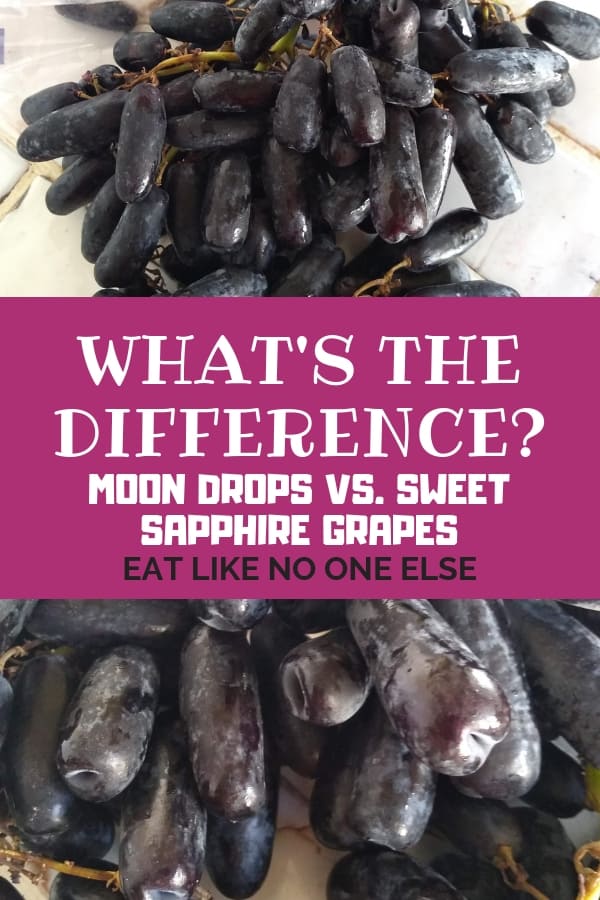 Anyone that knows me, knows that I hate when people are misinformed.
It's one of my pet peeves. I want people to know the truth. To understand their universe better.
I strive on this blog to help people understand the differences and similarities between different foods. While at the same time clearing up some misconceptions.
Today I want to talk about grapes. The grape market is hot right now. So many new and tasty varieties showing up. It's never been a "graper" time to be a grape fan. With that comes some confusion about the varieties. Case in point today, Moon Drops and Sweet Sapphire grapes. Are these grapes one in the same? Or are they different?
Let's give you a "grape education"
Jump to:
🍇 What are Sweet Sapphire Grapes?
Sweet Sapphire grapes are a black seedless grape with one unusual characteristic, They are long. Really long. They look more like a log in shape than a grape. These types of grapes have been grown in the Middle East but have not been widely produced for an American market until now.
Sweet Sapphire lives up to it's name as a sweet grape. The flavor while really good is not unusual like Cotton Candy or Gum Drop grapes. The grapes are super crisp. You really bite into them. Besides their shape being fun that crispiness is what I really love about them and encourage everyone to take a bite of.
RELATED - How Did They Make Grapes Taste Like Cotton Candy
🌐 Where Did Sweet Sapphire Come From?
They are the ones responsible for many of the new grape varieties we are seeing. IFG came out with Sweet Sapphire grapes.
Before you start thinking this grapes must be GMOs, don't worry, they are not. Here is how IFG describes their breeding methods:
It is important to note that IFG is not involved in genetic engineering. Instead, we are taking traditional breeding techniques to new levels of sophistication and success. In addition to performing embryo rescue in the lab, IFG has more than 80 acres of test fields and vineyards for traditional plant breeding of seeded grapes and stone fruits. Each year, more than a million blossoms are carefully hand emasculated then pollinated with various genetically desirable traits.
Yes they do work in a lab. They are not messing around with DNA or RNA or any of that. They are taking the old fashion method of planting breeding that we have been doing for centuries and infusing it with modern technology.
🌱 Where Do They Grow?
So where do these grapes grow? IFG has licensed the grapes to be grown by different growers around the world. I have seen them coming from South American countries like Chile.
Earlier this summer you can get them coming in from Mexico. In August, they are coming from California.
The Sweet Sapphire grapes you see in the photos on this post are grown by Anthony Vineyards. They grown both conventional and organic grapes. Their Sweet Sapphire grapes are not organic.
🌙 What are Moon Drops Grapes?
You may also hear of or come across a grape called a Moon Drops grape. It looks alot like the Sweet Sapphire. That is because it is actually the same variety.
Moon Drops are grown by Grapery - the ones known for making Cotton Candy grapes a topic of conversation. They have chosen to give them their own trademarked name. Originally they were part of their Witch Fingers grape line but they decided that Moon Drops after customer feedback.
❔ What is the Difference?
The difference between Sweet Sapphire and Moon Drops grapes comes down to who grows them. As far as I know everyone else but Grapery calls them Sweet Sapphire.
Is one better than the other? In my opinion, the Moon Drops are the best tasting Sweet Sapphire grapes you will find. Grapery goes the extra mile every time when it comes to producing their grapes.
Grapery lets them ripen perfectly on the vine before picking. They only pick them at optimal flavor. I found Sweet Sapphire grapes on store shelves before Grapery had released their Moon Drops - which normally come out around August 20th and last until mid November.
I am not saying the regular Sweet Sapphire grapes are bad. I have enjoyed them as well and like that I can get them during times of the year that Moon Drops aren't available.
If you have chance to try both side by side, go right ahead. I would love to hear if you have a preference. Leave a comment below.
RELATED - What are Tear Drop Grapes?
🙋‍♂️ Grape FAQ
Here are some questions about grapes that I have been asked most frequently.
What if you go to the grocery store and buy grapes that are too sour, is there anything you can do about it? - Usually no, it's re about learning about what to look for so that you don't have to happen to you. I have never had Sweet Sapphire or Moon Drop grapes that I thought were too sour.
When can I find organic grapes? - Typically organic grown grapes are not available until the spring time. They can be difficult if not impossible to find in the winter as we aren't importing much of them then. When Mexico grape season is going strong in spring and early summer and then California season after that, then its easier to find organic grapes. Divine Flavor is probably your best source for finding organic grown Sweet Sapphire grapes. Make sure you read our post all about When Organic Grapes are in Season?
I want to start growing my own grapes. How can I get started? - If you are interested in growing your very own grapes. my favorite resource for learning how is The Organic Backyard Vineyard: A Step-by-Step Guide to Growing Your Own Grapes It is a great resource on getting you started. I also have a list of grape varieties that you are great for the backyard vineyard.