Learn all about these beautiful purple pea pods that not only are delicious, but retain their beautiful color even when cooked.
A lot of vegetables I never tried until I was an adult. Thus I can remember the exact moment I tried a new vegetable.
I can remember my wife bringing home some snow peas from the store. We never had bought them before and she thought it would be fun to try something new. I can't believe there was a point in my life where snow peas were considered something new.
Now I can't imagine a June going by without enjoying them fresh from my garden.
While snow lays on what will be a vibrant gardens a few months from now, I am getting to enjoy some unique snow peas that I received from Frieda's Produce last week. These aren't your ordinary snow peas, these ones are a pretty purple color.
These particular snow peas were grown in Guatemala where most of the snow peas and sugar snaps found on grocery stores shelves are from. One website I read said that there are 25,000 farmers in Guatemala that grow snow peas!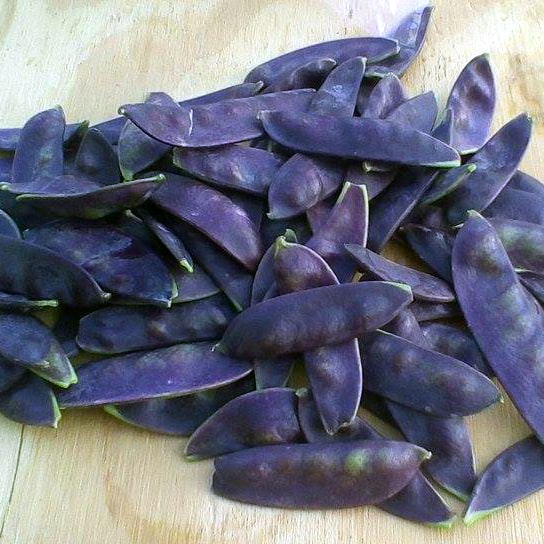 Do Purple Snow Peas Taste Different?
Taste wise, they are very similar. I ate them side by side with some green ones, and I liked the purple ones slightly better, although the purple ones were probably fresher. What I like best was the visual presentation. Unlike the purple bean the loses it's color almost the moment it hits the heat, ending in huge disappointment, the purple snow peas actually darkens.
Purple snow peas gave a great color contrast in my stir fry with the brown noodles, green boy choy, and orange carrots. We eat with our eyes. Nothing looks more delicious than a plate full of colors.
How to Use
To locate these purple snow peas, contact whoever sells Frieda's products in your area (here is a handy locator from Frieda's). Use them anywhere you would use green ones to provide an unexpected splash of color. They are wonderful in stir-frys as I mentioned above.
Sautéed
You can also sautéed them in a pan with a little honey to enjoy on their own (see recipe below). You also can try roasting them like I did with sugar snap peas in a past post (Roasted Sugar Snap Peas). You could only need to roast them for a few minutes as they cook faster than sugar snap peas do.
Raw
Purple snow peas are great, chopped up and enjoyed raw in a salad. The purple color looks great with some greens. Or you can use them raw in your favorite dip.
Other Snow Pea Color
Snow peas also come in yellow. One of my favorite peas to grown in my garden is the Golden Sweet Snow pea. The plants even produce a purple flower. The only place I have seen selling thse snow peas was at the farmer's market.
What About Snap Peas?
Are there purple snap peas out there as well? For those that don't know snap peas have round pods while snow peas are flat. While I have not seen anyone selling purple snow peas, I have seen them in seed catalogs and I have grown some myself.
More Purple Veggies
Make sure to check out these purple veggies as well -
✋ What is your favorite purple vegetable? Leave a comment, telling us below.
Sauteed Purple Snow Peas
Simple side dish of purple snow peas sauteed with a touch of honey.
Print
Pin
Rate
Ingredients
6

oz

package of Frieda's Purple Snow Peas

2

teaspoons

of cooking oil

vegetable, sunflower, grape seed

1

clove

garlic

minced

orange blossom or wildflower honey to taste

kosher salt to taste

pinch

of sesame seeds

optional
Instructions
Set a saute pan over high heat.

Add the oil.

Add the peas, garlic, and pinch of salt.

Cook until the peas begin to caramelize and darken, about 2 to 3 minutes for al dente.

Remove from heat. Add honey and a pinch of sesame seeds. Serve.
Notes
Trying making these with a combination of green and purple snow peas for a really pretty easy side dish.
Tried this recipe?
Mention @eatlikenooneelse or tag #eatlikenooneelse