Get our recipe for making your own mini apples pies in Ramekins! Not only are they really cute, but they are so tasty. And you get a chance to experiment with different apples like we did. This recipe can be made with a homemade or store-bought pie crusts.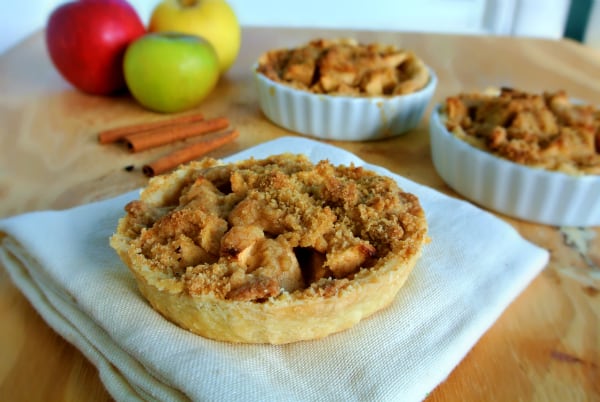 Have you ever had this problem - you wanted to make an apple pie (or your daughter was asking really nice for you to make one).
You also wanted to test out different apples in the pie but didn't want to mix them up. While pretty much everyone doesn't have this problem unless you are a food blogger like me.
I wanted to do my own personal testing of how some apples held up in baking. I didn't want to bake several huge pies to test these apples out. So instead I thought individual pies made in Ramekins that you can eat the pie directly from.
Jump to:
🍎 What Apples to Use
The apples I used this time around in my test were Gala, Blondee, Cox's Orange Pippin and Ribston Pippin. The last two I got in a shipment from Frieda's Produce. Both of these are heirloom varieties.
Other varieties you can use include:
All of the apples I used this time around held their shape well. The Cox's Orange Pippin baked up the softest but not too soft, my wife liked that texture.
Galas are just too sweet in my opinion for baking. Yes they held their shape but the pies baked with those lacked acidic to round out the flavor. If I had to use them again I would add a little lemon juice.
Blondee is a relatively new yellow apple are related to Galas but have a better flavor with a floral quality. These had a little more acid which made them a better choice.
The Ribston Pippen was the most acidic one I baked with on this occasion. It worked just fine. Not as well as my favorite baking apple - Rhode Island Greening which actually taste better when baked.
When in doubt use tart apples. Granny Smith apples are my default if I don't have anything else.
🥧 What Crust to Use?
You can pick whatever pie crust recipe you like for your bottom crust. I personally am a fan of Alton Brown's Pie Crust. It uses both butter and lard for a nice one-two punch of flavor, tenderness, and flakiness. I found that baking these mini pies made for a more delicious flaky crust!
Store-bought pie crusts will work as well.
❓ Which Ramekins?
There are several different style and size of Ramkins.
The best option I think is wide Crème Brulee Ramekins. Why? I think you get in every bite some of the topping, apple filling, and crust. They aren't too deep. These type are usually 6-ounce Ramekins.
You can totally use any Ramekin you have. You will get more pies if you use the standard 4oz size.
My recipe below makes 3 pies using the Crème Brulee Ramekins.
If you don't have any Ramekins what you could use mini disposable mini pie or tart pans. Or may you can save and clean out a pan from the last time you had a frozen pot pie.
📋 Ingredients
Here is the ingredient list for the pies including what to use for the apple filling.
For the topping I love a crumble topping. Each to throw together and oh so yummy!
📋 Instructions
For a homemade pie crust recipe check out our Peach Pie recipe. The dough for the whole pie can be cut into pieces for your Ramekins.
Start by rolling out your pie dough.
The best way to see how many pies you can get with your size Ramekin is to roll out the dough first on a lightly floured surface. Then lay each Ramekin on top of the dough. See how many you can fit. It's like making biscuits or cutting out sugar cookies.
Cut around the Ramekins, leaving about 1 inch in between. Then remove the Ramekins and add the crust to each one. You can re-roll the dough with the leftovers to try and make another pie if you can, it just won't be as tender or as good looking.
You don't need to egg wash your crust before you bake it.
You want to blind back your pies. That is put them into a 425 degree oven for anywhere from 5 to 7 minutes or until the crust is slightly brown. Remove from oven and reduce the temperature to to 375.
💡 Tip - When baking put your Ramekins on a sheet pan or cookie sheet. This will make them easier to remove from the oven.
To prepare the apples - cut them into slices that will fit your shape of Ramekin. You need 1 apple per Ramekin. Mix your apples with your seasonings and brown sugar in a medium sized bowl.
To make the topping - in a small bowl mixed together the flour and brown sugar. Cut the cold butter into pieces. It needs to be cold. Putting the butter in the freezer first is always a good idea. Rub the butter with the tips of your fingers into the flour/sugar mixture. It should look like this when ready -
To assemble the pie - Add the apples to the blind baked crust. Evenly distribute the crumble topping onto all pies.
Bake 25 to 30 minutes or until they are browned and the apples are cooked. The size of your Ramekin will determine baking time, so first time around I would start checking around 15 to 20 minutes in.
Always allow to cool for at least 10 minutes on a wire rack before eating. Or wait until they reach room temperature.
I like to finish the pie off with some a scoop of vanilla ice cream and some freshly grated nutmeg on top.
🍏 Alternatives
If you want to go with the very cool looking lattice top pie, all you need to do is have twice as much pie dough on hand. Roll half of all your dough out and cut into strips - I recommend a pizza cutter for this.
Once you finish blind baking your pie and adding the apples. carefully arrange the strips on top.
Another option would be to use puff pastry. You can blind bake it like the crust and then add your apples and the crumble topping. Or you can do the puff pastry on top as well.
Also there is no rule that you must have crust on the bottom, you could have it all on top. These are your pies.
Individual Apple Pies in Ramekins
See how to make your own mini pies using Ramekins.
Print
Pin
Rate
Instructions
Follow your pie dough recipe

Preheat oven to 425 degrees.

Roll out your pie dough. Place your Ramekins on top of the dough. Trace around each one leaving about 1 inch of space between your trace and the ramekin.

Flip the Ramekins and dough over at the same time. Form the dough to fit the ramekin. Dock the dough with a fork.

Re-roll the dough once to fit an additional ramekin.

Bake the empty pies in the oven for 5-7 mintues until slighty brown. Remove from oven and reduce heat to 375.
Preparing the apples
Core 3 apples. Place them in a bowl and add the brown sugar, cinnamon, ginger, cloves, and nutmeg. Mix to combine.

Evenly distribute the apples into the Ramekins.
To make the topping
Combine the flour and brown sugar. Add the butter. Rub with your finger tips to work in the butter. It should look like coarse cornmeal when your done. Evenly distribute the topping over the apples.

Bake in the oven for 25 to 30 minutes or until they are browned and the apples are cooked. Allow to cool for 10 minutes before eating. You can remove the pies from the Ramekins if you want to serve, they should pop right out.
Notes
If you want you can peel the apples, but I hate peeling apples for pie and I found that the peels didn't bother me at all, so I stop peeling them.
Tried this recipe?
Mention @eatlikenooneelse or tag #eatlikenooneelse