This post includes affiliate links. This means that at no additional cost to you, I will earn a commission if you click through and make a purchase. These are products and services I recommend because I use or trust them. Cookies will be used to track the affiliate links you click.
In episode 026, we are talking about the best fall spices to get from Burlap & Barrel Single Origin Spices. These spices will elevate anything you bake this season.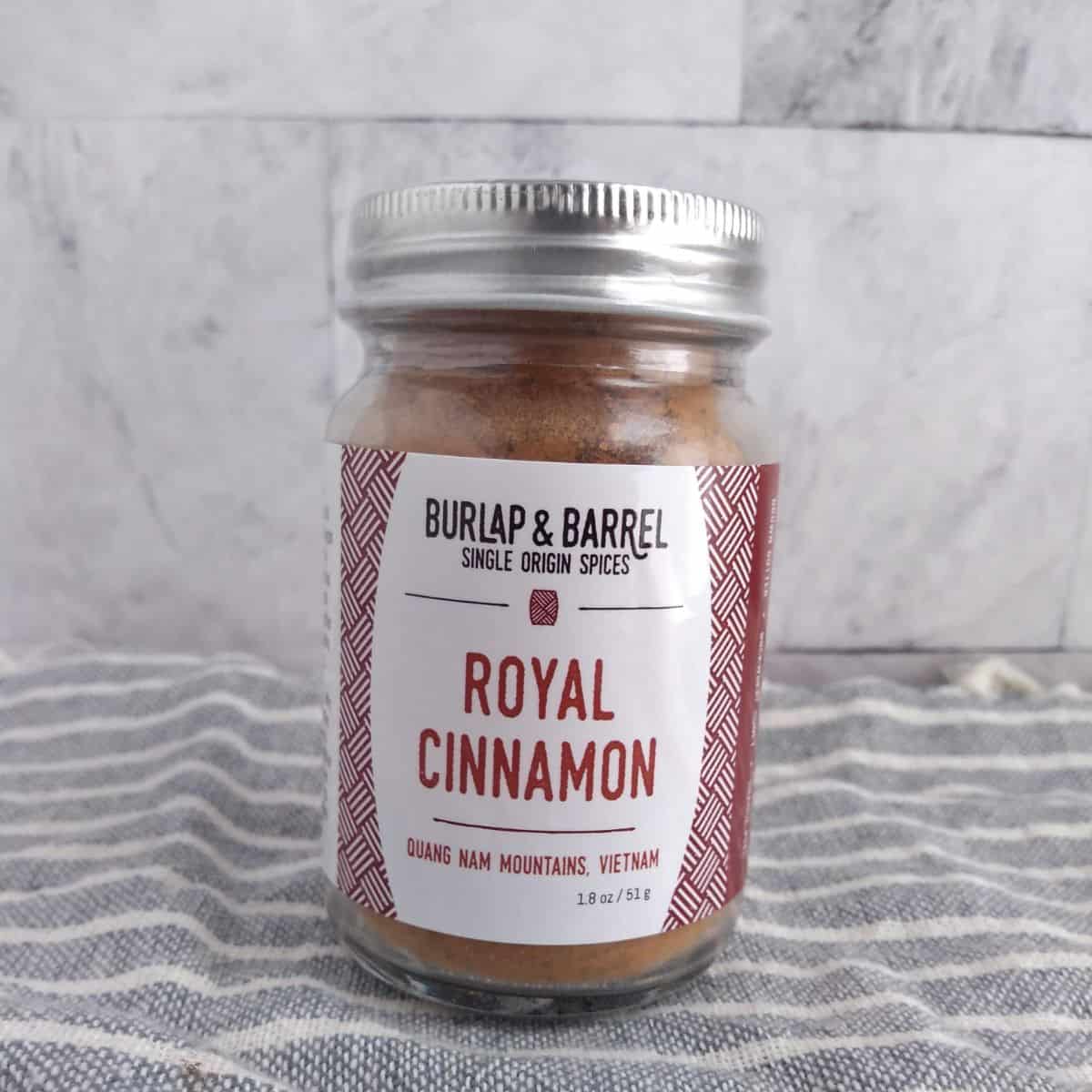 📜 Transcript
Hey everyone,
Today I am doing something a little different on the podcast and sharing with you some of my favorite products from my favorite spice company. Everything I mention here are spices that I have tried and loved myself and I know you will too. If you choose to buy any of these spices and use my links I will receive a commission for those sales. It's a great way to support this podcast and to fill your kitchen with the most flavorful spices you can buy.
Let's get to it.
Fall is my favorite time of year for baking. There are so many delicious fall treats. Whether I am using pumpkin or not, there are 3 types of spices that I use a TON - cinnamon, nutmeg, and ginger.
This is the time of year to bring out the big guns. I want the very best spices I can get. In my opinion those are from Burlap & Barrel Single Origin Spices. They work directly with the farmers to bring you not only the most flavorful spices, but also the freshest. Did you know that spices you get in the grocery store can be many years old? No wonder they often disappoint.
Let me tell you more about the specific spices Burlap & Barrel has to offer. I will be reading the descriptions directly from their website. Click on the spice to order your jar!
Royal Cinnamon (1.8 oz glass jar): The same species as Saigon cinnamon, Royal Cinnamon is an heirloom variety not widely harvested or exported, and it exemplifies the intense sweetness and spiciness for which Vietnamese cinnamon is prized. It's our best-seller.
This is the best cinnamon I have had before. Amazing flavor.
Stone Nutmeg (0.8 oz. glass jar): Citrusy, herbal and deeply warming, our stone nutmeg is hand-picked at peak ripeness from a single orchard in Zanzibar. Our nutmeg comes whole and can be grated or ground into pasta sauce, cream sauces and desserts.
If you have never had freshly grated nutmeg, you are missing out. It's like having freshly cracked black pepper for the first time after years of only having the pre-ground stuff.
Buffalo Ginger (1.8 oz glass jar): Our Buffalo Ginger is an heirloom ginger variety from a group of farmers in the mountains of northern Vietnam. Known for its fruity and floral aroma and powerful heat, this is a complex, flavorful ginger powder that will elevate baked goods, stews, curries, and beverages from hot drinks to cocktails.
This ginger has some really complex flavor. I made a peach jam with is and my wife thought I had added basil to the jam.
The last spice I want to mention I don't use as much, but it's always included in my Thanksgiving pumpkin pie. That is cloves. Here are the cloves offered by Burlap & Barrel.
Pemba Cloves (1.4 oz glass jar): Our cloves are hand-picked at the last possible moment before flowering, ensuring the largest size and most mature flavor, and then dried in the tropical sun. They have a bright, sweet intensity with a rich warmth and a numbing menthol buzz. Add whole to braised meat or mulled wine, or grind into desserts.
🎧 If you like this episode, you'll want to listen to our episode on Yeasted Pumpkin Waffles.
🛒 Before You Checkout
What you need to know before you checkout at the grocery store or market:
Burlap & Barrel offers a baking collection that comes with either 6 or 13 spices. This is something that if you have a family member who loves baking is absolutely going to go wild if you gift them this collection.
Orders over $45 will ship for free.
📚 Additional Resources
Here is the link to the recipe for the mini pumpkin donuts I promised - Homemade Mini Pumpkin Cake Donuts
Here are some more recipes to use their spices in