How to know when all those Thanksgiving leftovers are no longer worth eating and need to be tossed out?
This post includes affiliate links. This means that at no additional cost to you, I will earn a commission if you click through and make a purchase. These are products and services I recommend because I use or trust them. Cookies will be used to track the affiliate links you click.
On the day after Thanksgiving is such a relief to have leftovers in your fridge. You don't have to cook the next day. I am sure you probably don't want to cook that day after all the work you put in.
But are those leftovers as exciting the Saturday after Thanksgiving and the Sunday after Thanksgiving? How many days after Thanksgiving can you really hope to use the leftovers?
We will assist you with figuring out when to keep your leftovers and when it's time to toss them, with plenty of tips sprinkled in along the way!
Jump to:
ℹ️ Important Info
If ever leave out any leftovers overnight, then they need to go in the trash. No questions ask. It's game over for them. Four hours is the max that any cooked food should be left out before bacteria can become a problem. I am talking about bacteria that is going to send you to the toilet, not the bacteria that makes yogurt so good.
I have heard stories of people leaving stuff out and being fine, but I don't think it's worth the risk. I have had food poison before, I don't want to have it again.
🦃 Turkey
Let's start with the most popular food - the turkey. Can you eat it after 5 days? I wouldn't recommend that. I would really try to eat it up in 3 to 4 days.
You could enjoy it for sandwiches until the Sunday or Monday after Thanksgiving and then you really need to freeze any leftovers you got.
If any point your turkey smells off or is slimy then you need to toss it.
RELATED - How to Freeze Leftover Turkey
How to Store Cooked Turkey
You want to get the turkey you didn't finish into your fridge as soon as you possibly can.
I like using glass containers instead of plastic. They do better in the microwave and are easier to clean. I love these ones from Ello with the silicone sleeves.
💡 Tip - Buy containers that all have the same size lid, so you don't have a drawer full of all sorts of different lids.
You can avoid the lid altogether by going with a Stasher silicone bag. No lid needed. They aren't cheap but they are durable and the cheaper brands I find aren't nearly as good. You can use them over and over again. I haven't had the two I have wear out yet.
Either of these options are great Christmas gifts 🙂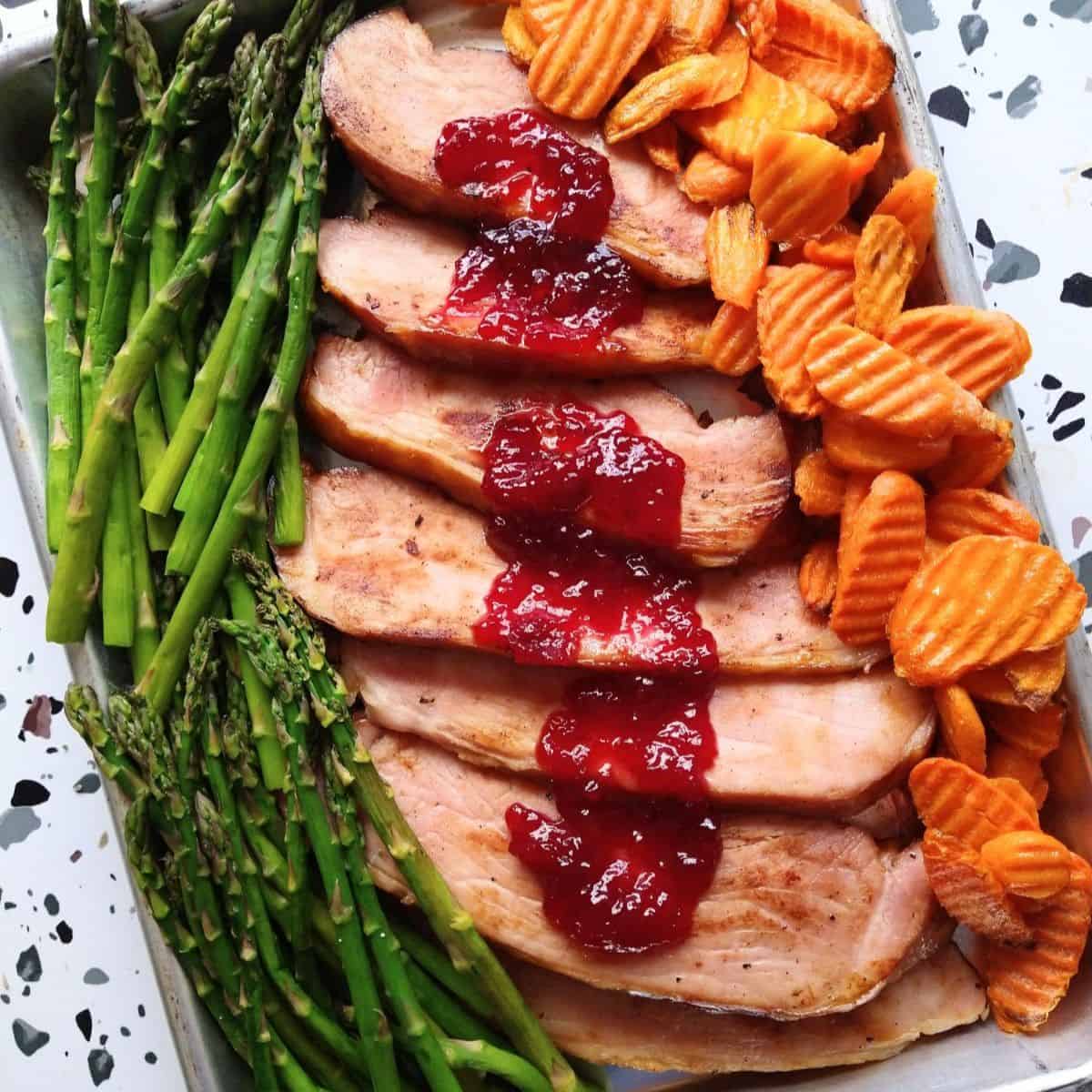 🐖 Ham
Ham is a bit of a different story. Since ham is cured and is quite salty, that will definitely extend it's life. For ham I would eat it up within a week. If you do turkey and ham for your meal, then I would eat the turkey leftovers up first.
What to watch out for the most is ham turning slimy or smelling bad.
🥔 Mashed Potatoes
I could give you an extra day with the mashed potatoes over the turkey. Try to finish them up in 5 days.
Signs they have gone bad include off smell, discoloration, and mold.
🍠 Sweet Potatoes
Same with sweet potatoes. The time they last can depend on whether you have dairy in them or not. If they are dairy free they probably won't go as bad as fast. But still stick to that eat within 5 days.
Another thing to consider if you have leftover whole cooked sweet potatoes in the skin still, they can last a bit longer.
🥘 Mac & Cheese or Casseroles
I think these types of items are often the last ones people put away on Thanksgiving. They take longer to cool down than the turkey does, so I think people wait longer to refrigerate leftovers. Don't make that mistake get them in the fridge as soon as it isn't pipping hot anymore. Eat them within 3 to 4 days.
Again smell is always a good indictor if these dishes have gone bad.
🔴 Cranberry Sauce
Out of all the Thanksgiving foods, cranberry sauce is what is going to last the longest. The acid and the sugar in the sauce will preserve it longer than anything else. For quality, I would try to use it up in a week's time.
What could affect how long it lasts is if any other food got into it. Maybe some turkey was dropped into your cranberry sauce and that doesn't last as long. It comes down to how careful your family or guests were about mixing up the food at the table.
🥧 Pie
This one is probably the less likely food you need to worry about. Often the pie doesn't survive past Thanksgiving Day. But if you do find yourself with leftovers, place them in the fridge to get the longest out of them. Custard based pies like a pumpkin pie really should be in the fridge. Fruit pies like apple pie can be left out, but still will last longer if you refrigerate.
Finish pies in that same 3-4 day window. It's possible a store bought pie could last longer than a homemade pie if it's full of preservatives. But you wouldn't buy a store pie for Thanksgiving would you? 🙂
🥕 Leftover Ingredients
What about leftover ingredients? Maybe you didn't use up all the celery you bought for stuffing. Or the potatoes you got for mashed potatoes? Or you have fresh herbs that you kept.
In the table below you will see on average how long these ingredients last after you buy them from the grocery store. With any fresh ingredient there can be a wide variation, so take this as just a guide and always use your best judgment.
| | | |
| --- | --- | --- |
| Potatoes | 1-2 weeks | |
| Celery | 1-2 weeks | |
| Carrots | 3 weeks | |
| Onions | 1 month | |
| Garlic | 1 month | |
| Brussels Sprouts | 1-2 weeks | |
| Sweet Potatoes | 3 weeks | |
| Fresh herbs | 1-3 weeks (depends on the herb) | |
| Green beans | 5 days | |
| Mushrooms | 7 days | |
| Rutabaga | 3 weeks | |
Leftover Chicken Stock
An ingredient that is often leftover is chicken stock. How long does that in the fridge? Kitchen Basics recommends that you use up their stock within 7 days or you can freeze it for 60 days.
I highly recommend thinking about if you are going to use that stock and freeze it as soon as you can. Maybe you won't need it until Christmas again. I think this is often an ingredient that gets wasted as it's forgotten.
🍽️ Recipes
Here are some recipes that you can use your leftovers in.