Wondering if there are other green apples besides Granny Smith? Spoiler, there is! And we are sharing some of the varieties we have tried and others we are looking to try out.
I am lead to believe that when most people are asked to picture a green apple - the Granny Smith appears in the bubble of their mind.
This is the green apple that you find in stores from January to December, rain or shine. It is pretty much the only green apple you find in most grocery stores.
Does that mean that it is the only green apple out there? You might see a few apples that may look greenish, a not as golden, Golden Delicious or even a Ginger Gold picked more green.
America's supermarkets are basically void of green apples not named Granny. Does America have room for more than one green apple in their produce aisle? As it turns out the Granny Smith is not the only apple with a green skin.
I have a few of it's similar colored cousins. What might be the biggest surprise of all to you is that at least one of them was super sweet. I am talking Gala-sweet here!
Jump to:
🍏 Green Apple Varieties
Here is the list of green skinned apples beside Granny Smith that I have tried myself. All the apples on the list are all green or nearly all green. I am not counting an apple like a McIntosh that is red and green.
Northwest Greening
Calville Blanc d'Hiver
Lady
There are some varieties I have yet to try:
Pound Sweet
Newton Pippin
Shizuka
Some might consider an apple like Ashmead's Kernel to be a green apple. Technically it is, but the skin is russeted so much of the green is covered with brown. So I am not counting it for this list.
I am also not considering yellow apples that are picked more green. Apples like Golden Delicious, Ginger Gold, or Grimes Golden could be picked on the greener side.
Learn about the different types of yellow apples besides Golden Delicious.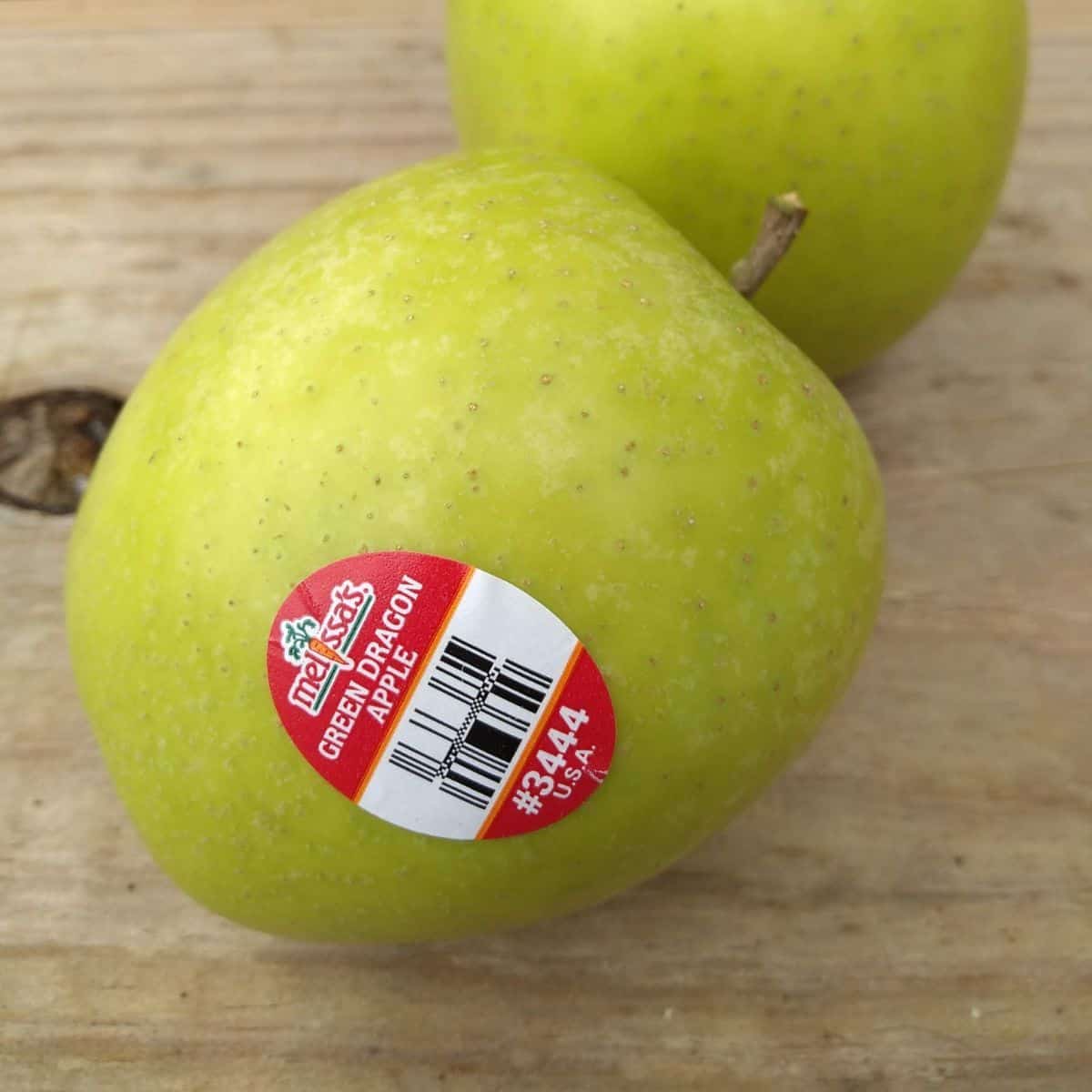 🍬 Sweet Green Apples
Let's first take a closer look at the green apples with more of a sweet flavor.
If there was ever an apple that proved to me that not all green apples are tart, it was the Green Dragon apple. This is an extremely sweet apple with the really sweet name has hardly any tartness to it all. It has a tropical like pear flavor if that makes any sense! Very juicy and refreshing. It's one worth seeking out, if not to just trick your friends.
I have only had these apples a couple of times. In my experience this apple was sweet-tart. If you get them soon after harvest they are crisp, otherwise they get soft in my experience. The apple has a McIntosh-like flavor. It is in fact a cross between a McIntosh and a Golden Delicious.
The interesting thing about this apple is that is was developed as an alternative to Granny Smith in climates where it's hard to grow Granny Smith. Grannies are a late season apple - they need a long growing season, which isn't possible in more northern apple growing states.
These apples are HUGE. Seriously. Some are so big, I can't wrap my mouth around them, I had to cut them first.
This is one of my wife's favorite apples, with it's sweet flavor rounded out with some tartness, enough to make it interesting. With this variety, the greener the more crisp it's going to be. They do eventually turn yellow and then they are only good for applesauce in my opinion.
This is one I first discovered in Wisconsin, and saw more frequently in Pennsylvania. It's a juicy apple with a sweet flavor. Some apples have red blush on them but I have seen entire display with apples that were 100% green.
🏆 What is the Sweetest?
If we are going to reward one of these sweet green apples as the sweetest of them all, I must go with Green Dragon. It's one of the sweetest apples period, no mater what color skin we are talking about.
😝 Tart Green Apples
Now this apple that dates back to the 1600s, is very much what you would think in a green apple. It's quite tart. I don't like eating these out of hand, however I absolutely love them for cooking or baking with. When cooked their flavor really shines, I would reach for these over a Granny any day. They can be hard to find.
Northwest Greening
Another apple with the greening name. This one is not quite as tart as the Rhode Island Greening, so out of hand eating is an option. Reviews I have read of this apple say that it is a good cooking apple.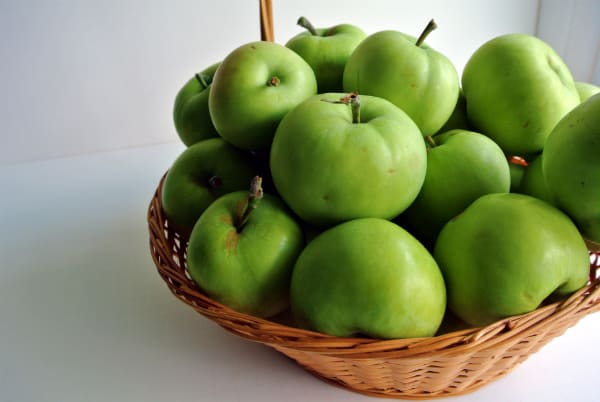 A very early ripening apple that comes off the tree in July! This apple is super tart. I can't bite into one at all. They also don't keep very long. However, they make for the best textured applesauce you can make. You will just need to add some sweetness to it.
Learn more about what apples make for the best applesauce.
A very similar apple to Transparent that ripens around the same time. Same thing applies to this apple. Lodi is an offspring of Transparent, that produces slightly larger fruit and does keep a little bit better.
Calville Blanc d'Hiver
This is a super old variety. It actually pre-dates the forming of the United States by almost 200 years! It was developed in the 1600s in Normandy, France. It is among the best cooking and baking apples. A bit tart for out of hand eating. I am finding that many orchards that specialize in growing heirloom varieties have this one.
🥧 Best for Pie or Cobbler
Out of the green apples we talked about today, here are the ones I think would be best for pies or cobblers.
Calville Blanc d'Hiver
Rhode Island Greening
Northwest Greening
If you want to try a different type of apple cobbler, give my Quinoa Apple Cobbler a try.