Are Hunnyz apples as they claim - The Apple. Or is it another new forgettable crispy apple variety?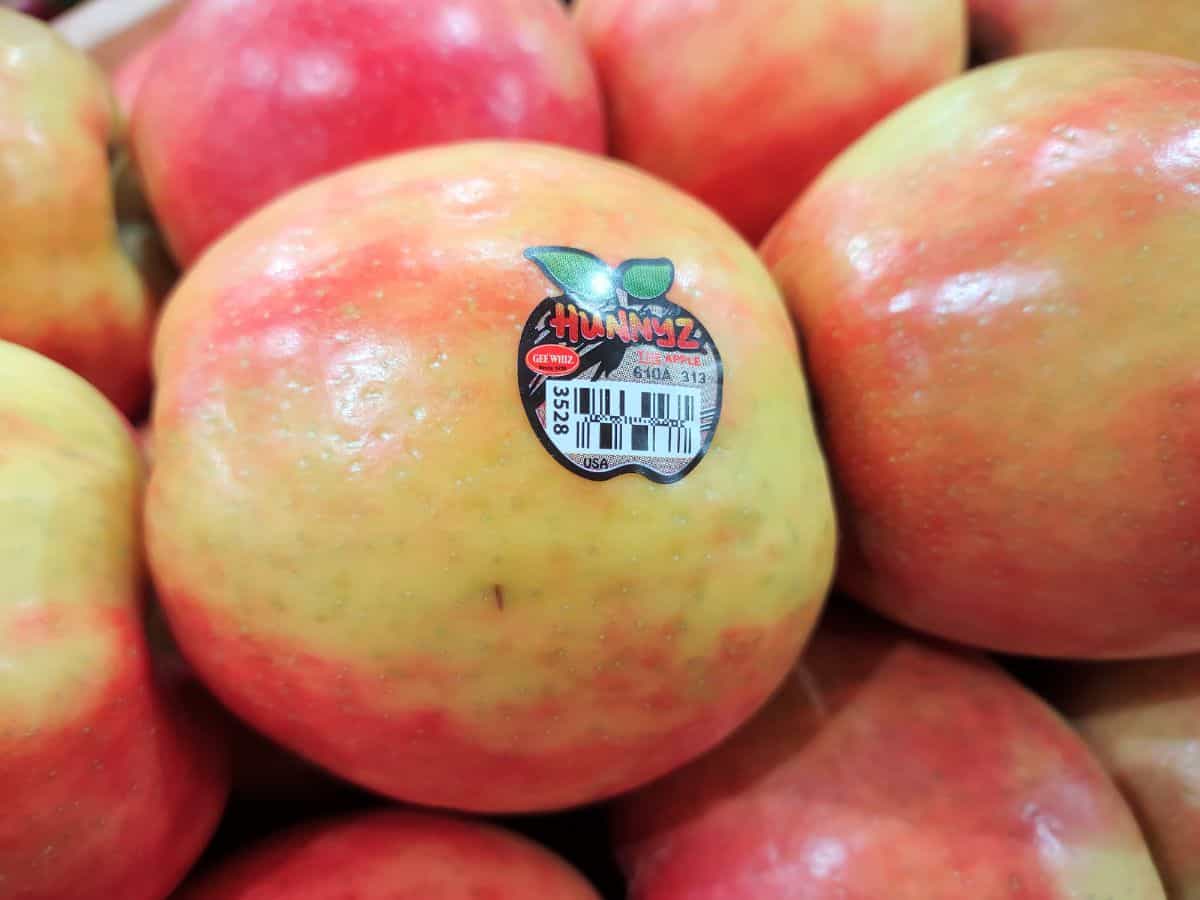 The spell checker isn't going to like me in writing this post. Today we are talking about a newer variety of apple coming from Washington called the Hunnyz. And now I see the red line under the name of this apple indicating that it's a spelling error. Good thing I don't have auto-correct on for writing these blog posts!
Spelling aside, let me share with you all you need to know about this variety. Is it worth buying? Or is it just another new apple that you will forget about tomorrow.
Jump to:
📜 History
Yet another apple that was created by crossing the popular Honeycrisp with another apple. This time it's the Honeycrisp and Crimson Crisp. It is grown and marketed by Auvil Fruit Company under this Gee Whiz brand.
As with developing any new apple variety many years of experimenting with many different crosses. Nearly all of them don't work out for numerous reasons. It's always exciting for a grower when one does work out and they can start growing it for the public.
RELATED - One of my favorite Honeycrisp crossed apples is the Wild Twist. It's Honeycrisp plus Pink Lady.
👓 Appearance
I believe out of all the Honeycrisp crossed apples that I have seen this one looks the most like a Honeycrisp. In fact I bet a lot of people would mistake this one for Honeycrisp. Not only is the red and yellow coloration similar but the size and shape are as well. But rest assure this is not just a Honeycrisp marketed under a different name. It is it's own unique variety.
⭐ Ratings
Here is what I thought when I had this apple for the first time.
| | |
| --- | --- |
| Tart | 3 |
| Sweet | 8 |
| Juiciness | 8 |
| Flavor | 6 |
| Crispiness | 8 |
This is a reliable apple for the sweet apple lover. It's sweet, juicy, and crisp. Yet not super interesting in flavor. It's not something I haven't had before in other apples. The Sugar Bee apple is similar in sweetness and crispiness but I find that flavor to be a litle more interesting.
I wouldn't call Hunnyz "the apple". But it has a lot of things that most people are looking for in an apple, so I think you should try it for yourself.
It's fine. A little too sweet for my taste. Crispy though.

My tart apple loving daughter
In 2023, I noticed they changed the logo and sticker on the fruit. Here is what the old logo looked liked.
Not sure why the change was made. Other reviewers felt the apple didn't really have a honey-like taste, so maybe the are downplaying that without changing the name? I do have to say that the variety name stands out a lot better on the new sticker than the old one.
Shopping Tips - This apple holds up well in storage, better than Honeycrisp I believe. Any time of year I have bought them at the store they have been crisp. For more on getting how to know when an apple is perfect to eat, check out this post
🛒 Where to Buy
Here are all the locations that I know of where you can look for the apple. Check individual stores for availability. I typically see this apple in greater supply in January. The latest I have seen them in stores was in late June.
Central Market
Horrocks
Melissa's Produce
Safeway
Sprouts
The Fresh Market
Whole Foods Market
🍎 Try These Apples
Here are some other apples I think you may like
Have you tried this apple? What did you think? Leave a comment below telling us. Be a helper and share where you found it. You may make someone's day with your insider info on where to get them! If you are a true apple lover, you'll want to check out all of our apple reviews.