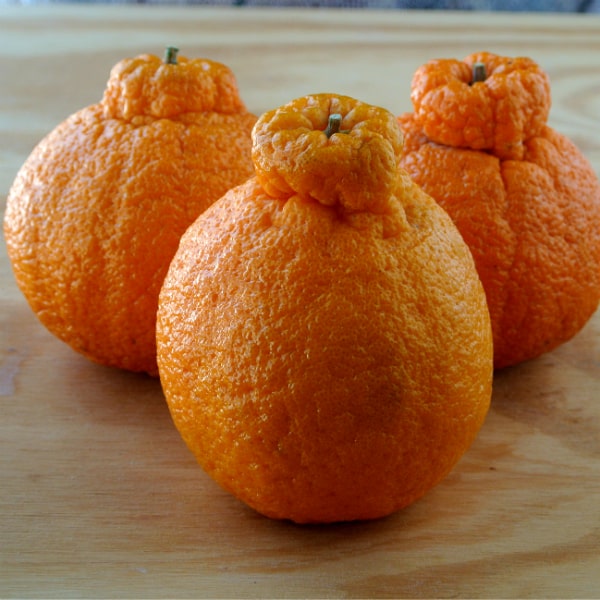 I absolutely love fruit that has a story behind it. What better a fruit story than a three decade long labor of love! That is what we have with Sumo mandarins also labeled as SUMO Citrus. They discovered a tangerine-orange hybrid that had major potential. Trouble was that it was not easy to grow. So it took 3 decades to perfect it, but perfect it they did. They had to use different growing techniques and styles of pruning, but the dream of an orange that would peel as easy as a Satsuma but be big and juicy like a California Navel oranges was realized.
Check out my new post on the story of Sumo Citrus
The name "Sumo" was an American invention. It is called a Dekopon in Japan, but the name was changed when it came to California. The large size of the fruit and the shape of the top of the fruit which resembles the hair style of a sumo wrestler seem to be the inspiration for the name. Easier to market something to the American public as a Sumo rather than a Dekopon.
What Price are Sumo Mandarins (Oranges)?
Sumo madarins was first released nationwide in 2012. As with a new fruit it takes times for the trees to grow and produce sizable crops. Availability is limited and the price is higher than most mandarins you will find this winter. At Whole Foods in 2012, I paid $2.49 a pound. In 2013 it was $2.99 a pound. At the Produce Station in Ann Arbor, they are selling for $3.99 a pound. But if you think those prices are higher than be thankful you are buying them in a Tokyo gift shop where they can go for eight dollars….a piece!!
Where Are Sumo Mandarins (Oranges) Grown?
Sumo madarins are grown in Central California by several different growers. You can read more about these growers at the official Sumo Citrus website. It's nice to be able to put a face to the growers. Sumos are packed and shipped by Suntreat Packing & Shipping Co.
My Experience with this Mandarins (Rating Scale 1-10)
Seeded or Seedless: Seedless
Sweetness: 8
Acidity : 4
Flavor: 9
Juiciness: 8
When I first unpeeled the fruit, which the peel came off easily – you can do it in one piece if your good. When I saw beneath looked disappointing at first glance. I thought it looked like it was going to be dry and stringy. Again shows that looks aren't everything. It was a juicy, flavor explosion in my mouth. The flavor is unique. My wife feel like it had kind of a orange sherbet or orange & cream kind of flavor, but with a bit more tartness than you find in those treats. The membranes covering the segments are exceptionally thin, which I think helps the flavor to stand out even more. This is a must have citrus of the season!
FAQ: Can You Buy Sumo Mandarins Online?
Yes. You can purchase them online from Harry & David.
Where Else to Buy Sumo Mandarins
*UPDATE* Check out my 2015 store list
Here is a list of some stores where you can buy Sumos:
Southern California
Greenland Supermarket
Whole Foods Market
Whole Foods
Grow – The Produce Shop
Santa Monica Farmers Market (every Wednesday)
Mitsuwa Marketplace
Nijiya Market
Koreatown Plaza Market
Gelson's Markets
Bristol Farms
Marukai
Assi Super
Northern California
Andronico's Community Markets
Nugget Markets
Whole Foods Market
Berkeley Bowl Marketplace
Capitola Village Market
Zanotto's Family Markets
Lunardi's Markets
Monterey Market
Nijiya Market
Old McDonald's Farmers Market
Safeway (select Northern California locations)
Draeger's Market
Outside California
The Produce Station (Ann Arbor, Michigan)
Metropolitan Market
West Side Markets
Reasors
Fresh Direct
H Mart
Whole Foods Market
Town & Country Markets
Nijiya Market
Brennan's Country Farm Market
Central Market
Wegman's Food Markets
Jungle Jim's International Market
Rouses
Baldor Specialty Foods
Fortinos
Eataly NYC
Lunds/Byerly's
Gourmet Garage
Roth's Fresh Market
Dan's Fresh Supermarket