Find out what baking ingredients you can pick up at your local Trader Joe's grocery stores. Whether it's for Christmas or your nephew's birthday see what they have to offer.
This post includes affiliate links. This means that at no additional cost to you, I will earn a commission if you click through and make a purchase. These are products and services I recommend because I use or trust them. Cookies will be used to track the affiliate links you click.
Who loves to bake?
If you are reading this at Christmas, you are more likely to have your hand up. People love to bake for the holidays, more than any other time of year. It just so happens to be that time of year now as I write this but this guide as good any time of year - just as it's fun to bake any time of the year.
I had someone ask me, whether or not Trader Joe's carried baking supplies like powdered sugar. I assumed that they did but had no bought many baking ingredients there. Since their stores are smaller, they may not carry as many products as a large supermarket.
I thought it would be a good time to look what Trader Joe's has to offer in the baking department. This guide will share with you the basic baking ingredients and what they cost. Sprinkled in will be some tips and recommendations.
Let's get to baking.
Jump to: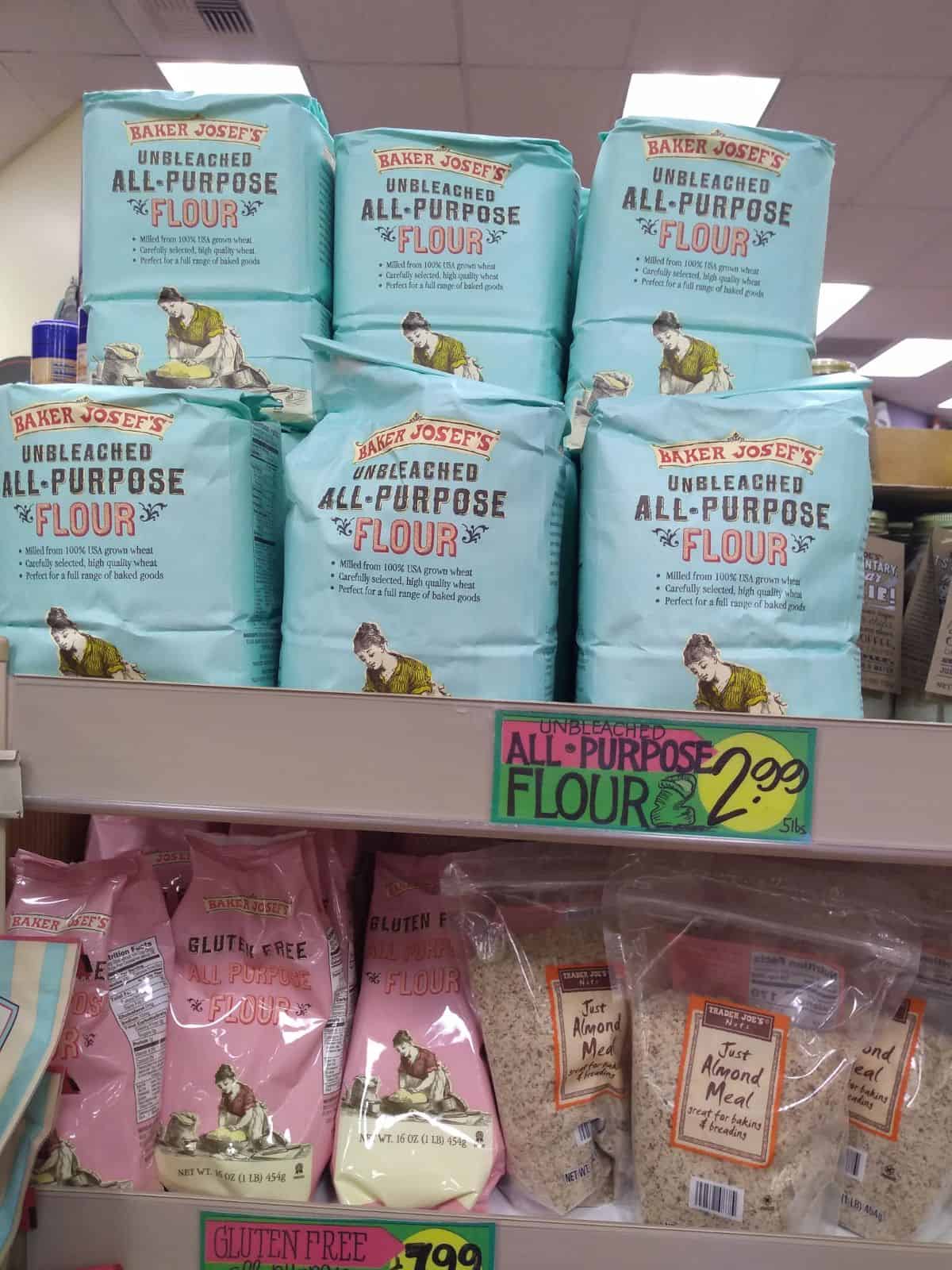 🧁 Flour
📅 The prices you will find in this post come from a store in Rancho Santa Margarita, California from November 29, 2021. They are subject to change.
Here are the types of flours you can expect to find at your grocery store.
| | |
| --- | --- |
| Flour | Price |
| All-purpose Unbleached Flour | $2.99 for 5lbs |
| Organic All-purpose Unbleached Flour | $3.99 for 5 lbs |
| Gluten Free Flour (contains rice) | $3.99 for 16oz |
| Almond Meal | $5.99 for 16oz |
| | |
I am all about using unbleached flour. The less processing done the better. Bleaching flour is the process of using chemicals to make the flour appear whiter. The bleaching process can soften the flour to produce a more tender baked good. However, in most cases I think only the most sensitive tastier can tell the difference. That is why I opt for unbleached flour because it wasn't treated with bleaching chemicals. Trader Joe's all purpose flour is unbleached.
The price of $2.99 for a 5 pound bag, is not the cheapest, not the most expensive. At other stores I can get unbleached flour for cheaper but not everywhere.
In the past I have seen whole wheat flour at Trader Joe's. But on a recent visit it wasn't there, neither was there a spot for it. Last time they did have it was going for $2.99 for a 5 pound bag.
💡 Tip - Do you need oat flour? You can buy oats from Trader Joe's and put them into your food processor until it becomes flour. This is what I do when I making these oatmeal cookies.
I also use to see almond flour but am only finding the almond meal nowadays. Almond meal differs from almond flour in that it is a more coarse grind. You can use them interchangeable in some cases, but I would stick with flour when are making something like a cake where you want a fine grind. Most cookies could use both, macaroons I would use the flour though.
Trader Joe's does sell gluten free flour which is good to see. I have not used theirs before. I am a fan of Jessica's Gluten Free flour - that is the brand I recommend people buy that are looking to avoid rice flour or just looking for a good gluten free option.
| | |
| --- | --- |
| Cassava Cauliflower Blend Baking Mix | $3.99 for 16oz |
I didn't include this as an option with the flours because it's actually a mix that includes other ingredients besides flour. Those ingredients are : Cassava flour, Fonio flour, cauliflower powder, baking powder, and salt.
🍬 Sugar
We got the flour, naturally sugar would be next. Here are the offerings at Trader Joe's.
| | |
| --- | --- |
| Sugar | Price |
| Organic Cane Sugar | $3.49 for 32oz |
| Organic Powdered Sugar | $2.79 for 16oz |
| Organic Brown Sugar | $3.49 for 24oz |
| Turbinado Sugar | $2.99 for 24oz |
Organic is the name of the game for sugar. Great if you are looking to avoid GMO beet sugar or just looking for organic. There isn't a cheap sugar option, so it's organic or nothing. The inspiration for those post was a friend asking about powdered sugar, so they do indeed have it.
Careful note that while the brown sugar and cane sugar are the same price, they are different sized bags.
💡 Tip - You can make your own brown sugar by adding molasses to white sugar. Just mix in the food processor until it's the desired color. Sometimes Trader Joe's has molasses. They didn't my last trip.
Trader Joe's also have Turbinado sugar, also called Demerara sugar. I love it for adding a nice crunch to the top of baked goods as it doesn't melt like white sugar. Ginger snap cookies with turbinado sugar on top is a favorite. Turbinado is less processed and has a deeper flavor.
RELATED - What's the Difference Between Cane and Beet Sugar?
🍁 Maple Syrup
Got a baking recipe that uses maple syrup? Here is what they have.
| | |
| --- | --- |
| Item | Price |
| Grade A Amber | $4.99 for 8oz |
| Organic Grade A Dark | $4.99 for 8oz |
| Grade A Amber | $15.99 for 32oz |
🧂 Spices
Here is what they have in the way of spices for baking.
| | |
| --- | --- |
| Spice | Price |
| Ground Cinnamon | $1.99 |
| Pumpkin Pie Spice | $1.99 |
| Ground Nutmeg | $2.99 |
| Cinnamon sticks | $2.29 |
| Ground Ginger | $1.99 |

The prices are a bit more than other store brand spices. However since Trader Joe's is a smaller store, inventory is turned over faster, so the spices you find might be fresher. Sometimes I wonder how long they sit on store shelves at the big supermarkets.
Sorry I didn't grab the sizes of the containers. They were pretty standard size.
I do like that they have cinnamon sticks, in case you want to grate yourself for a fresher flavor. I don't like that they don't have whole nutmeg as it so much better than ground. I only use whole nutmeg now and I grate it with my Microplane.
🛒 Basics
Time to look at some of the other baking essential items you'll need for a lot of different recipes.
| | |
| --- | --- |
| Item | Price |
| Baking Powder | $1.49 |
| Baking Soda | $.99 |
| Active Dry Yeast | $.99 for 3 packets |
| Pure Bourbon Vanilla Extract | $9.99 for 4oz |
| Pure Vanilla Extract (Alcohol Free) | $8.99 for 4oz |
Biscuits, yeast breads, and brownies, we got you covered with baking powder, baking soda, yeast, and vanilla extract. If you are looking for an alcohol free vanilla extract you can get it there.
A packet of yeast is equal to 2 ¼ teaspoons of yeast.
🍫 Chocolate
Now onto my favorite part the chocolate. Here are a few ingredients you may want to bake with.
| | |
| --- | --- |
| Item | Price |
| Cocoa Powder | $2.49 for 9oz |
| Cacoa Powder | $3.99 for 8oz |
| Semi-sweet Chocolate Chips | $1.99 for 12oz |
| Semi-sweet Chocolate Chunks | $1.99 for 10oz |
| Mini Peanut Butter Cups | $3.69 for 12oz |
As you can see they have both cocoa powder and cacoa powder. What's the difference? Cacoa powder is raw and cocoa powder has been heated. People choose cacoa because they believe it has more nutrition benefits because of its raw state. Of course if put into something you eat up, then those nutrients that may only exist in raw form will still be diminished. The thought is that they are more of them to begin with.
Cacoa powder is more expensive. Unless you are confident that cacoa powder is going to be better for your health, than just stick to cocoa powder. As far as taste goes in the finished product, I have not yet noticed a significance difference, but I am still experimenting with cacoa powder.
My favorite ingredient on this entire list is the chocolate chunks. These aren't like the Nestle chocolate chunks that are uniform squares of chocolate. These chunks are what you would get when you cut up a bar of chocolate for baking purposes. They are not uniform. The time savings on them is the big draw for me and why I buy them again and again as I always get good results. I have use them to make ganache and truffles.
🍓 Fruits & Nuts
For this last section, I didn't do exact prices. There are just too many dried fruits and nuts to choose from. The selection of nuts is great and I think the prices are good too.
The dry fruit is what I really love. The wild dried blueberries pack so much flavor. Soft too. The dried cranberries are priced well. The jumbo raisin medley is another favorite. Any of these would make great baking fodder as long as you can get them into your dough before you eat the bag.
Trader Joe's also has freeze dried fruit. I love taking those and putting them into my food processor, along with sugar. I use that as a topping on cereal or I add some water and turn them into an icing for sugar cookies. The most flavorful icing ever and it contains real fruit.
RELATED - Want to pick up some cheese while you are at Trader Joe's? Make sure to check out my rankings of the best cheese at Trader Joe's. Also learn about all the fun, cute baby vegetables they offer.
🙋 FAQ
Here are some of the frequently asked questions I have gotten.
Do they sell self-rising flour?
No. I have not seen self-rising flour at Trader Joe's. However it's really easy to make it yourself.
Combine:
1 cup All-purpose Unbleached Flour or 1 cup Organic All-purpose Unbleached Flour
1 ½ tsp Trader Joe's Baking Powder
¼ tsp fine salt
This is what King Arthur Baking recommends.
Do they sell cake flour?
Unfortunately they don't carry cake flour either. Recipes call for cake flour because it has a lower protein content, so let gluten is formed, which is what you want when baking a cake.
I have not tried this myself yet, but you could remove 2 tablespoons of flour from every cup of flour you use. Then mix in 2 tablespoons of corn starch, which doesn't contain gluten. So you will reduce the amount of gluten you make.
Do they sell sweet rice flour or glutinous flour?
Mochi has become super popular over the last several years. Trader Joe's doesn't have a straight sweet rice flour for mochi but they have carried some cake mixes that are made with glutinous flour. My sister in law has tried them with mixed results.
Don't see your favorite Trader Joe's baking ingredient on this list? Leave a comment below sharing your favorite. Also if you are interested in baking with honey, check on over to your Trader Joe's honey post to learn more about their sweet offerings.