Learn all about these fun pineapple that is actually pink on the inside. What does it taste like? Where might you be able to find this pink pineapple? Read our full review below.
Pineapple is a fruit that we don't think a lot about. It's just pineapple.
Variety doesn't come up much in the grocery store.
That is until now as Del Monte has released their Pink Glow pineapple in the last few years. And as the name would suggest this pineapple is pink on the inside!
Jump to: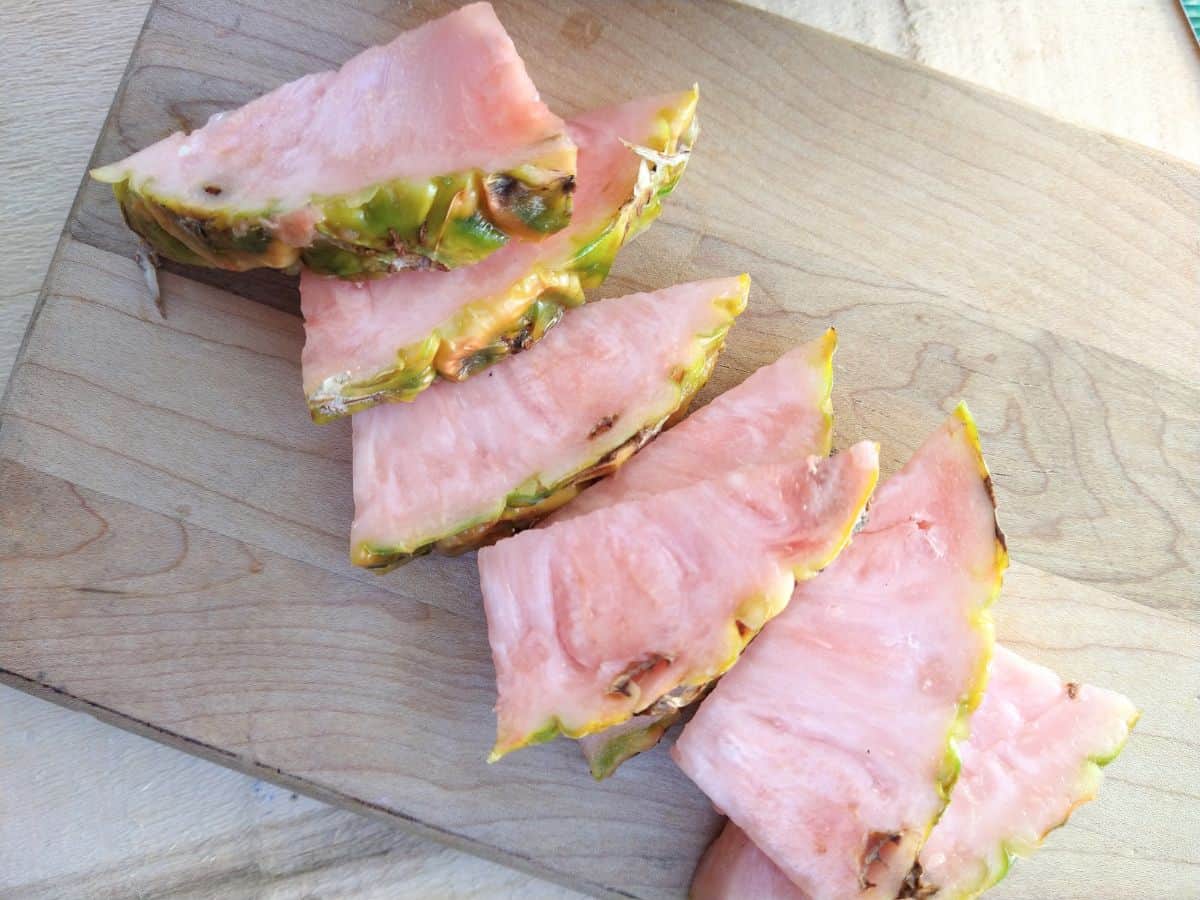 🍍 What is a Pinkglow Pineapple?
The pineapples are exclusively sold by Del Monte. It's their baby. The pink color comes from lycopene in the fruit. This is the same thing that makes tomatoes red. Similar to beta-carotene that makes carrots orange.
👅 What Do They Taste Like?
I am sure this is your top question. Does it taste any different or is it just the color? In my opinion it has a sweeter flavor than most pineapples I have tried (not all thought). The flavor has notes of strawberry, but it's subtle. I wouldn't say the taste is as drastically different as the color, but it is tasty.
The darker colored parts of the pineapple seem to have the most intense flavor. The acidic of this pineapple is less than a traditional variety.
🙋 Why are the Tops Missing?
The tops are cut off the pineapples in order to be used to plant more pineapples. Yep that is how pineapples are grown. How cool! Also means if you want to grow one yourself you are out of luck.
🚜 Where Are They Grown?
If you want to see these pineapple growing in the wild you would need to travel to the South-Central region of Costa Rica. This is the only place they are grown right now.
📅 When are They in Season?
These pineapples are available all year long. There isn't a specific season to get them. Although this doesn't mean you will find them in the stores we we will list below every day of the year.
💲 How Much Do They Cost?
At this point in time they are a luxury fruit that come with a pretty hefty price tag. I have seen them ranging from $11 up to $39 a piece. They are not easy to come by. Hopefully there will be more available some day and prices will go down. Right now they the kind of fruit you want to send as a gift or as a splurge purchase.
The cheapest price I have found so far for Pinkglow Pineapple was $10.99 each at a Hy-Vee store in South Dakota in June 2022.
If you want to send one of these as a gift, you may want to consider ordering from Tropical Fruit Box. They come beautifully packaged.
Prices were taken on March 4th, 2022.
| | |
| --- | --- |
| One pineapple | $39 |
| Duo box | $77 |
| Quartet box | $99 (marked down from $119) |
🛒 Where to Buy
This is a list where I have read about them being available through at some point. Doesn't mean they always them in stock, so you will need to check with the specific store or distributor. Or they may have only had the for a limited time. Use this as a guide, not a for sure thing.
Specialty Produce (this is where I got mine!)
Bristol Farms
Hy-Vee
Melissa's Produce
Gelson's
Giant Food Stores
Baldor
Sprouts
California Fresh Market
Harps
WEEE!
Valley Farm Market (La Jolla, CA)
Tropical Fruit Box
Tokyo Central
Wegmans
Have you seen them in another store or any store on this list? Please leave a comment below.
🍓 More Fruits to Try
Looking for more unique fruits to try like the pinkish color Rose Strawberries pictured above. Look for these:
📧 Join Our Email List
Curious about when the most tasty fruit is in season? Join our email list.