What is the difference between corned beef and roast beef? All your questions answered along with some recipes for cooking either.
There are many different ways to cook beef. Two of the most popular types are roast beef and corned beef. Both are great for sandwiches. The way they are seasoned, prepared, and the texture of the meat differs.
Jump to:
❓ What's the Difference?
Roast beef is simply raw beef that has been roasted in the oven. Corned beef is beef that has been cured or pickled. If it's near St. Patrick's Day, you are probably thinking about eating some corned beef!
Corned beef has a softer texture that should be fork tender if cooked correctly. Where roast beef is more like a large steak.
As for taste corned beef tastes salty and briny and roast beef has a deeper beef flavor.
Corned beef comes cured by salt and spices. And that is what makes a big difference in the texture. It has to be cured for days (store bought already has), where roast beef is ready to cook as it.
RELATED - Why Is It Called Corned Beef?
🐄 What Cuts of Beef?
Typically different cuts of beef are used for roast beef or corned beef. There are a lot more choices for roast beef. Corned beef is usually only made with a couple cuts. Here is a list.
Roast Beef - Tenderloin Roast, Bottom Round, Rump Roast, Eye of Round, Tri-Tip, Top Round
Corned Beef - Brisket (Flat Cut or Point Cut), Round
🧂 Which is Saltier?
Definitely corned beef. It has been cured and that cure involves a good amount of salt. If you are someone that is trying to lower your sodium intake, then opting for cooking roast beef from scratch (not roast beef cold cuts) is a better choice as you can control how much salt you use.
💲 Which is Cheaper
This all depends on the type of beef you would be roasting. Some roasts are cheap like the bottom round, rump, or eye of round roast, which you can get for under $5 a pound at the right store. Others like a prime rib roast are very expensive, over $20 a pound. You can save money by buying larger cuts and learning to portion them yourself.
Corned beef tends to be very affordable going for around $5 per pound at the majority of grocery stores. It's a reliable option for cheap beef as it's always made with cheaper cuts. And if you are close to St. Patrick's Day you may be able to find a deal.
⏲️ Which Takes Longer to Cook?
In most preparations, corned beef is going to take longer to cook than roast beef. Up to 2 to 3 times longer, unless you pressure cook it, which will get to in a moment.
If you are in a hurry, roast beef can be made faster. But I think either is better to take your time with for a more tender result.
📅 Which Last Longer in the Fridge?
If your meat hasn't been cooked yet, corned beef lasts a lot longer than a beef roast. A beef roast you should cook within a couple days of bringing it home from the store, while corned beef will last for weeks.
For example, I bought corned beef on March 4th and it has a used by date on it of May 24th.
If you are talking about after it's been cooked, then it doesn't matter if it's corned beef or roast beef it should be used up in 3 to 4 days. If you freeze it, then you can get a couple months out of it before quality goes down.
RELATED - How Far in Advance to Buy Corned Beef
🔪 How to Cook Corned Beef
Corned beef is normally cooked low and slow in a liquid - this is called braising. The meat needs time to break down so it won't be tough. A lot of people like to put in their Crock Pot all day and forget about it. Or some do it on the stove top or in the oven at a low temperature.
One of our favorites to cook is the Bottom Round Roast, as it's cheap and if you do it right it can be tender and tasty. Don't forget some good bread for sandwiches!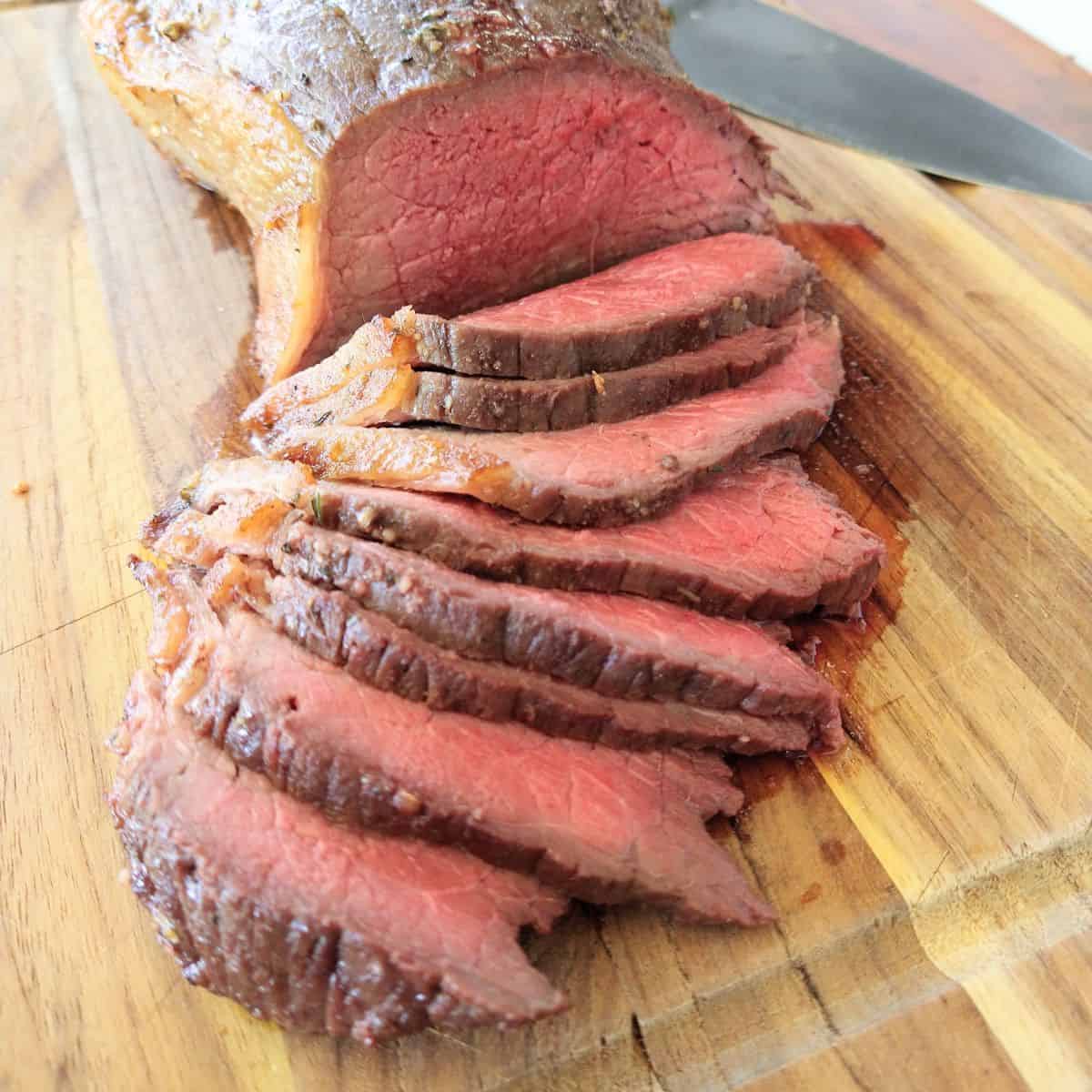 ♨️ How to Cook Roast Beef
Roast beef on the other hand is cooked via dry cooking method. So no liquid needed. It's still good to go low and slow no matter what type of roast you are cooking.
One of our favorites to cook is the Bottom Round Roast, as it's cheap and if you do it right it can be tender and tasty. Don't forget some good bread for sandwiches!
🙋 More Beef Questions Answered