Some inspiration of what to serve with your corned beef and cabbage dinner this year. We got some great ideas for sides and sauces.
This post includes affiliate links. This means that, at no additional cost to you, I will earn a commission if you click through and make a purchase. These are products and services I recommend because I use or trust them. Cookies will be used to track the affiliate links you click.
Corned beef and cabbage is the classic meal that we Americans like to eat on St. Patrick's Day (it's not actually an Irish thing).
Want some ideas of what to serve with it? We've got plenty for you.
Jump to:
🥔 Sides
First off, I know you are probably having cabbage with your corned beef. But please don't cook them together. Cabbage only needs a very short cooking time unlike the beef. I would rather cook it separatelyf, so I don't turn it into mush as well as stink up the whole house. Alton Brown's cabbage recipe is the one we always go with (it involves pulverized croutons as well but we don't always do that).
Shred the cabbage
Bring a large pot of water with 1 tablespoon of kosher salt and 1 tablespoon of sugar to a rolling boil.
Add cabbage
Cook for just 2 minutes.
Remove from the pot and serve with your corned beef.
The results - tender cabbage that is perfectly cooked.
Now onto our list of good side dishes featuring fresh vegetables that would be amazing with your meal.
Mashed potatoes - Try them in the Instant Pot if your corned beef isn't already in it.
Colcannon - These are mashed potatoes that include greens like cabbage, kale, or Brussel sprouts
Boiled red potatoes - top them with some fresh dill or parsley, easier to make if you don't want to do mashed potatoes.
Boxty cakes - An Irish savory potato pancake.
Green beans - Steam them and serve with Kerrygold Irish butter. Adding in some garlic is always a good idea as well.
Brussels sprouts - Shred them in a food processor and cook them with bacon. You are welcome!
Root vegetables - Roast any of these root veggies in the oven at 425 degrees until caramelized - carrots, parsnips, turnips, celery root, and/or rutabaga. If you want an appetizer, try roasting turnips, then use them to make a Cream of Turnip soup.
🥣 Sauces
Lots of people like to serve corned beef with a horseradish sauce. I am not one of those people. What I do love is mustard. We have a fantastic mustard sauce for corned beef that you will be licking the spoon.
If aren't up for making a sauce, just get some good mustard. Stone ground mustard is what I like to have with my corned beef. You can see the mustard seeds in the mustard, giving it a different texture and a burst of mustard flavor.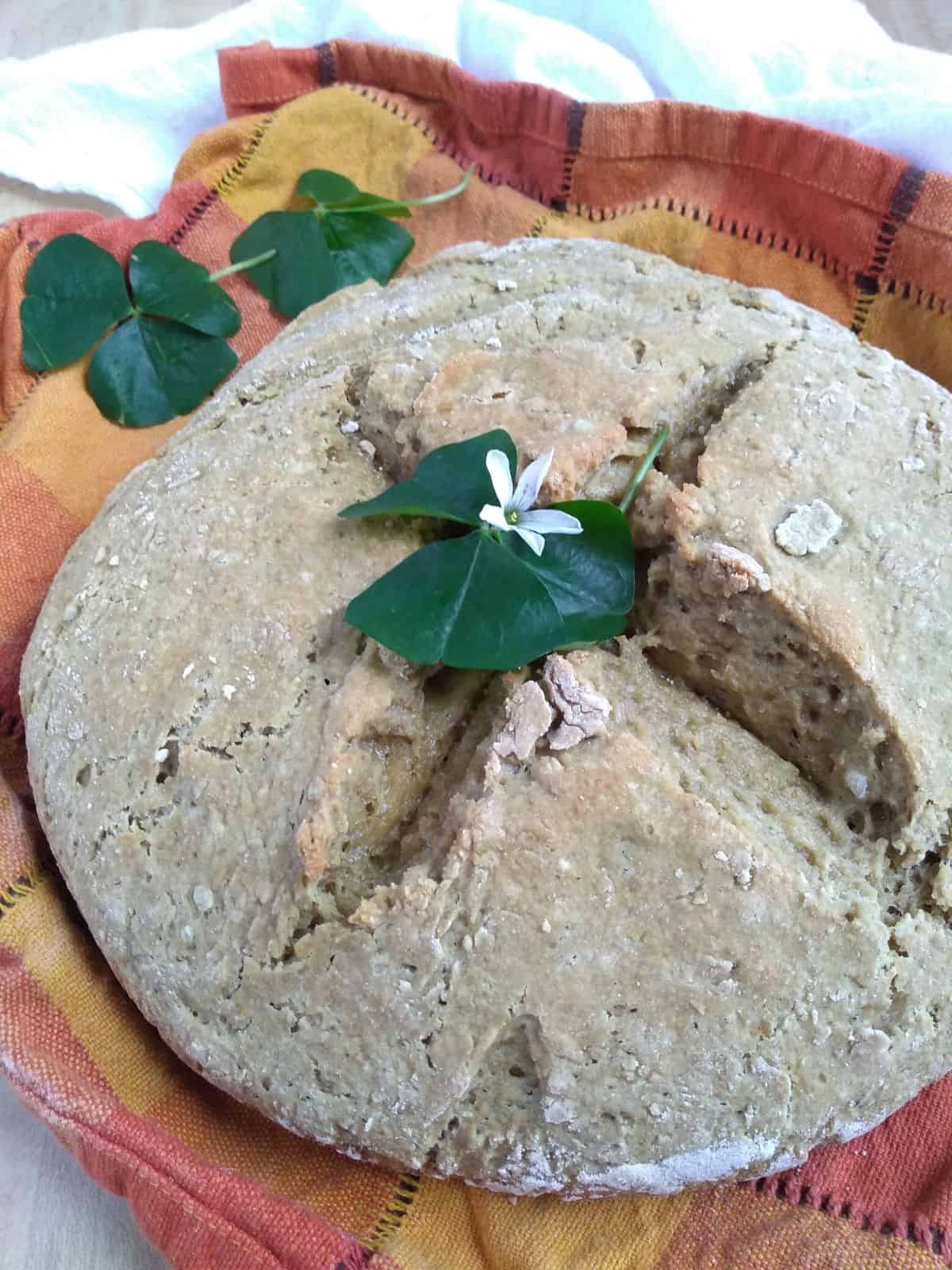 🍞 Bread
This meal would not be complete without the bread. Am I right?
People love rye bread with it. If not for the meal for sandwiches later on. Any soft dinner rolls, store bought or homemade are high on the list. Try either of these homemade rolls:
But I have to say traditional Irish soda bread is the BREAD to have on St. Patrick's Day. Since you don't need yeast to make it's quicker and easier to make.
Wendy from the Monday Box has a recipe for Tea Brack - a quick bread with dried fruit that has been soaked in tea.
Gluten free? Try our Gluten Free Soda Bread. Even if you can have gluten, I think this bread is better than what I have made with wheat flour.
☘️ Dessert
It wouldn't be St. Patrick's Day without something green and minty. Here are some ideas from my blog as well as from some of my fellow bloggers.
Mint not your thing? Make these Irish Oatmeal Cookies instead.
Don't have a corned beef recipe yet? Try out Instant Pot Corned Beef recipe. It produces a tender, sliceable corned beef in about 2 hours. Then use the leftovers to make yummy egg bites.