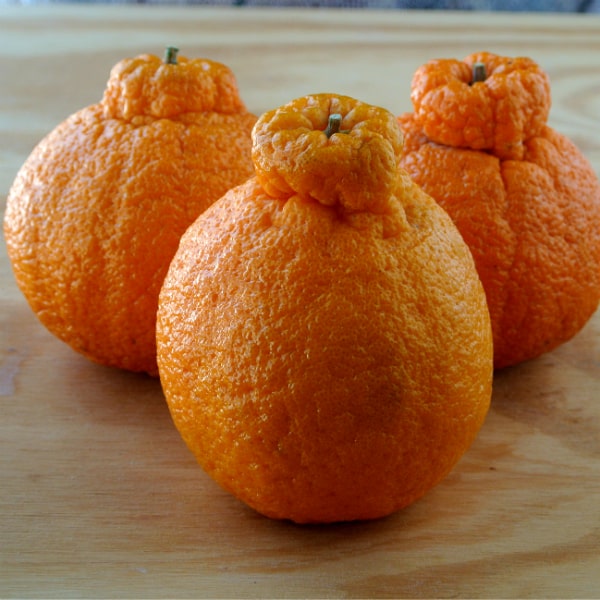 Check out my 2016 Sumo Citrus store listings and crop information
We like in a culture that wants everything and that want everything now. But you know I am glad that we really can't have it all now. It makes for special moments - things to look forward to. That's what I love about the produce world. There are so many things I get to look forward to throughout the year. As we open up 2015, the thing I am most looking forward to right now is Sumo Citrus.
What's the Big Deal?
So what's the big deal about this mandarin? It is a big, literally. Sumos are the size of a Navel orange, yet are a true mandarin. They are seedless and much easier to peel than a Navel. The most important thing is the flavor. It is so rich, so flavorful. Brings back memories of eating orange cream pops but in a much healthier way. Out of all the mandarins I have tried, this one is the undisputed champion of flavor. People go crazy for these things. Driving miles out of their way and buying entire cases at a time.
The 2015 Sumo Season
Due to warm weather in California over the last couple months, the season is coming early this year. A normal year, Sumos make their appearance right when cupid is flinging this arrows (Valentine's Day). The harvest has already started this year. January 19th is the day they expect to begin shipments. If your a Sumo fan or a Sumo fan in the making, it's time to get excited!
I received a comment from one of the Sumo growers, sharing his experience with Sumo Citrus. Here is what Guy Wollenman had to say:
"I'm a family farmer growing Sumos. Earlier this week I went around with our Sumo Citrus field man, tasting various blocks to see if they are ready. Only a few are being harvested this week, with most needing to wait until their prime time! I produce ten other citrus varieties, and this is the only one that needs to pass the taste test in the field before we harvest. To get the best size and flavor, we have a special, unique farming program to achieve these goals. Be assured, Sumos have to pass the highest standards in the citrus industry - our own - before we harvest and send them to you, our consumer friends. In the four years I've raised Sumos, this is our best vintage year."
SUMO Citrus Recipes
Here are a couple recipes I came up with that utilize this amazing fruit.


SUMO Citrus Fudge
SUMO Citrus Sugar Cookies
Where to Buy Sumo Citrus Mandarins in 2015
Here is a list of stores that are expected to carry Sumo Citrus in 2015. I will add additional stores and confirm locations as that information becomes available. Whole Foods Market has been a big supporter for Sumos, you should be able to find them at any Whole Foods. Also on a national level some select Kroger locations will carry them this year. Also keep your eyes peeled for Dried Sumos. I tried them last year and they were amazing - best dried fruit I ever tasted. They were released to select stores last year after the fresh season.
Southern California
Marukai
Whole Foods Market
Gelson's Markets
Koreatown Plaza Market
Bristol Farms
Grow – The Produce Shop
Mitsuwa Marketplace
Assi Super
Nijiya Market
Santa Monica Farmers Market (every Wednesday)
Northern California
Capitola Village Market
Safeway (select Northern California locations)
Nugget Markets
Lunardi's Markets
Zanotto's Family Markets
Berkeley Bowl Marketplace
Andronico's Community Markets
Monterey Market
Draeger's Market
Old McDonald's Farmers Market
Nijiya Market
Whole Foods Market
Outside California
Wegman's Food Markets
Fresh Direct
Dan's Fresh Supermarket
Super 1 Foods Idaho, Montana
Safeway (Select Locations)
Brennan's Country Farm Market
West Side Markets
Kroger (Select Locations)
Gourmet Garage
Brookshire's
H Mart
Nijiya Market
Roth's Fresh Market
Baldor Specialty Foods
Jungle Jim's International Market (Ohio)
Rouses
Earthfare Market
Town & Country Markets
Whole Foods Market
The Fresh Market
Foodland & Sack & Save Supermarkets Hawaii
Eataly NYC
Reasors
Lunds/Byerly's
Dorothy Lane Market
Fortinos
Metropolitan Market