When trying to decide on a ham for Christmas, Easter, or any other occasion you may come face to face with choosing whether to buy a shank or butt ham. Learn about which one and which you might want to buy.
Also learn some additional ham terminology.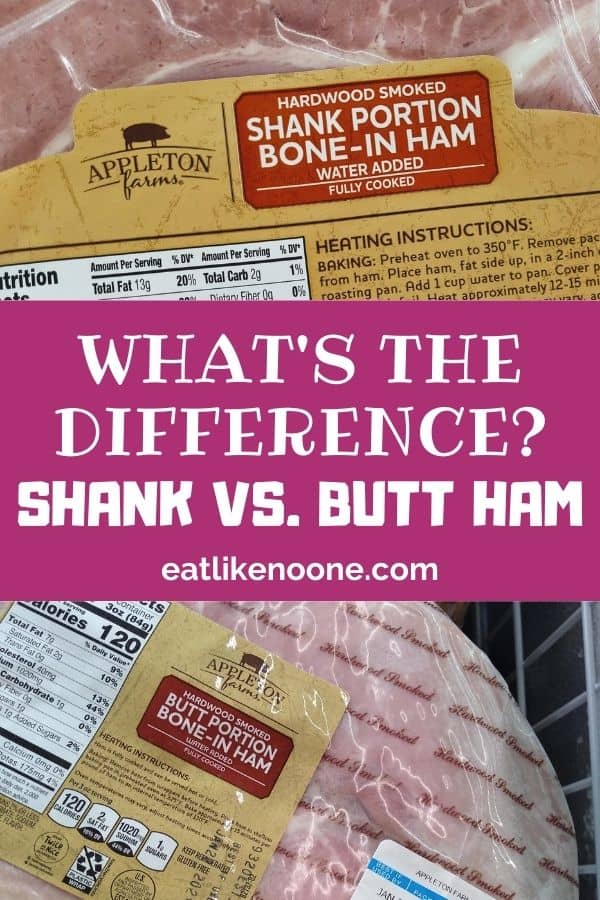 This post includes affiliate links. This means that at no additional cost to you, I will earn a commission if you click through and make a purchase. These are products and services I recommend because I use or trust them. Cookies will be used to track the affiliate links you click.
When you are looking for a ham to buy for a meal that is several things to consider. Not all hams are made the same.
Probably the most frequently asked question, is what is better, a shank portion ham or a butt portion ham?
Jump to:
❔ What is the Difference
Let's start by looking at what ham actually is. Ham comes from the backside of the pig, hence it's round shape. Just as on a cow, that area can be quite tough if not cooked properly.
Cooking ham is a slow process that begins before you even purchase it. Salt and smoke are used to turn tough pig butt into something truly delicious.
If you are picking a bone-in ham you must either select a shank or butt end.
The butt end is what is sounds like, that half of ham comes from the top part of the ham cut, closer to the tail of the pig.
The shank end is the end that is closer to the hoof.
There is debate over which ham is better. On the surface it might appear the butt end will be easier to carve. The shape is more uniform. However I find that they have more gristle and fat. You end up with meat that is too hard to eat that you have to slice around.
Also butt end are said to have better flavor by some. I have had both and to tell you the truth I have not noticed any significant different in flavor. Maybe I need to try them side by side by I doubt it will matter.
I originally learned about these hams from Alton Brown from Food Network. He recommended the shank end and I do as well. I usually only but a butt end if the price is different (very rare) or it's the only option.
🐖 City vs. Country Ham
Two more ham terms you might hear of are city and country ham. Here is what those mean.
Country
These hams are rubbed with a dry mix and let to hang dry for months. This process produces a complex flavor. The ham has to be soaked in water before you cook it. Country ham may not be easy to find unless you live in the south.
I have to search for them in Michigan, not many places carry them. For your Easter dinner you will most likely choose a city ham for your Easter meal.
City
Instead of a dry mix, a sweet brine is used when this ham is cooked and smoked. This is what you will find on sale this week at your local mega mart. I have never actually seen these hams labelled as a city ham. The shank and butt ham are both city hams.
Within that group of ham you can further break it down into these categories based on what's on the label.
| | |
| --- | --- |
| Ham | No water added to it and contains at least 20% protein |
| Ham in natural juices | The protein level is no less than around 18% |
| Ham (water added | It contains 10% added water and a protein level at least at 17%. |
| Ham and water product | Add as much water as they want and it can be boneless. |
When I originally wrote this post I said that I would never buy a boneless ham. Argument was something has to be holding that bone together and whatever it is not something I want in my ham.
But in recent years I have changed my tune thanks to hams like the Kirkland Master Carve Ham from Costco. It's ham that has it's bone removed, but it's not formed into a log, it's a natural shape. They are easy to slice since no bone and have 100% useable meat.
These types of hams are not labeled as as being shank or butt end.
🐷 Spiral Hams
When speaking of city hams, I must bring up the spiral sliced hams. They are simply a city ham that has been pre-sliced. This is for your convenience.
The downside to spiral hams is that they can be easy to dry out if you aren't careful. It's best to take it low and slow.
Related - How to Keep a Spiral Ham from Drying Out
🧰 Tools for Baking
Here are some tools that I use whenever I am baking a ham - for some reason you roast a turkey but bake a ham.
Roasting Pan - You need something big to bake your ham in and a roasting pan is the perfect vessel. I don't recommend not stick in this case as I always find that I still end up with burnt sugar in the bottom from my glaze. It's harder to clean a non-stick pan without scratching it and ruining the non stick. So just go with an stainless steel that you can scrub easier.

Electric Knife - Makes carving the ham a whole lot easier. You don't need something expense here. A cheap one works just fine.

Probe thermometer - Even thought hams come cooked most of the time, you still need to heat it up. Don't trust the instructions that came with your hand, trust a probe thermometer to get your ham reheated to the properly temperature. I have had ham that has been overcooked, a dry ham is not something you ever want to experience.
🍽️ Recipes
Here a few ham recipes to try out.
✍️ What type of ham have you bought - shank or butt? Share your experience in the comments below.