In this special interview episode, I talk with Matt Gorella of the Ugly Company who creates sustianbale snacks from fruit that would otherwise be discarded. We talk about the issue in our food system that leads to a lot of food waste and that we all have a part to play in reducing it. Learn about the delicious dried fruit that they produce from white nectarines, cherries, peaches, kiwis, and apricots.
On our podcast, Eat Shop Waste Not, I conducted an interview with Matt Gorella of the Ugly Company.
Jump to:
🎧 Listen
You can listen to this podcast episode below or listen on any of these podcast players - Spotify, Apple Podcasts, Amazon Music, Google Podcasts. If you would prefer to read the text, you will find a transcript below.
📜 Read
Here is the transcript from our interview with Matt from the Ugly Company.
Eric: Hey everybody, welcome to the Eat Shop Waste Not podcast. I'm excited to have Matt here from the Ugly Company today. Matt, welcome to our podcast.
Matt: Thanks for having me.
Eric: My pleasure. Um, so ,the people are probably wondering what is the ugly company?
Matt: Yeah, absolutely. So said simply. The Ugly Company, um, is we're called ugly, and we're proud to be ugly because we take the fruit that is being thrown out purely for cosmetic reasons. So maybe a little bit misshapen, blemished, too big, too small, or there's even market conditions, uh, where the fruit's perfectly great, there's just no home for it.
So those, that fruit is being thrown away, dumped in an open field, and instead of that happening, we save it and we turn it into healthy dried fruit snacks.
Eric: Where are you guys based out of?
Matt: We're based in Farmersville, California, which is funny because, you know, we're, we're, um, started by a fourth generation farmer. People think that it's a made up name that, that we're just kind of being tongue in cheek, um, on our brand, but it, it is a true place. Uh, here in the Central Valley of California, about 45 minutes south of Fresno, California.
We're really proud to be from here. We're all locally born and raised and, it's a really productive growing region. 60% of the fruits and nuts in the United States come from this area, so it's a really productive growing region, one of the most, uh, productive growing regions in, in the entire world.
Eric: Oh, absolutely. I mean, if you went and removed all the produce from that area from our grocery stores, people would be wondering what the heck is going on? You know, like, is Covid come back now? Is there some shortage? Or like, what's going on?
Matt: Yeah. No, exactly.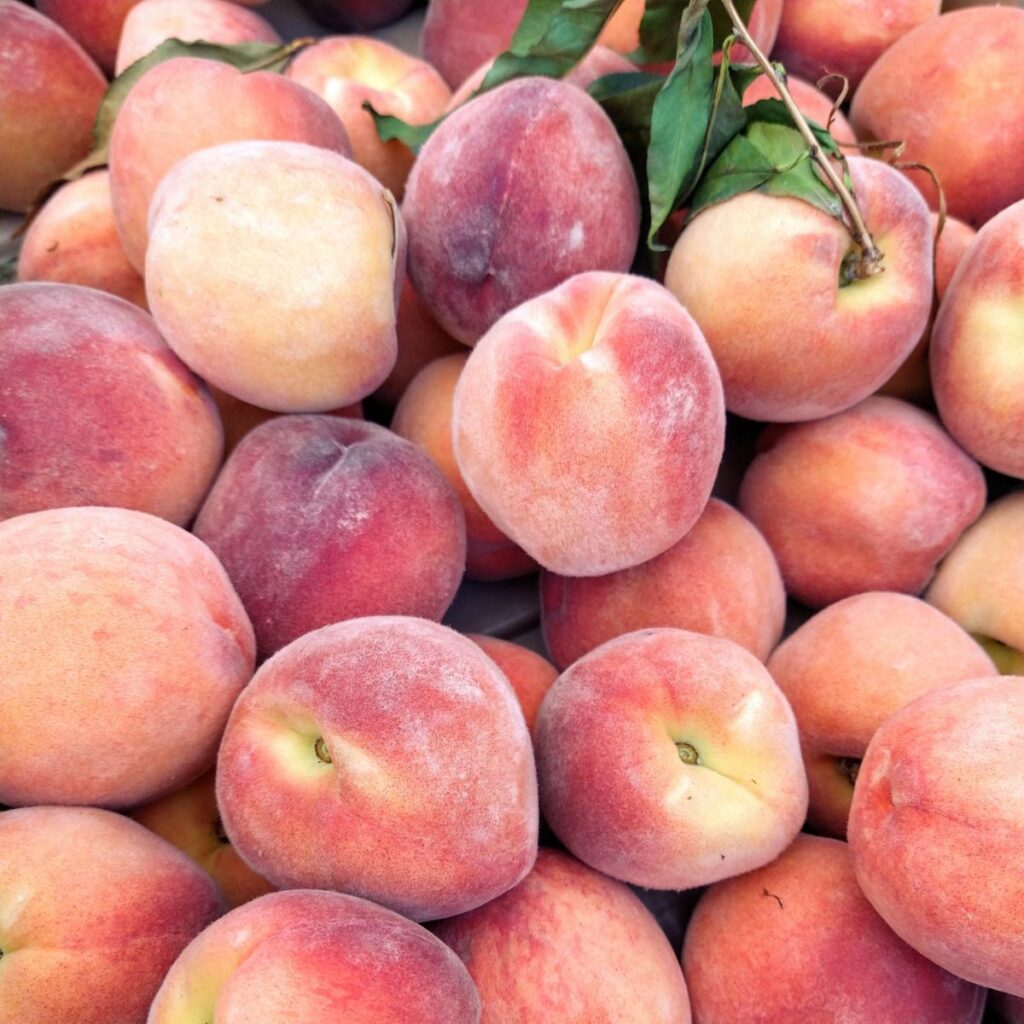 🏄‍♂️ How Ugly Company Started
Eric: Such a huge, huge producing area. Um, so what year did you guys get started?
Matt: Yeah, so, um, we were started about four years ago by our founder Ben Moore. As I mentioned, he's local to the Central Valley of California. He grew up in Kingsburg, California. He's a fourth generation farmer. Uh, so farming has been in his blood for a very long time and throughout his youth, you know, he kind of helped on the farm, uh, and, and always wanted to be a farmer.
Uh, but one of the things his dad always taught him was, Hey, don't just be a farmer. Do some things that are auxiliary farmer as well. So one of those things is, is trucking. So he got his class a trucking license at a pretty young age, and one of the jobs that he was consistently given was hauling fruit from packing houses to be dumped in open fields. And as he was doing this, he didn't, didn't think too much about it. It was kind of a normal thing early on in his life.
But then he went away to college, he went off to join the army, traveled the world a little bit, and saw some of the food insecurity there. Saw, um, just a lot of different cultures and how they, uh, treated food.
And then when he came back, he kind of picked up some more trucking jobs and was, you know, hauling more of this fruit to be dumped and realized, what are we doing here? This is perfectly delicious, edible fruit. There's people in need for this fruit. Um, so let's do something about it and let's start a company that can, can utilize this fruit in a better way.
Eric: Yeah. And I'm sure for some people listening to this, that could be kind of shocking that that fruit is actually just dumped in the field. I, um, I worked for an apple orchard many years ago just for like a, fall job or helped 'em out with the farmer's market and things here. And they talked about, there was one season where they just had too many apples.
Where, where they didn't have enough demand for them, enough places to sell them, um, in their case. So they ended up just having to throw 'em in the field. They had to, you know, they had to get the, they had to get their fruit fruit off the trees. You had to get the fruit away from where the trees are and stuff.
So they ended up having just pick this fruit and eventually just dumping it in the back, you know, and it, and it's a sad thing. They couldn't figure it out, but , it is a problem that, um, know some farmers face when you know you have one of those you we talk about a lot of times about like, you know, wanting to have like all this bumper crop and have the biggest crop sometimes, but if you have too much fruit and then no one would take it, then it still doesn't.
You know, it's not always the most beneficial thing for a farmer. So she was always saying like, she doesn't wanna have like the hugest crop, she wants to have a nice, moderate, good size crop as opposed to like ginormous. Like, I have too much to deal with.
🗑️ Amount of Fruit Being Thrown Out
Matt: Right, right. Yeah. And some of the numbers are, are, are really shocking to people.
I mean, we're dumping two to 4 million pounds of fruit a day, six days a week during harvest season in the Central Valley, California, we're literally throwing out more fruit here than it, it's, well, specifically for peaches, we're throwing out more peaches in the state of California that has grown in the entire state of Georgia, which is obviously known as the peach State.
So it, it is a massive problem, uh, that we're hoping to help solve.
⁉️ Multifaceted Problem
Eric: Yeah. Yeah, we definitely, need companies like you to come in and help those people out. Um, and, you know, that don't have, I mean, have the source that here or you know, the market. Cause I think, you know, obviously one of the issues is, um, with the certain requirements we have for fruit. Like, you know, some, sometimes, the grocery stores don't want to have, you know, misshapen fruit themselves cuz no one, no one's gonna buy them.
So, you know, and that I think also starts with us as consumers to start, you know, accepting that. Absolutely. Picture perfect shiny apple that is like, you know, perfectly symmetrical and everything is just like, you know, pretty about it here. Because you know, that doesn't necessarily mean, first of all, that doesn't necessarily mean that it's gonna be the most flavorful thing to begin with.
And then also, It, you know, it, it's still good. It's nothing crazy.
Matt: Yeah. You know, we find once people learn about, uh, the scale of this problem, it, it's, some people are very quick to say, well, who's, who's causing all this? Who's the, who's the problem here? And, And we often say,
Hey, it's, there's nobody really to blame here. Every part of the supply chain, all the way to the consumer, like you mentioned, has a hand in it.
The growers are, you know, in the packing houses are only using the fruit that they know will sell, but as well as what's efficient for their lines. Right? They want to be able to process the fruit a lot easier. Right.
Then retailers are only buying the things that they think they can sell to consumers
And then consumers themselves, as you mentioned, um, Are looking for the perfect fruit and aren't buying it, right?
So it's, it's really, it's all parts of it. There's no one person to blame. It's just, let's, let's shed a light on this problem and, and educate around it and, um, help solve it together.
Eric: Yeah. And then there's a really good point, everyone needs to be involved with, you know, it's in all different aspects of, of that, that everyone needs to be involved.
That, and we have to remember too, like grow when you're growing stuff here, it's not like, you know exactly every year how much is gonna be produced. Either it's, you know, like it's, you know, it's not like when you, like, you know, if you're going to decide, I'm going to, I don't know, make. A hundred cards for something like, you know, like, thank you cards. I'm gonna make a hundred thank you cards. You know that, that's a tangible number.
You're gonna make them. That's what it's gonna be with this here you can only like guess like, I'm gonna plant this many trees. I'm not gonna yield this much fruit. It's always like, it's not like an exact thing. So it's, it can be a challenge on, they're on, they're on the farmer, on the growers half.
Matt: Yeah, it's, it's very challenging for farmers.
People forget it's a year long process to grow this fruit, right? And you have a lot of, uh, weather conditions, pest issues. There's all kinds of things that can contribute to how big your crop actually is, and what percentage of your crop is great fruit and what percentage of your crop turns into ugly fruit, right?
🍑 What Products Ugly Company Offers
Eric: Yeah, exactly. Um, so, so where do you guys source your fruit from? Well, actually first, before we get to that question, um, I was just gonna say, share more about like some of the products that you guys offer to consumers.
Matt: Yeah, absolutely. So we have a couple different sizes of our, of our product line.
Um, our, our main line is our, what we call our snack line, which is,
Sliced peaches in a three ounce bag.
We have sliced apricots,
Sliced nectarines
Then whole cherries.
Uh, and, and that's kind of our main snack line, like I mentioned.
Then we have an ingredient line, which is, uh, our dice product, right? So just in little bits of fruit. And so that is
Diced peaches
Diced apricots
Diced nectarines
And those are great for putting in oatmeals, great for putting in yogurts, uh, trail mixes. Things of that nature. So, um, and then we have some smaller sizes, some more grab and go, and then we have some bigger sizes for, you know, if you want to get a larger volume, uh, get a little bit of better value for it.
Eric: The first thing I'd try from you guys was the, I had the white nectarine. Um, Um, which, which were really good. They were, you know, really tasty. Um, just, you know, really good, solid like snack fruit, you know, something I would've thought like, oh man, these would be good in some muffins. You know, cuz they're already, these are already kind of chopped up into pieces so you can just kind of mix 'em into your muffin batter and have something boom there, something you can kind of, you know, do to kind of, uh, change things up a little bit.
Um,
Matt: Right, right. And I mean it's uh, white nectarines, you know, you're touching on really a big part of the brand as well, which is. They are a big part of the problem of this food waste is that a lot of the fruits that we have in our bag, you can't really find anywhere else. There's not a lot of white nectarine products out there other than just the fresh fruit, uh, the fresh fruit aspect of it, right?
And so that's been a big part of this too, is how do we find a home for all this ugly fruit? Well, we gotta build a brand in a marketing and, and find, um, uses for this. For fruit that hasn't been used before, that appeals to consumers, right? And that that includes introducing things like white nectarine and kiwis, um, and some other things that we have in the works, that there's not a lot of other alternative products for it, and that's why they haven't really found a home for this ugly fruit as well.
Eric: Yeah, and that's quite like white nectarines. You don't find, you don't find a lot of white nectarine products. You know, you, they become more popular in the last decade or so. You like, you know, it is pretty easy now to go to a store during, you know, peach nectarine season, you're gonna find white nectarines.
But there isn't a whole lot of like, You know, nectar nectarine products. It's really strange too, like, like we always seem to like favor towards peaches. But, you know, but nectar in terms of like, just like the, the value added products, you know, you know, you're gonna find, you know, a peach barbecue sauce or like, you know, a peach jam and stuff.
We don't see as much of that with nectarines. Um, but, you know, and, and they're obviously very delicious. My family prefers them. I have, I have a, a daughter who just like, she loves peaches, but the fuzz bothers her mouth. So she doesn't really eat them as much here. Um, so, and they have a, a slightly, you know, there's some differences in flavor.
I mean, I can tell if you blind taste testing me, I can tell you difference between the nectarine and the peach. Um, it's not like, you know, hard to describe it per se, but there's definitely a difference. So it's, um, yeah, good to see. That's why I saw the on the bag there. And now, I'm the kind of, you know, I'm the, uh, abnormal consumer who wants to go find all the different things out there.
Uh, that's familiar. So I saw like, oh, like, oh good, you don't see a lot of white nectarines dried at all here. So that's why like immediately that's the one I picked off the shelf immediately to try.
Matt: Yeah. That's awesome.
🚜 Where They Source Their Fruit?
Eric: So where do you guys then source your fruit from?
Matt: Yeah, all of it comes, I, I described it a little bit before, but, uh, comes from the Central Valley of California. The, the fruit here is abundant. Again, it's one of the most productive growing regions in the world. Um, so there is so much fruit being thrown out here, uh, that there's nowhere, there's nowhere else we need to go to get our fruit.
Um, and, and to be more specific too. Sometimes people wonder like, where exactly are you getting it? Where in the process do you get it? And so we're, we're not necessarily out there in the orchards, you know, uh, picking fruit off trees, right? What happens in the, in the produce market is, you know, laborers are hired to pick the trees and they take it all to a packing house.
And in that packing house is where there's mass amounts of fruits coming in. And they are selling to fresh produce, produce to places like Costco, trader Joe's, et cetera, et cetera. Right? And so that's where they are doing the sorting of the fruit. That's where the best fruits go into Costco. And then the, the ugly fruit is being thrown away, right?
And so that's where we enter in and in that sorting line, we say, Hey, instead of putting that fruit in a truck to be dumped in a field, put it in our bins and we'll take it to our processing plant. So everything is done here in the Central Valley, California. That's something that we're really proud of is.
The transparency of our supply chain. Everything is done within a, call it 20 mile radius, where, where the fruit is picked, where the packing house is, where our plant is, where it's then packed, and then then it goes, um, all over the nation from there.
🏆 Overcoming Obstacles
Eric: Yeah, you guys deal with, uh, multiple packing houses or was more focused on a singular one.
Matt: We do, uh, we do have multiple packing house partners, uh, but at, at our scale right now. Uh, we're, we're primarily working with one because they, they have so much fruit themselves and, uh, they're actually an investor in our business, which was a huge, uh, win for us to, to get the buy-in from the packing house.
Cause that, that was one of the challenges of setting up this business as well, is a lot of people had come in before and said, Hey, let's find a use for this fruit. Right. And then, All those ideas would fall by the wayside. And so over time, the packing houses got really jaded by it and said, eh, we've, we've heard this before.
Like it never works out. It's a waste of our time. Right. And so there was a lot of convincing. That our founder Ben, had to do at the beginning of it to say, no, no. We we're building a brand. Like we, we have something here. We have a whole plan, uh, you know, believe in us and partner with us. Uh, and, and so we were able to convince some folks to do that.
And so they've been really value partners cuz they, they can do some things on their line and, and their processes to help make it easier for us. Right? So, for instance, one of the things that they've helped us do is, uh, most retailers have, have barcodes, have stickers that get put on the fruit almost immediately, right? It gets, when it comes to the packing house, it gets washed and it gets stickered. And so that becomes a big challenge for us on the processing side. Cause now we gotta go remove all these stickers, uh, in order to slice 'em up, dry 'em, et cetera.
So what they can do things for us, like, Hey, Costco doesn't have the sticker on there. We're having a Costco fruit run today. We're gonna, you know, let us know, we'll, we'll gather a bunch of fruit today that really helps us with our costs and our efficiency. Right. So having that packing house partner is, uh, is invaluable for us.
Eric: That's extremely smart. I can imagine having to pick out those stickers by hand. You're not like, have a machine that's gonna like pick sticker software, you know?
Matt: Right, right, right. Which we are, which we are actually, we have invented a machine in our, in our, uh, processing facility that now can take the stickers off mechanically. Uh, it's not like hand, it's not like a robotic arm that's picking it. It's more of a washing and uh, brushing system. But we're really excited to debut that it's really gonna help us.
And that was another big aspect of the challenge of starting this business was there wasn't any formalized processing for this type of fruit because as, as I mentioned, the fruit's coming in misshapen, maybe too big, too small. And so as you can imagine, as we're going through the line, it's not uniform to be able to slice it perfectly, to be able to grab perfectly.
So we've had to make some inventions along the way that help us. Kind of adapt to the different sizes as we're kind of pitting it and slicing it, et cetera, as well as do things like take off stickers. Uh, so it's, it's been a lot of fun to kind of, and, and stressful to try to figure out some of those things to, um, to really make the process efficient and, and make it so it's affordable for consumers to buy.
Eric: Yeah, you're, you know, kind having to problem solve along the way and coming up with some kind of unique ways to, to make, you know, to make this happen because, what you're probably seeing now is like, like your company's being able to kind of stick with it, where the other places may have thought, ah, this is too difficult, or It was a nice idea, it didn't work out, and you like that. That was really good, you know, that you guys were able to work with them and figure things out and kind of showcase that, you know. That's, that's why I said this is a big problem.
You know, it's when we said involving multiple people. And so, you know, it's good to see, you know, people who are working towards trying to solve those things. Find some solutions and, and make it work. And it's, you know, not an overnight thing. You know, it's, I'm sure you guys are going through a lot of trial and error and having to, to make all this, you know, come together.
Matt: Absolutely. Yeah. And that, and that's a big reason why one of our core company values is, is steadfast. Because we know that this is a multifaceted, really difficult problem to solve, and if we don't have a steadfast attitude to say, no matter what, we're gonna continue marching forward and figuring out how to solve this problem, it's really easy to get deterred and stop and say, wow, is this really possible?
I mean, this is getting really difficult. What do we do? And so it's in the fabric of everything we do that, no, we're gonna find our way through this and we're gonna continue to, to fight and, um, not give up and stay steadfast in, in solving this problem.
Eric: Yeah, I love that dedication. It's, you got it. Yeah. You got to keep marching forward and trying to, you know, work through. Cause it's not something that's gonna be solved. We have so many different systems in place that, that need work and so, you know, it takes time. So I love what you guys are doing, your dedication in doing that.
Um, so what's, what fruit then is considered ugly? Like what, like how do, how do you think like these different packing paces and farmer things like, what's the definition more of an ugly fruit? Like what kind of things are people saying, no, this is not acceptable for the store.
Matt: Yeah. Yeah. So there's, there's multiple categories for it, uh, but too big, too small, uh, has a blemish on it, so it might just be a little bit discolored in one area. Um, it might be a little bit misshapen, so a little bit taller shoulder on one side. Maybe it has a little cut it, you know, along the way it got a little nick on the side, or it has maybe some hail damage where it's got a couple bumps on it.
Things like that, that is like this. It's just doesn't, doesn't affect the taste of the fruit at all. It just looks a little bit different. And then we do have some situations where it's a little over ripe. Right? Maybe a little bit of a bruise on it.
Some people think that, oh, you're taking all the bruised fruit. It's like, no, that's a small percentage of what we take. It's, it's not like we're turning rotting fruit into snacks, right? It's, it's all those other issues that we talked about. But there are situations where, hey, this is a little soft already. You know, it's not gonna make it, it's not gonna make it if it gets shipped across the country.
So because we're all local, you know, we're able to take that and process it quickly before it goes bad. So that's, that's more on the bruise side. Um, but, um, then the other side is the market conditions. Sometimes, uh, as we talked about a little bit earlier, you know, you don't, it's really hard to determine as a farmer how much crop is gonna be, how much is gonna be produced, how much should you plant.
It's, it's a long horizon process, right? They have to plant, plant these tree four, five years in advance of when they're gonna be fulfilling these orders, right? And so sometimes they've, they've sourced all the fruit and they've fulfilled all the orders for the customers, and then they still have more fruit coming in and they're like, oh, what do, what do we do with this?
We, there's no demand out there for it anymore. And so that's another version of, that's not really even ugly fruit. There's a lot of beautiful fruit in there. Uh, but that was being thrown out as well, so we saved that as well.
Eric: Yeah, and I think some, um, I, I have a, I've worked in grocery stores before, so I've seen like, you know, where the pack things that come in. So normally when a, when you get a box of fruit in. There's gonna be like, they're all gonna be a similar sizes, so they're looking for different size, size requirements.
It has to be like, so, you know, sometimes it's so many, so many pieces of fruit per box and, and how they, how they ship pack things. So if you have, you know, some fruit that doesn't fit in the boxes. I mean, it's too big, it doesn't fit or, or too small, you know, it's too small. It's gonna, you know, usually like with like apples, they come like in like, you know, some kind of either plastic or cardboard to kind of hold the apples in there.
So if they're too big, they won't all fit in there. Or if they're too small, but they're just gonna roll around and everywhere. So there is that sizing thing that people. And then stores want, you know, certain things here, like, you know, fruit can be too big too for packing.
Like a lot of times, like I, I'd noticed, I'm looking through grocery ads and they'll be like, we got jumbo apricots, we got jumbo peaches, we got jumbo cherries jumbo all the time. So if you come in and like, I got this little teeny peach here, people are like, I don't wanna buy this. Although sometimes that could be, you know, some of the best tasting fruit, um, because like it has, you know, in some cases it hasn't gotten, you know, it's not extra water, like the flavors are more concentrated.
Um, so again, that's one of those things where it's where if we wanna see more changes that it's gonna have to be like along the process of people accepting different sizes and things here. But there, it, it's complicated. Um,
Matt: Yeah, it is. It's multifaceted and a lot of different things can contribute to it. Uh, so yeah. Yeah.
🙋 What's in Their Dried Fruit?
Eric: We should also talk about ingredients so that where people look on the ingredient list of your packages, what are they gonna find on there?
Matt: Just the fruit. We don't add anything to it. No added sugar, no additives, preservatives, uh, you know, it's really interesting, um, kind of doing some of the, the background research on why we're even putting additives and preservatives in there. And we found that a lot of it's literally just color. It gets, the fruit gets darker as it ages and doesn't look as appetizing.
Uh, so that's why a lot of producers will add the sulfite to add the preservatives, to keep that kind of bright yellow peach color. Uh, but for us, we said that's, uh, that's okay. Uh, there's no reason why, why it can't just get a little bit darker over time. Uh, in order to have everybody just have a single ingredient product that's clean, that they understand and they know it's gonna be good for their health.
Eric: Yep. Love that. Yeah, so, so yeah, it's the perfect thing. You don't have to worry about, , eating a bunch of extra sugar or anything here. You just straight up, you know, toss in there, you know, mixing, you know, with some nuts or something. And you know, it's a great snack to go hiking with.
So.
Matt: Yeah, absolutely.
🛒 Where to Buy Ugly Co Dried Fruit
Eric: Great. Well, it's a, uh, a great talking with you, , today, Matt. Before we go, so where can people find your products?
Matt: Yeah, so we're in,
Sprouts nationwide. Uh, a, a little over 300 stores. Um, we are pretty concentrated on the West coast still, uh, as we continue to grow.
So we're at Whole Foods in Southern California.
We're in REIs around California. We're expanding with them in the fall, which is really exciting. Uh, we're in brunch up in Northern California
In about a month's time we're gonna be launching in five Kroger banners on the West coast. So that is Fred Meyer. That is QFC, Ralphs and Southern California , Fry's in Arizona and then King Super is in Colorado.
So those are some of our main ones. But for anybody around the country that's interested in our products, you can buy it, uh, on our e-commerce site theuglyco.com Uh, and we'll have that shipped out to you, um, asap.
So, and we're also sold once, sometimes people ask, uh, hey, so, you know, how do you compete with imperfect produce, imperfect foods, uh, you know, Misfits Markets, and I always say they're one of our biggest customers. They're not a competitor to us at all. They buy our fruit and they put 'em in their subscription boxes.
So if you, uh, enjoy imperfect foods or you have a subscription already, uh, keep a lookout for us, um, on the portal cuz we'll be there and you can add us your boxes.
Eric: Awesome. That's great. That's great to hear. I also like to see, like you, you're getting into like, you know, REI that's not a grocery store, but you know, as offering, um, your products for, you know, They're great to add to trail mixes.
All right, Matt, thank you so much. I appreciate it. And what's the website again? So people can find you guys?
Thank you Matt, so much. Appreciate it.
Matt: Thanks, Eric.
🎧 More Episodes
If you enjoyed this episode we think you will love these ones as well. Make sure to subscribe to us on Spotify, Apple Podcasts, Amazon Music, Google Podcasts.