Disclaimer: Some of the links you will find below are affiliate links, meaning that at no additional cost to you, I will earn a commission if you click through and make a purchase.
I am not about diets. I don't like the idea of having to stick to some strict rules. Not that I can't follow rules, but sometimes it's hard. Many people will do a diet for a while, one that is a big stretch for them, and they can't keep it up. Then when they fall short they are full of guilt. I am more for sticking to a healthy lifestyle that fits you and your life.
Before Alton Brown's Good Eats went out to pasture, he had an episode where he talked about his diet plan. It helps him cut 50 pounds from his frame. Not that his plan was without rules, but it wasn't a plan that was all about restricting and saying no. He created a list of foods that he should eat every day, 3 times a week, once a week, and never. This allowed him to be able to still enjoy things like pasta, red meat, and dessert while at the same time trying to eat specific foods each day that would be good for him. It's a diet plan that he could follow. It's more about saying yes than no. The only no things on this list were foods that are barely considered food like fast food, soda, "diet" anything, and processed meals.
Everyday Carrots
One of the foods on Alton's everyday list is carrots. Why not? I think a lot of people don't give carrots their due, because they aren't kale. Carrots are a vegetable. They do contain nutrients that our bodies need – vitamin A for example. And that beautiful orange color that most of us eat when we are having carrots, that is beta-carotene.
Cooking vs. Raw
There is a crowd that believes that raw is always better. We should always eat our veggies raw – so don't you dare think about cooking those carrots. However they may not be the case. An article in Scientific American calls this into question.
Another study published in the Journal of Agricultural and Food Chemistry in 2002 showed that cooking carrots increases their level of beta-carotene. Beta-carotene belongs to a group of antioxidant substances called carotenoids, which give fruits and vegetables their red, yellow, and orange colorings. The body converts beta-carotene into vitamin A, which plays an important role in vision, reproduction, bone growth and regulating the immune system.
– Taken from https://www.scientificamerican.com/article/raw-veggies-are-healthier/

Cook Carrots Because They Taste Better
I solidly believe that carrots taste better when they have been cooked. I don't really enjoy them much in their raw state.
There are people who eat raw carrots with a tub of high fat, high sodium ranch dressing to choke them down. Those individual packages of "baby carrots" with ranch are popular at the grocery store.
Carrots + Honey + Tarragon
Here is how I do carrots. I like the combo of honey and tarragon with carrots. The tarragon brings a nice sweet herb flavor to the carrots. Please note I am not putting the exact amount of ingredients you need for this recipe as it's really a matter of taste and how many you wish to cook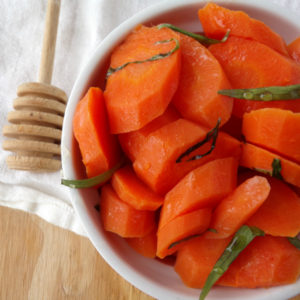 Ingredients
Carrots

peeled & cut on the bias

Fresh Tarragon

you can also used dried

Honey

your choice

Kosher salt

to taste
Instructions
Fill a large pot 3/4 full of water. Add a dash salt. Bring the pot to a boil. Then add your carrots.




Cook them until they are al dente or easy to chew but not mush.

Then drain them in a colander and pat them dry. You want to make sure you have as much moisture off on the surface on the carrot as possible so that the honey and tarragon will stick better. Add honey and dried tarragon to taste. Mix well to evenly coat and serve immediately.
Tried this recipe?
Mention @eatlikenooneelse or tag #eatlikenooneelse