Is your rib roast for your holiday meal in the freezer? Find out how long it will take you to thaw it?
This post includes affiliate links. This means that at no additional cost to you, I will earn a commission if you click through and make a purchase. These are products and services I recommend because I use or trust them. Cookies will be used to track the affiliate links you click.
Are you super excited for your Prime Rib Roast Christmas Dinner? But first you got a frozen roast to deal with. Let us show you how you can get it thawed out in time and how long it will take. We offer both a slow thaw and quick thaw method.
Jump to:
⏲️ Thaw Times
When it comes to defrosting meat, I will do either 1 of 2 options - in the fridge or in an ice bath out of the fridge.
If you want to do it in the fridge, you need to pull it from the freezer 2-3 days before cooking it to make sure it's fully thawed. It depends on how large it is. A 6-bone roast is going to take longer than a 3-bone roast.
Plan for minimum 5 hours needed per pound. So a roast that weights 10 pounds will take 50 hours to thaw in the fridge, which is just over the 2 day mark.
If you want to speed up the process using an ice bath in a bucket is the way to go. I do this with a turkey all the time. You need to be careful that your rib roast is in packaging will keep the roast itself dry. You aren't trying to brine it! You can wrap it in several layers of aluminum foil to be safe.
The approximate thaw time for a roast would be about 30 minutes per pound. Here is a table to see how long yours will take.
| | |
| --- | --- |
| 6 pounds | 3 hours |
| 7 pounds | 3 ½ hours |
| 8 pounds | 4 hours |
| 9 pounds | 4 ½ hours |
| 10 pounds | 5 hours |
| 11 pounds | 5 ½ hours |
| 12 pounds | 6 hours |
| 13 pounds | 6 ½ hours |
| 14 pounds | 7 hours |
Place your roast into a bucket or large stock pot with ice. It's important to keep the temperature of the water below 40 degrees so that you don't risk any bacteria growing. I always do this in a sink or even the tub in case I need to change the water.
You can use a probe thermometer to track the temperature of the water to make sure it stays cold enough.
RELATED - Where to Buy Legit Prime Rib Roast
🧊 Should You Freeze It?
I want to discuss whether freezing a rib roast is a good deal to begin with. If you bought it frozen, sure it's already that way. Most grocery store don't sell them frozen, they are sold fresh. I don't think you need to freeze it unless you are using it months down the road. Rib roasts are at their best price at Christmas time so it's not a bad idea to stock up.
If you are going to use it within 2 weeks of buying it from the store, you should be able to skip the freezing step. In fact you could do some dry aging at home.
Read more our blog post on How Far in Advance to Buy a Rib Roast along with tips for dry aging at home.
🙋 Do You Need to Thaw It?
Some people may argue that you could just put it into the oven frozen, but you are going to end up with it being unevenly cooked. To get the most interior part of the meat cooked you are going to overcook the exterior parts of the meat. You want to have that red/pink color from edge to edge.
However you could do this if you sous vide your rib roast.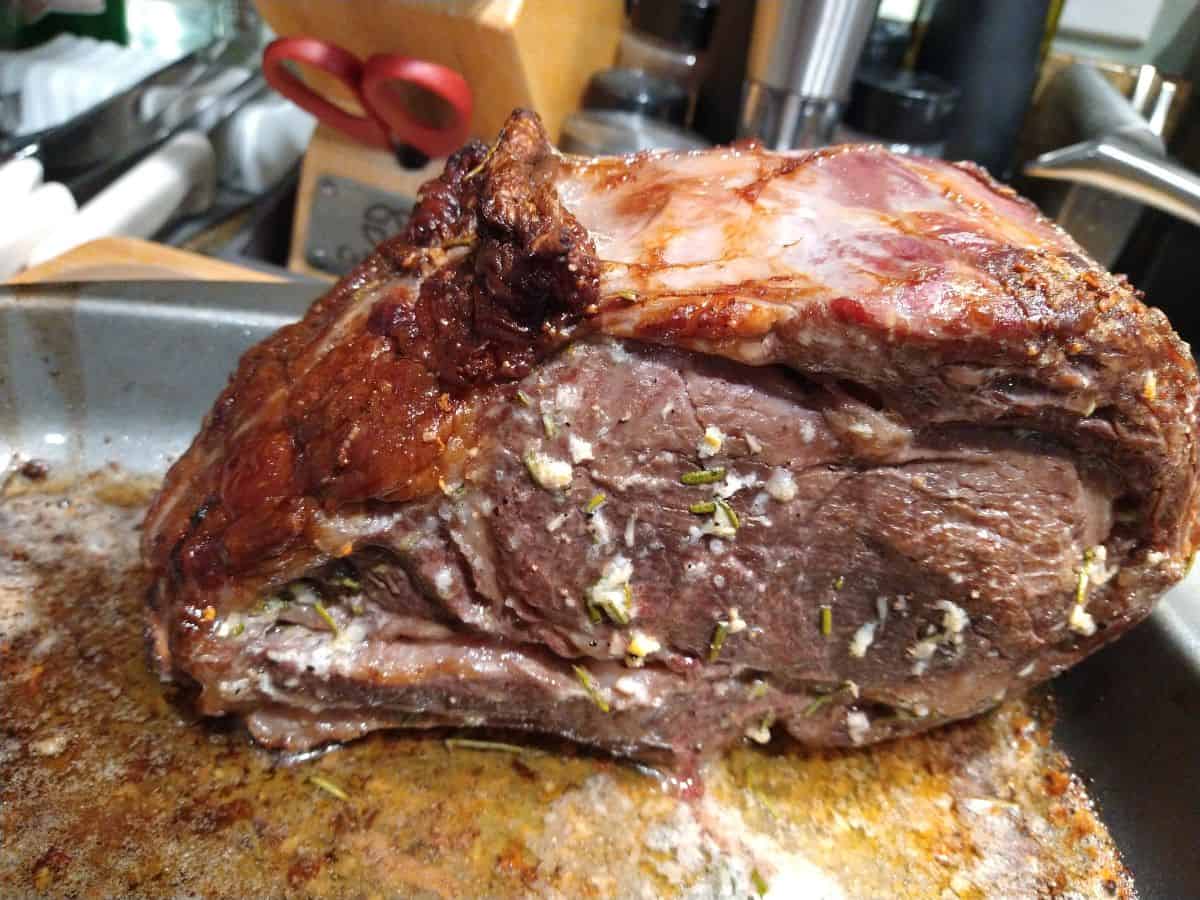 When you cook via sous vide you are cooking to your finished temperature not beyond. That's the beauty of the technology. So your meat will be the same temperature inside and out. So even if it takes longer to cook the center of the meat, the exterior will not overcook in the mean time.
Last year I sous vide my rib roast and it was so perfectly cooked. At the end I put it into a really hot oven with some herb butter that caramelized on the outside. Oh my gosh was it delicious.
Check out our How to Sous Vide page to learn more.