In episode 060, I interview Alexis from the Fancy Apron blog about what she recommends getting at Costco for an amazing Christmas dinner. We talk about beef, ham, and pork and when the best time to shop is so you get what you want and avoid having to haul the kids through the store at a busy time.
🎧 Listen
You can listen to this podcast episode below or listen on any of these podcast players - Spotify, Apple Podcasts, Amazon Music, Google Podcasts. If you would prefer to read the text, you will find a transcript below.
📜 Read
Here is the transcript from our interview with Alexis from the Fancy Apron blog.
Eric: Hey everybody. Welcome to the Eat Shop Waste Not podcast. I'm excited to have you here. It's December now here, and we're getting, all ready for Christmas, and I decide to bring back on Alexis from a Fancy Apron. We had her on earlier. Talking about Costco. She's a huge Costco fan. She knows all about 'em has a family history and Costco's work there and stuff here.
So she's really knowledgeable about all things Costco. So today I wanted to come on and have her talk about what to make for Christmas dinner from Costco. So Alexis, welcome back to the podcast.
Alexis: Hello. Thank you for having me back.
Eric: Absolutely. So when it comes to Christmas dinner, there's a, there's like a lot of choices at Costco and it's a good place to go I think, because, you know, a big meal, you want kind of like a big, a big hunk of meat at a good price.
And I think Costco provides that here. So we're gonna kind of go through the different kind of different kind of cuts and different types of animals that you might have for Christmas dinner. And I think for me, It always goes back to beef. So that's like the roast. So what can you tell us about people can find at Costco for roast and how do you like to cook them?
Alexis: Yeah, so we, I love Christmas dinner so much. We have a couple of them just cuz it's hard to choose one favorite cut and one favorite way to cook. So fortunately we get to celebrate through the holidays a couple times. So the first and probably most popular big hitter is just their prime rib roast, which I did chat with the meat manager at my Costco the other day to kind of get some intel on quantities and on what they're gonna have and when it's gonna be out.
So here in Texas those roasts should be out by the end of the week. I imagine across the country they. They plan for this and they know when they're gonna need to have them ready. So it could be different in other areas. But for us here, they should be in the cases by Friday and they're gonna have their prime, prime rib and their choice prime rib.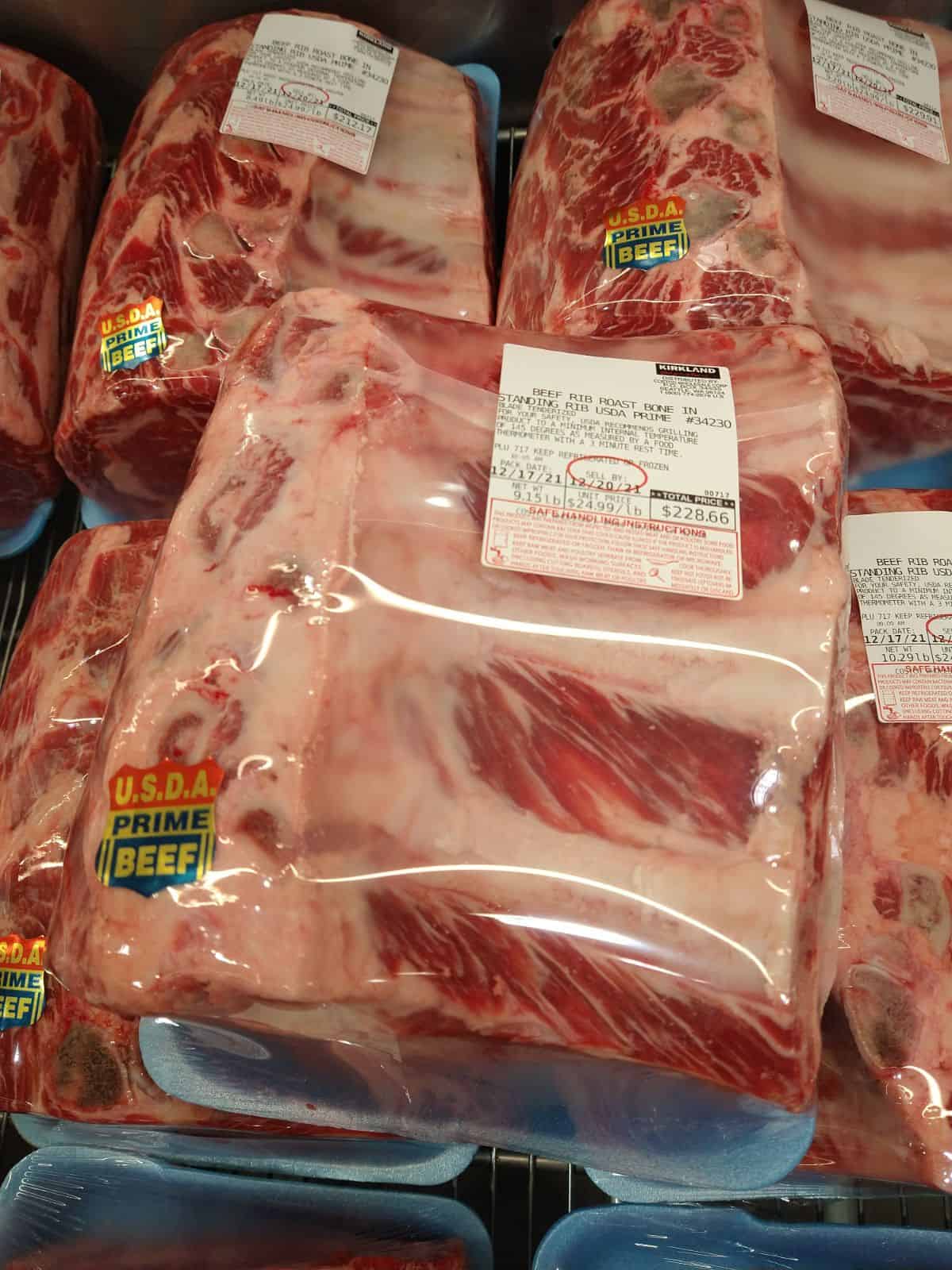 They sell them in generally two or three bone packs, but if you want four bone, you can, depending on how many people you're gonna have. And then when I do it, I go back and forth. I like the one they sell in the deli, so that same cut that they have in the meat department, they also prepare in the deli with their herb and garlic rub, which is so good and it's so easy.
And I feel like because that rub is on there at least one or two days in advance, all that flavor really gets into the meat before I cook it either on the Trigger or in the oven. Otherwise, if I'm making it, I like to salt, pepper rosemary and loads of garlic and maybe some shallots. And really cook that for a while and then finish it off with a sauce.
So whatever kind of sauce I'm feeling, either, you know, a bourbon sauce or a red wine sauce is how we'll serve it.
Eric: Yeah, those, those sounded amazing. Yeah, it's good to get, you know, get that flavor into ahead of time. We tried last year, so we did a, like a more of a dry aging type of like situation where we got some cheesecloth, wrapped it in cheesecloth, you know, put all the seasoning on there and kind of like dried it out a little bit to take some moisture out there.
And it kind of like, doesn't make the meat dry. Oh my gosh, why you wanna dry something out? But like, it, it, it just kind of like intensifies, like the beefy flavor.
Alexis: Yeah, it, that is how my other favorite Christmas cut is a whole beef tenderloin. where I just trim the very small ends and then I do the same thing. I salt it the day before I leave it on a wire rack over a baking sheet and keep it in the fridge so it can dry. Cuz what it actually does is that salt pulls water from the meat, the salt dissolves in the water and then it falls back in.
So instead of having a very seasoned outside, you're actually gonna get salt several inches down into the meat and. Controlling that water also controls how it cooks. So it, it's easier to get a really good medium or medium rare cut with a good crust on the outside cuz it's dry so you're not competing with the water to get that caramelization. It's, it's so good. I'm hungry now.
Eric: It does sound, yeah, it does sound really good. Yeah, that's a really good, really good point. Trying to, you, you wanna have that nice good crust on the outside and, and, also have the seasoning in the meat. I think it's a good way to, to do that when you pull that out here and kind of makes it, I think it browns up better that way too and, and gets us the meat you know, seasoning the inside here.
It's a better use of salt too. Like if you can, if you could flavor your food before you cook it, like if you do a really, really good job of salting your food before you cook it, then you end up not over salting at the tables. I think that's what happens a lot is people.
Don't season the stuff well at the start. And then, so now you're sitting at the table here, you're , shaking your salt shaker on here it's not like really penetrating into the meat. And like, can you point out too, like the meat is, it's, it's gonna be there before you, you need it.
Like it's going to be there plenty of time. You have plenty of time to like, go through and, and salt everything and season it. And, and have it, you know, nicely prepared, ready to go. So, you know, it's not something you have to like buy the, day before. You know, the thing about beef most cases beef tends to like, especially the big cuts too, are gonna last longer than you buy.
That fresh Turkey, you know, which you still do have some time with, but like, you know, it's, you know, it's not something you need to grab that like Christmas Eve.
Alexis: Yeah, I, I mean, I can tell you also, if you're going to get your prime rib roast, you're not gonna get it on a Christmas Eve. It's not gonna be there. Those are destroyed on allocation. and they just, everybody wants more than what Costco can get their hands on for the quality. So they will, they will run out probably they'll sell out.
They're not, I mean, you just gotta be prepared. If you know that's what you want, you gotta get it ahead of time.
Eric: Yeah. Yeah, definitely. And that comes to, like, if you look back with Thanksgiving, and something I've noticed here in the past is they usually do do a pretty good job of having the fresh turkeys all the way up Thanksgiving, sometimes past it, but they're all ginormous. If you go the, everyone's buy, you know, you go there and you're like, oh shoot, now I gotta cook a 25 pound Turkey, cuz I didn't come in to buy early enough.
So it's also, if you want choice, it's. Not choice the grade, but choice as in having options. It's better to buy things ahead of time. Here,
Alexis: for sure.
Eric: So yeah, those are real, really awesome choices. The beef tenderloin, the rib roast those can't go wrong on Christmas with those.. And those, either of those are really, really good options.
Right, so we got the beef covered, I think pretty well here. What if, what about a ham? What do you think of the hams Costco has and how do you like to cook the ham?
Alexis: So their the Kirkland signature, like red foil wrapped spiral ham, they sell their deli that comes with a packet of the glaze is so good. It's so easy. All you have to do is get it. And wherever you can get food hot. So you could do it in the oven, you could put it on your Traeger you could put it in your crock pot, or I think you said that you've done it in the Instant Pot.
Those are all great options. If you can get that meat up to 145 degrees, it's, that's all you have to do. So it just tastes good. The leftovers are good. It's good for breakfast, you know, leftovers the next day. But I really love that we have that probably twice a year specifically for holiday meals.
Eric: Yeah. Yeah. It's, yeah. As you mentioned, the, yeah, the Instant Pot, you can totally do it in there. It, it usually fits. I've done it several times and usually if you buy a small enough one, Depends of your size Instant pot. Most of us have six quart Instant Pots, which that's kinda the standard size. If you have an eight quart, you'll probably easily be fine, but 6 quart sometimes if it's the, if the ham a little wider, you may have to like, you may have to cut a little bit off of that here, but you still could eat that.
I mean, I wouldn't just throw it out too. You could totally cut a little part off it and. Put that in your fridge and some morning bring it out for breakfast and throw it in a pan real quick here and you know, with some biscuits on here. So you totally can do that too. But that usually I, yeah, that I can do.
Really simple, super easy here. So I think it's, when it comes to like the ham, it's like you wanna like just get that thing hot. Um, I use a thermometer if I'm not gonna do it, the pot like a probe thermometer to make sure I don't like overcook it. Make I don't get above that temperature. Cause it's ham's already cooked, easy to get.
And plus two, like since you're talking about something so salty, like ham, just, just buy it when you see it. Like you, you know you can buy it just whenever. You don't need to, don't need to wait at all. You know, you're not waiting for the price to get better, like, nothing like that's gonna happen. You just need to like, you know, pick in the store, pick.
Throw it in the, I mean, throw it in the fridge and the only reason to buy it last minute is if you're really just like strapped for fridge space.
Alexis: Yeah, and it's, it's just a great, it's a great thing for a holiday dinner, a sit down dinner where everyone's gonna sit cuz it just has that big huge presentation, that spiral cut. It looks pretty, it smells good. It's only around for the holidays so it gets everybody in the holiday mood. So that with some, you know, au gratin potatoes and a couple veggies.
I'm happy camper.
Eric: Here's that. Yeah. So you've had the glaze? Do you ever make your own or you just use the one that comes with it?
Alexis: I just use the one that comes with it. If, if I were to buy the ham it's like a chunk, I don't even know what the word is. I think master cuts is the
Eric: Yeah, the Kirkland Master Carve Ham, it's like a, it's a half ham. It's a it's a boneless hand, but it's kinda like this, I call it like a new generation boneless ham. Like you, like used to think of boneless hams or like some like, like just some put together round log that was, you know, with. That's not bone in here, but it's kind of like, you know, kind of compiled together.
It's probably not like the most healthy thing trying to keep that together. So this is more like a natural style ham where they, they cut the bone off here and it's kinda like this weird flat shape, but the meat is 100%, like it's usable meat. Like they don't have, like, I never waste any of it.
Like you don't have to cut anything off fatty pieces, but yeah, that's that's apple wood smoke.
Alexis: Yeah. So on the times that we have gotten that, I've actually made more of like a honey mustard sauce to go with it. Cuz it's fast cuz my kids like it so. It's, that's the good way to mix that up. If I don't have a glaze
Eric: Yeah. Yeah. And the spiral him, you, you just make slices right straight through. No bone. It's super, super approachable. So both their ham, I think, are really approachable, easy to, to cut and serve up and, and people, you know, it's a nothing thing to have on hand.
And even like the, so they come like a, half ham size. So if you have, maybe you have someone who doesn't eat beef or whatever you're gonna cook there, you know, it's some easy, you can actually have as an extra thing, you know? Or if you just wanna have. Two meats on Christmas. I mean, why not?
It's a big, you know, only comes once a year.
Alexis: For sure. Yeah. We, we especially do that for Thanksgiving because some people we just like both and it's a holiday, so if you wanna make it a feast, you gotta have more than one kind of meat. And then, if you don't want an insane amount of leftovers. But that's what I like to do. And if it's just us, if it's just our family of four, then I can save a little bit of it and portion it out and use for things like sandwiches later on. So there's still a lot of ways that you can use either or. Just just knowing ahead of time is helpful.
Eric: So so as. Thanksgiving is known for the turkeys here. So if someone wants a Turkey from Costco for Christmas too, what what could they find that time of year?
Alexis: So their, their turkeys, their turkeys out of the meat department are done, as far as I know, they are done with those for this season, but they do have a packaged smoked turkey that you can buy out of their big open cases. It's like where they have the spiral ham, so it's pre-cooked. All you have to do is is cut it open and heat it up.
It's got that smoked smokey flavor, so if that's what you wanna get from Costco, you can. They also have, if you have a really small crowd or small family, they do also have a boneless Turkey roast. That's just the breast that's also pre already cooked and seasoned very well. So either one of those, if you want to get Turkey on the table are good choices.
Eric: I've seen like the prices kind of go up on, on both, of those items. So, so it is a little more expensive than used to be here. But it could be another quick option. And the smoked Turkey is kinda similar, same kind concept with a ham, it's smoked, it's already cooked.
So again, you're just trying to get it to temperature. You're not at risk of serving raw food to someone. I mean, if you, if you could somehow take cook food, make it raw, you have some kind of magic I don't know about here, but you should be totally safe.
You know, those are totally, you know, opposite if you're, if you're stressed with that. Cause I think like, you know, Christmas isn't a Thanksgiving dinner. There's kind of two separate, like, I think there's two ways to go here. Like some people like to do like the full on crazy Christmas, just like Thanksgiving and do really high quality stuff.
And some people just wanna be able to eat food and be able to enjoy the day here. So like, if you're one of those people that just like, I don't wanna get super stressed out about cooking and spend all my day cooking and wanna be able to sit down and open presents. Then cooking, you know, doing the smoked Turkey, doing a ham, you know, is still easy.
And even, even the rib roast, I think, I think like, like, you know, if you haven't already seasoned up, ready to go, you just gotta throw in the oven.
Alexis: Yes.
Eric: All those can be pretty approachable. Options. Right. What about pork? So if you want go, you know, pork is definitely running cheaper than the other options.
Beef and the ham too, you can probably the pork cheaper. So if someone wants to do pork, how could you think you can make pork special for Christmas?
Alexis: So they do have, right now, or this time of year, they have their bone in pork roast, just like the prime rib with those bones in, they've got the pork roast. It's so affordable if, if you're looking for that big cut of meat to get out there for like a big presentation. It's also the kind where, If I don't, I don't see people do this very often anymore, but make a crown roast, you know, where the, it's, the meat is cut between the bones and then you can curve, curve the meat around and tie it off and then cook it like that.
So then you're cutting off individual pork chops basically off of this roast. Very similar. Or my grandma used to do it for Christmas with a beef roast, but it's, it's big. It's white meat. It's not hard to do and it, it will cook faster also. So if time is an issue or if money is an issue and you want something good looking and really flavorful, I would do a a bone in pork roast.
Eric: So we, we covered the, the meat pretty well. When do you normally go shopping for your, you know, if you're for Christmas day, when do you like to get your, your shopping in? To kind of beat the crowds and have everything you need.
Alexis: Four to five days out.
Eric: Yeah. Yeah. And I think too, it probably depends on, you know, be it's best, obviously best going to Costco. when it's not the weekend, that's always gonna be a little more, a little more crazy. So I think like if you could, like for me, I think.
It depends on Christmas, cause Christmas always changes. What day of the week is Thanksgiving? It's kind of easy. It's always Thursday, so you kinda look at where Christmas is. I think we got a, weekend this year. I think it's on a weekend. I think it's on a Sunday on
Alexis: I think you're right.
Eric: Sunday this year.
So I could change things a little bit, but yeah, kind of going in there, you know, finding those non busy times to go, like definitely Christmas Eve would not be a great time to go there, so maybe. You know, having worked in grocery before, like Thursday was always kind of like the slow day. Like you kind of like, you know, a lot, a lot of people end up going Monday could be kind of busy too.
People they like going there, like getting their stuff ready for the week that they haven't to over the weekend. They wanna come in Monday here. But usually like that Thursday is kind of like that
So kind of like balancing in there might be your spot of like avoiding the craziness cuz Costco. It could get pretty intense. So there's some type, it's really busy. It's, I think it's done hard to shop and then you kind of like wanna rush out and that make, you know good decisions.
Cuz you're kinda like, oh my gosh, are you hurting out here and stuff here. And it's like, I wanna be able to take my time when I go to Costco.
Alexis: It's always interesting to see cuz there's a couple different variables. One thing is when people are gonna travel, so so you know, that stuff gets hit pretty hard and then people might be traveling Thursday or Friday of this year. Depending, cuz then they'll have that whole week after. For us here, school is out the week before with Christmas falling on a Sunday.
So we are all gonna have our children with us and nobody wants to take their children to Costco going into Christmas. It's just rough man. It's like sensory overload. You've got so much more to manage and you're trying to get through a crowd of people. So I don't know what effect that is gonna have. the business or shopping. If you can trade with a friend, you know, you drop your kids off at your friend's house and you go, and then you come back and switch. I don't know, I don't know what people are
Eric: A good option. Yeah.
Alexis: Having you know, managing that. So it'll be interesting cuz then if you can get your quantities, if you can get what you want, the cut of meat, then that, that's gonna be the hurdle.
Eric: Yeah. Once you get that kind of, you think you're pretty golden to, and again, like we've talked about, like you don't need to get it right ahead of time. You can, plan ahead and then that'll save tons of stress here. Thanks. So before we wrap, wrap things up here, what are, what are some other things?
So you're shopping in Costco, you, you got your meat here. What are some other things you want to hit up? What are some of your other favorite items to buy along with your Christmas dinner?
Alexis: Out of their bakery, it's hard to choose a favorite dessert, especially with my family cuz we like them all. But they have a chocolate tuxedo cake. Which is so decadent, and there's this white filling that goes through the middle that I could just eat out of a bucket. It is so good. So it's a black and white cake.
It's very pretty. It, it serves probably 10 people, depending on, on how big of a piece people want. And then my other favorite thing is their chocolate bark, which I started making myself. That recipe is up on my website, but they have a peppermint bark that's layered dark chocolate with white chocolate and then crushed up peppermint pieces on top, and it's so.
Eric: So good. That sounds so good. You can't you cannot go wrong with peppermint bark. I love you need to have a peppermint thing so that, that sounds amazing.
Alexis: Yeah. So those, those are my favorites. Those will also be what I'm on. And then I always do mashed potatoes, either green beans or Brussels sprouts. So those quantities should be good to go all the way through the week of Christmas.
Eric: . What type of potatoes do you like to use for your Mashers
Alexis: Yukon.
Eric: Yukon! Definitely, yeah. I'm all, both Yukon too. They have that nice kind of buttery like flavor and so yeah, those are one of my favorites to, to try to them with.
Alexis: I tell people though, cuz I am pretty passionate about mashed potatoes. If you want a creamy, flavorful mashed potato, I say get Yukon. If you want a light, fluffy mashed potato, go ahead and use a russet cause there's the, just the starch is different. So there's no wrong answer.
Eric: Actually I have a recipe on my blog where I bake the potatoes and then turn them into mashed potatoes. So it gets a little bit of a texture here, but you get really, it's more intense potato flavor cuz you're not putting anything in water, so you're just like constant, that potato flavor. In our family, we don't peel potatoes.
But some people that have to have 'em peeled. So if you, but it's much easier to peel a baked potato I hate using peelers. Like it's my life goal. Never use one ever again. To not like them, but, so those are, yeah, those are really good. Well, thank you so much for coming out and talking about I'm hungry now. We're recording this around lunchtime too, so this is not helping. So hearing all these great, great yummy foods that you guys can have for so so again, for those who need to be or be introduced to you the first time, where can people find you on the internet?
Alexis: Oh so my website is fancy apron cooking.com. And then on all the socials fancy Apron is where I'll be on Instagram, on Facebook, and on TikTok.
Eric: Yeah, sounds great. And also too, like she's also a big Traeger fan. So if you have a Traeger, you need to check out some of her great content on that here. . All right, Alexis, thank you so much for coming on. I hope you guys have a great Christmas.
Alexis: Thank you for having me, Eric. It was a pleasure.
📚 Additional Resources
Check out Alexa's recpe for Beef Tenderloin with a Red Wine sauce. You could also use this sauce with a rib roast as well.
For your sweet tooth check out her recipe for Christmas Chocolate Bark.
We have a series of guides on our blog to help you shop for different types of meat at Costco.
If you want to buy a ham this year, consider the Master Carve Ham and check out our review of it and how to cook it.