Are you looking for uncured corned beef for your St. Patrick's Day meal? We will show you where you might be able to find it and what brands make it.
We also will try to define what uncured corned beef brisket is.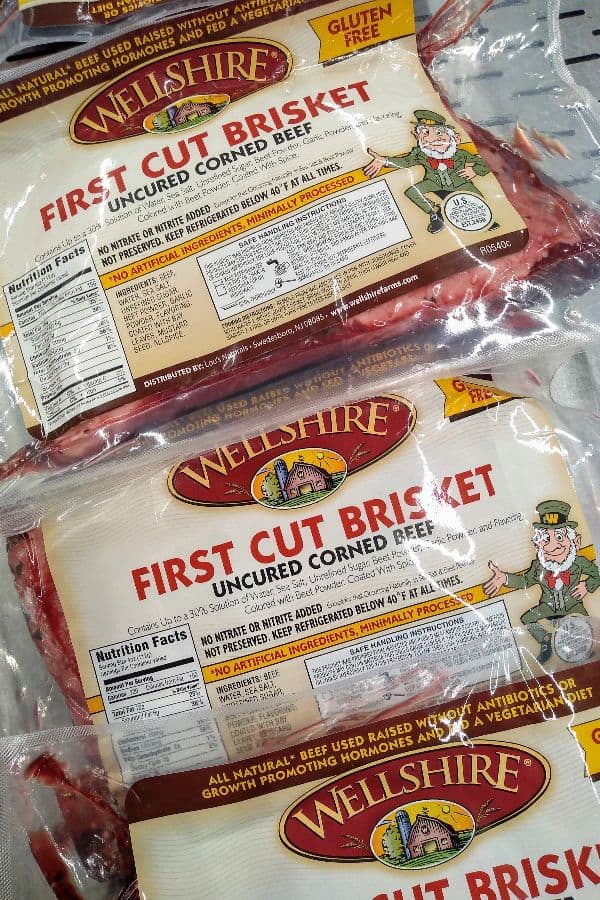 Looking to cook some corned beef for St. Patrick's Day this year?
It's great if you can make it completely from scratch with your own seasonings.
But many will buy a pre-seasoned brisket, where that work is done for them. One of the options you might be looking for or you may come across is uncured corned beef. What does this mean? And if you are looking for it where can you find it.
Let us answer those questions for you!
Jump to:
? What Does Uncured Mean?
To understand what you are getting when you see uncured on the label you need to know that it contains no added sodium nitrates or nitrites.
Many people have concerns about consuming nitrates or nitrites in cured meats not limited to corned beef but also products like hot dogs, ham, and bacon. There has been a huge increase in "uncured" meats on the market.
These meats are still cured just without adding sodium nitrate or sodium nitrite. That doesn't mean they don't contain any nitrates or nitrites. You will find on a note on any packaged uncured meats that reads something like this "except for those naturally occurring in sea salt & celery powder".
Uncured corned beef is considered not preserved, so it must be kept refrigerated.
☘️ Learn why we eat corned beef on St. Patrick's Day.
? Where to Buy
If you are shopping at Whole Foods Market, you can find Wellshire Corned Beef. It is advertised as not only been uncured but also made from cows that aren't given antibiotics or hormones.
It is a first cut brisket, which is another name for a flat cut brisket.

? Learn more about the different cuts of brisket.
I have also seen it myself at Trader Joe's.
Here are some other stores to look for it at:
Central Market
HEB
Natural Grocers
Publix
Wegmans
Let us know in the comments below where you have found uncured corned beef.
? Recipes
We have a couple corned beef recipes on the blog you'll want to try yourself.