Find out what to look for to know if the green beans you have are too bad to eat or if you can still salvage them.
This post includes affiliate links. This means that at no additional cost to you, I will earn a commission if you click through and make a purchase. These are products and services I recommend because I use or trust them. Cookies will be used to track the affiliate links you click.
Never is throwing food in the trash a desired outcome when we are shopping for it in the store. You want to try your best to make sure the fresh foods you buy remain fresh long enough for you to eat them.
Today we are going to help you with that when it comes to fresh green beans. Learn about whether your green beans in the fridge are bad or not. Also we will also look into how to best store them and how long you should be expecting them to last in the first place.
We will start by looking at some problems you find with green beans. I always say when making a decision whether something is still good to eat or not you have to make your best judgment. Never do anything you don't feel comfortable with.
Jump to:
🟤 Brown Spots
The most common problem I come across with green beans is that they get brown or rust spots or lines. Are these beans still ok? For me it depends on how severe it is. Maybe I only have a few beans in the bunch that are exhibiting this. In that case I might toss out those couple beans.
Often times it's most of the beans. If it's only slight browning that I will still eat the beans. The quality won't be as good - they won't taste as good but still edible.
Verdict - Use them if they aren't too many brown streaks or any other problems.
🍄 Moldy
Any mold and I toss all the beans out. Not worth even considering. We will talk more about preventing mold further on down the post.
Verdict - Throw It Out! (or compost it)
🐌 Slimy
Sometimes beans can start to feel sticky or almost slimy. This I think is a little more subjective. Some people say to just throw them out at that point. I ask more questions. Do the best smell fine? Is there sign of any mold.
Give them a good wash under running water. How do they feel now? I have done this before and they have still be totally fine to eat. If you find them in the fridge like this you need to eat them that night. Do not wait.
Always use your best judgment!
Verdict - Rinse them off. If they seem good after that, use them right away .
🧓 Wrinkly
Do you see wrinkles on your green beans? They probably got too dried out in your fridge. If you don't have any of the other problems above you can for sure still eat them. The texture may not be the best, but they are salvageable. I would definitely recommend cooking them and avoid eating them raw.
Verdict - Cook them still.
🧊 How to Store Green Beans
The key to storing green beans is to balance out keeping them from being too wet or being too dry. Definitely store them in the fridge. But you shouldn't have them tightly stored in a plastic bag from the grocery store. That's how they get moldy. Often those plastic bags will get condensation on the inside, which could cause the beans to go bad quicker.
A reusable container with a lid is a great way to store them. The beans won't have water next to them and the lid keeps them from drying out. A produce bag made out of mesh that is breathable works as well
Don't wash the beans until you are ready to use them.
🍴 RECIPE - Air Fryer Green Beans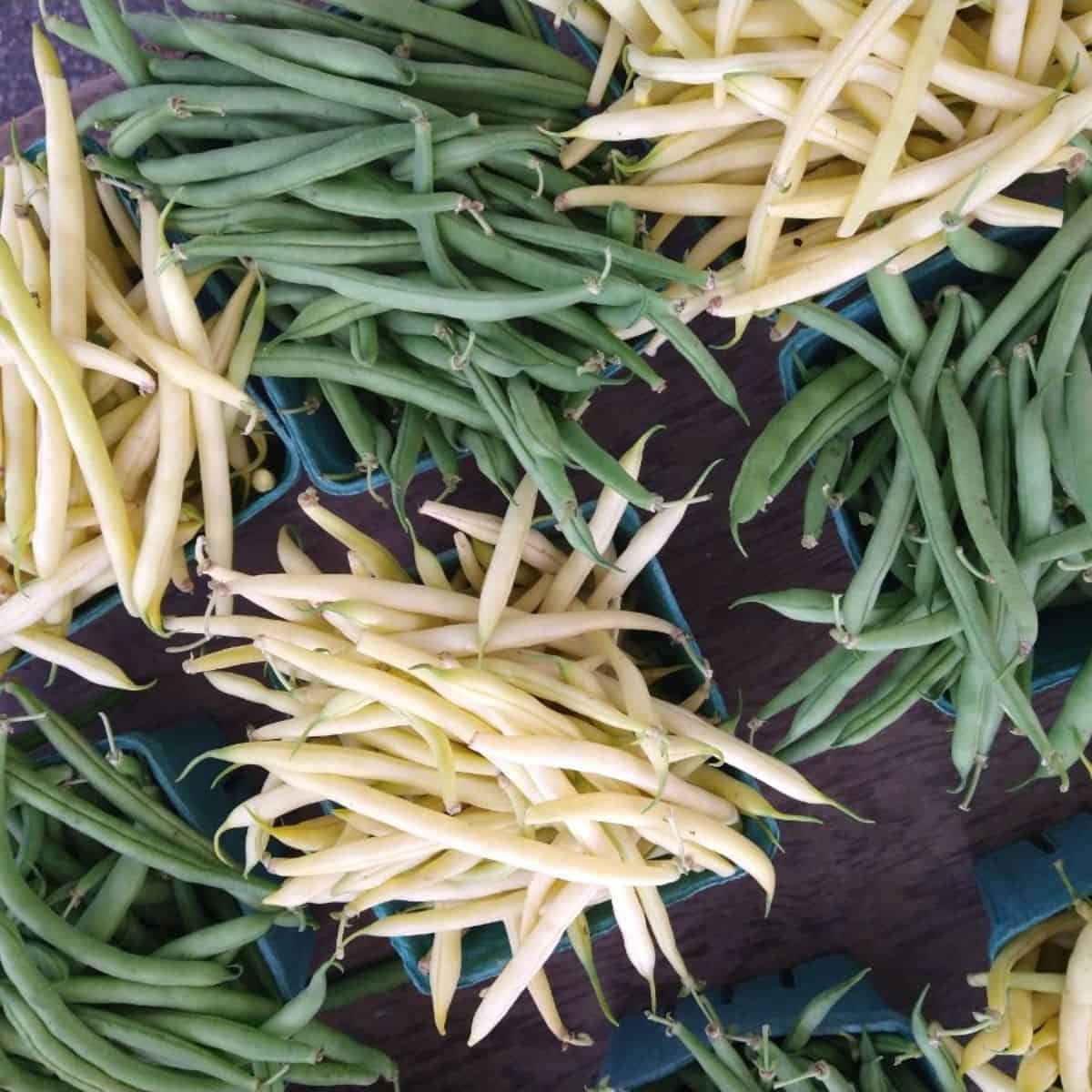 📅 How Long Do Fresh Beans Last?
This depends on your source. If you get them from the grocery store I would try to consume them within 3 days. If you follow our directions above maybe you can get a week out of them.
If you are getting them straight from your garden or from the farmer's market where they were just picked, then you could easily get a week or more out of them.
🟡 How Long Do Wax Beans Last?
Wax beans have the same issues as green beans. If they look more white in color that doesn't necessarily mean they are bad, that often happens as the beans mature, the pods will turn white. Usually those beans are not as tender and I would avoid buying them. Instead picking the wax beans with the brightest yellow pods.
Learn whether or not there is a difference between cooking green beans and cooking wax beans?
🗓️ How Long Do Cooked Beans Last?
Try to eat your already cooked green beans within 3 days. This is my general rule for any leftover cooked veggie. As soon as your leftovers are cool enough get them in the fridge. Beans tend to cool fast so this shouldn't be a problem.
🥬 More Toss or Keep Posts
Find out when to toss or keep these other veggies.