Learn how to take frozen beans and carrots from the freezer to the sous vide bath with amazingly delicious results.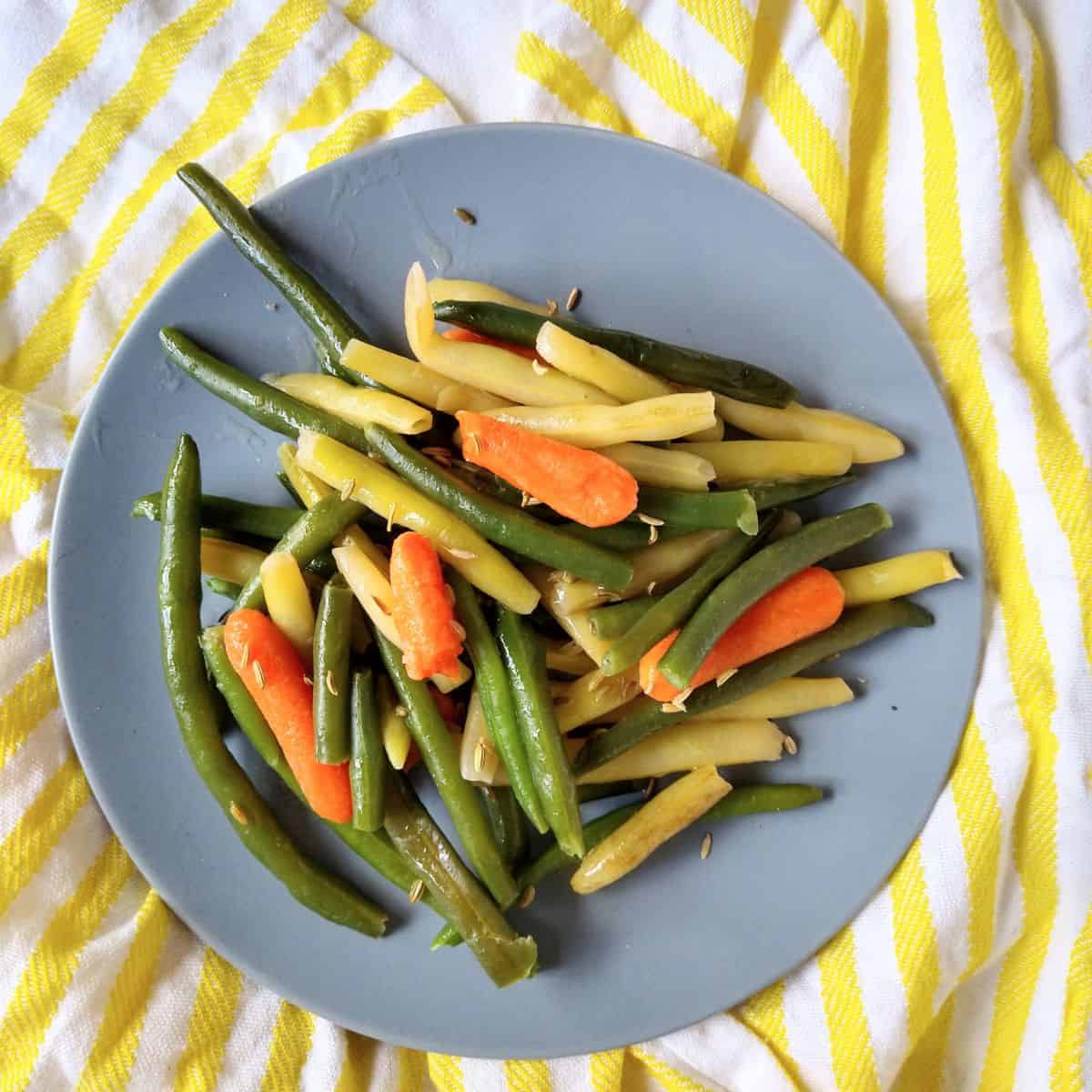 This post includes affiliate links. This means that at no additional cost to you, I will earn a commission if you click through and make a purchase. These are products and services I recommend because I use or trust them. Cookies will be used to track the affiliate links you click.
I am one that prefer my veggies fresh. Frozen is never quite as good.
However I wanted to see if I could find a way to make frozen vegetables better.
The question that came to my mind was - what if I sous vide them? I decided to try a medley of green beans, wax beans, and baby carrots.
Jump to:
⚙️ Why It Works
When the beans and carrots are frozen, small ice crystals are formed. When you boil or steam them they already have some moisture and are thus more likely to be overcooked or waterlogged.
When you cook via sous vide you aren't adding any additional water to the veggies, thus making for a better texture. After cooking them in the water bath I couldn't really tell they were frozen to begin with.
🛒 Ingredients
Here is what you will need for this recipe.
10-12 ounce bag frozen beans & carrots
4 tablespoons cold butter
kosher salt to taste
black pepper to taste
¼ tsp dill seed (optional)
¼ tsp fennel seed (optional)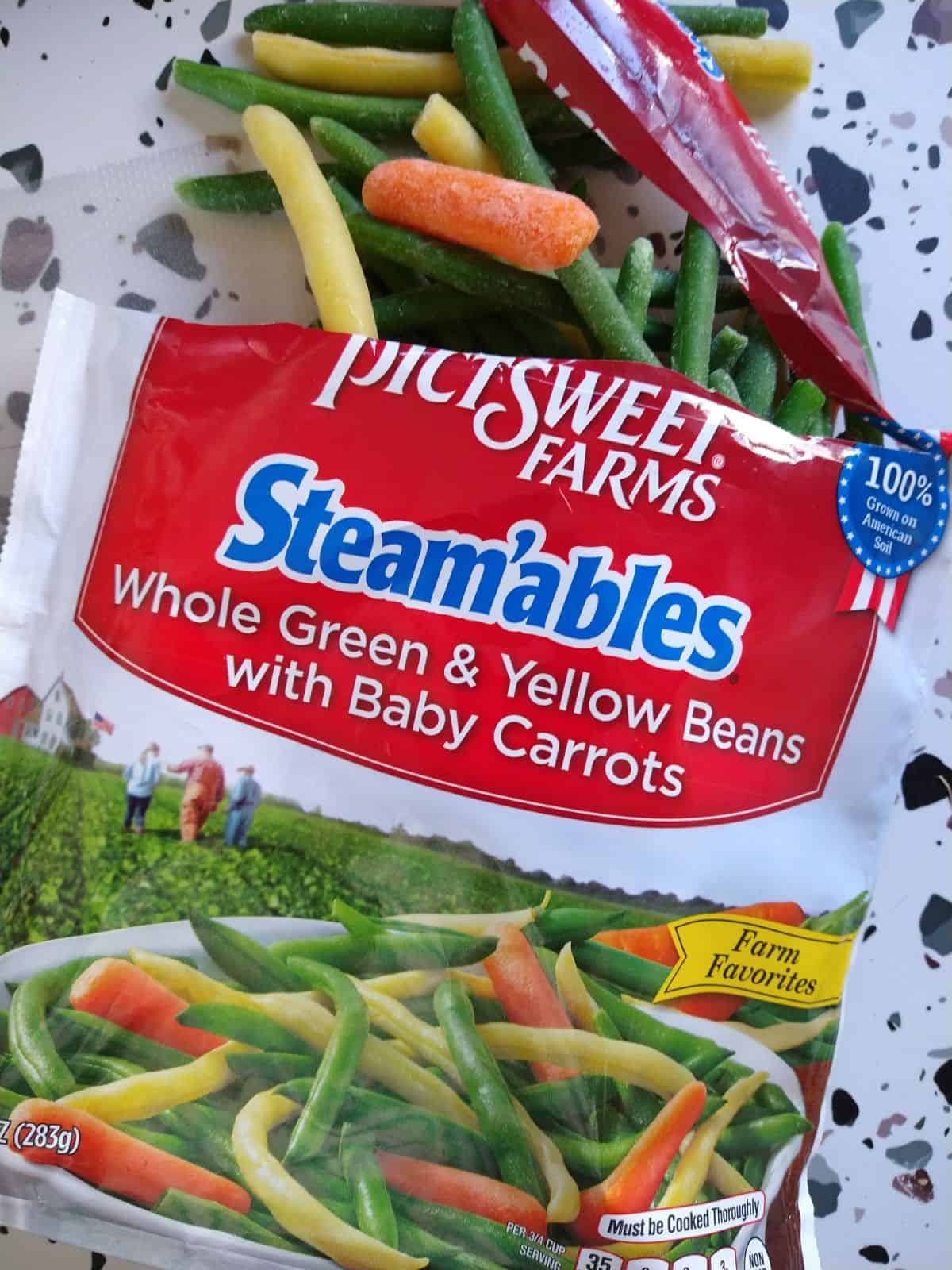 I like to choose brands that are whole beans, not cut ones, like these ones from PictSweet Farms. Often time they come in "steamable bags" for microwaving but we have other things in mind, don't we?
If you are at ALDI, get the frozen bag called Prince Edward Medley.
I think both dill and fennel seed are a nice unexpected addition to these veggies. You can either use one, both, or omit if you don't like or have either.
📋 Instructions
Start by adding the vegetables directly from the freezer to a bag for sous vide. Here are a couple options to consider for bags
Add in salt and pepper to taste plus any other seasonings you would like to use. Cut the butter into cubes and add it to the bag. Make sure the butter is cold so you won't have any issues when vacuum sealing. You can even throw the butter into the freezer for a bit before sealing.
Get the bag as flat as you can get it and suck all that air out. As you can see all of my butter was at the top but as it melts when cooking it will spread through all the veggies, so no worries about equally distributing it.
How Long to Cook? - Set you water bath to 183 degrees. Cook for 30 minutes for more firm vegetables and 45 minutes if you want them softer.
It doesn't take any longer to cook frozen vegetables than fresh. They defrost really fast in the water bath so no additional time is needed.
Sometimes the veggies will float in your water bath so have something heavy ready to weight them down if needed. I have a small pot on hand that I use regularly if this happens.
💨 Instant Pot Sous Vide
I gave this recipe a try using my sous vide function that my Instant Pot Duo Plus has. It works just find. One thing to keep in mind if you are trying this function out for the first time it takes quite a while for the water to come up to temperature. And by quite a while I mean 30 to 40 minutes. It's not quick but if you plan ahead you surely can do it. Just make sure you are close enough by to check on it or make sure you can hear the pot beep when it's at temp and time to put in the food.
Also the Instant Pot Sous Vide time settings are only in 30 minute increments, so if you want 45 minutes, set to 60 minutes and set your own timer for 45 minutes
🍽️ More Sous Vide Recipes
Check out our other sous vide recipes on the blog.
🥕 Veggies
🥩 Meat
Sous Vide Frozen Beans and Carrots
Take frozen green & wax beans and carrots and turn them into a delicious side dish in your sous vide water bath.
Print
Pin
Rate
Equipment
immersion circulator (sous vide machine or Instant Pot with sous vide function)
Ingredients
10-12

ounce

bag frozen beans & carrots

4

tbsp

butter

kosher salt

to taste

black pepper

to taste

¼

tsp

dill seed

optional

¼

tsp

fennel seed

optional
Instructions
Start your water bath. Set it to 183 degrees for 30 minutes or 45 minutes if you want softer vegetables.

Add veggies and cold butter to a sous vide bag. Add salt and pepper to taste. If using dill or fennel seed add that now too.

Try to get the vegetables as flat as you can in a single layer and then seal with a vacuum sealer. If you don't have one use the water displacement method.

Add to water bath once it has recached temperature. If the bag floats, use something heavy like a small pot to keep it submerged. Make sure you don't pass the max fill line for your sous vide machine.

Remove veggies from water bath when done with a pair of tongs. Serve immediately.
Tried this recipe?
Mention @eatlikenooneelse or tag #eatlikenooneelse