Want to have that smoked turkey flavor without cooking a smoked turkey for Thanksgiving? Check out our recipe for a smoked turkey gravy you can start in your Instant Pot ahead of time and finish up on Thanksgiving Day.
This post includes affiliate links. This means that, at no additional cost to you, I will earn a commission if you click through and make a purchase. These are products and services I recommend because I use or trust them. Cookies will be used to track the affiliate links you click.
In the spirit of "you can't have too much gravy on Thanksgiving" I decided to boost our gravy supply before the big meal.
But I also wanted to make a gravy that was more interesting in flavor. Continue on to see what I used.
Jump to:
🛒 Ingredients
I searched around a few grocery stores until I could find some smoked turkey necks: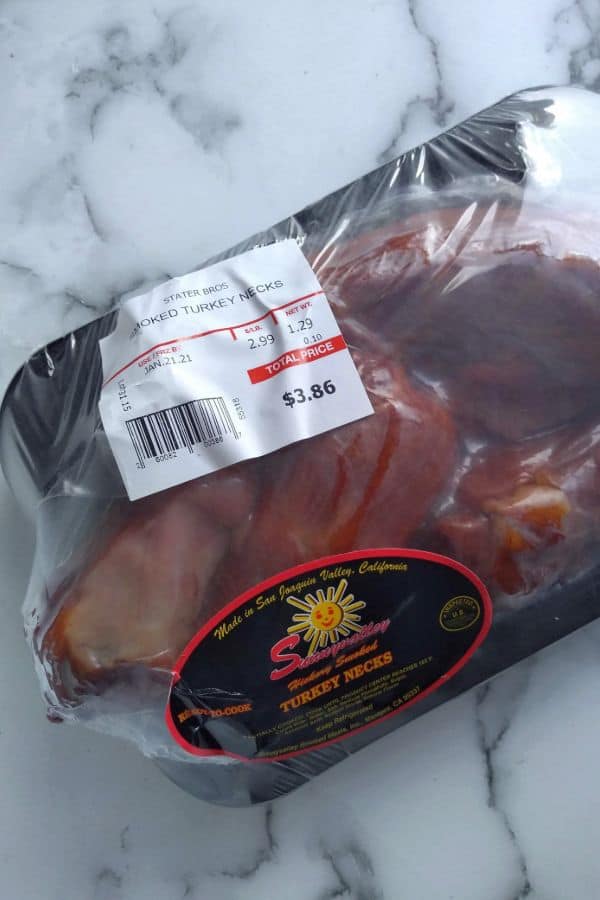 And smoked turkey wings.
You can either. I decided to go with some of each of them for my stock.
My concern going into this recipe is that the smoked turkey necks and/or wings would produce a stock that would be too salty. As insurance I bought some regular turkey necks as well. I decided I would make the stock and if it was too salty, I would make a 2nd unsmoked stock and then mix them together. But I was pleased that I didn't need to do that as the stock wasn't too salt and still needed some salt added.
Here are the ingredients you will need for the stock. Please note that I made this recipe in a 6 quart Instant Pot. If yours is bigger you can add more ingredients or just use less water.
1.5 - 2 pounds smoked turkey necks and/or wings
1-2 celery stalks
1-2 carrots
1 small or medium onion
You also can add some fresh herbs, a few sprigs of thyme, sage and/or rosemary.
To make the gravy, I like to make a roux.
For every 2 cups of liquid, use 4 tablespoons butter and 4 tablespoon of all-purpose flour.
This recipe will make about 8 cups of stock, give or take some. For my family gatherings I have made 4 cups of gravy and froze the rest of the stock in 1 cup increments for later use.
📋 Instant Pot Instructions
This is super easy to assembly just put all the smoked parts, vegetables and herbs into the Instant Pot. I just break the carrots and celery in half. You will need to cut your onion in half unless you have super strong hands and can rip it in two!
💡 Tip - I have a silicone sling that I place into the pot first and then I put all the ingredients on top. This allows me to quickly remove everything once used up. I most often use the sling for when doing whole chickens in the pot. It makes removing a hot chicken so much easier.
Cover with water up to right underneath the max fill line.
Place the lid on and set to cook for 45 minutes at high pressure.
Since you can't really overcook this, you can either do natural release or a manual release if you are short on time. It's up to you.
Discard the turkey parts (you can try to save some meat but probably will be too tough) and the veggies.
Now I unplug the Instant Pot. Once cooled some, I place it into containers for the fridge. If you have ice you can put the containers in a large bowl of ice to help cool it off faster.
Place your stock in the fridge overnight.
🥄 How to Make the Gravy
When it's time to make the gravy, follow these steps. You are making a roux.
Get a large pot so you don't have to worry about it overboiling.
Measure out how much stock you are going to turn into gravy. Melt 4 tablespoons of butter per 2 cups of stock. Have an equal amount of flour as the butter ready to go.
Once the butter has melted, stir in the flour until it's well combined, then add in your liquid.
Bring to a simmer over medium heat. Stir often until the gravy has thickened. It will thicken more as it cools a bit.
Got leftovers? Use them all up within about 3-4 days or freeze to use later on.
🦃 More Instant Pot for Thanksgiving
We have an entire guide to using your Instant Pot for Thanksgiving that you can check out. Also make sure to take a look at these Instant Pot recipes:
Instant Pot Smoked Turkey Gravy
Learn how to make a smoked turkey stock in the Instant Pot before Thanksgiving and then turn it into gravy on the day of. The recipe makes around 6-8 cups of stock.
Print
Pin
Rate
Ingredients
1.5-2

lbs

smoked turkey necks and/or wings

1

large

stalk of celery

2

medium

carrots

1

small or medium

onion

5-7

sprigs

fresh thyme

optional

2-3

sprigs

fresh rosemary

optional

2-3

sprigs

fresh sage

optional

kosher salt

to taste

4-16

tbsp

butter

depends on how much gravy

4-16

tbsp

all-purpose flour

depends on how much gravy
Instructions
Add the smoked turkey parts to the pot of your Instant Pot

Break the carrots and celery in half and add in along with any fresh herbs you are using. Slice your onion in half and add it too.

Cover with water until you are just below the max fill line for your Instant Pot.

Put on the lid and set to 45 minutes of high pressure cooking.

You can either allow for a natural release or do a manual release if you want to speed up the process.

Remove and discard the turkey necks and veggies. You can save any meat from the turkey if you like, but it likely be pretty tough.

Turn off the Instant Pot and allow to cool down before placing the stock into containers to put into the fridge.
To make the gravy
Take your stock containers out of the fridge. Remove any fat that is on the surface. You can save this for cooking with later on.

For every 2 cups of stock, melt 4 tablespoons of butter in a large pot over medium heat.

Once the butter has melted, add 4 tablespoons of all-purpose flour for every 2 cups of stock you are using. Stir in the flour until it is well combined with the butter.

Add the stock you are using. Mix well with a whisk to combine.

Bring to a simmer. Once thickened, reduce the heat to low, and keep on warm until ready to serve.
Notes
If you don't want to make it smokey, you can just use regular turkey wings or necks. 
If you can't find smoked turkey wings or necks, you could try using liquid smoke to get a smoky taste. Or a good smoked salt.
Tried this recipe?
Mention @eatlikenooneelse or tag #eatlikenooneelse