The Instant Pot is known as being a time saver. Learn how to use your pot to save you time for Thanksgiving without sacrificing any of the flavor. You can make several sides and even a bone-in turkey breast.
This post includes affiliate links. This means that at no additional cost to you, I will earn a commission if you click through and make a purchase. These are products and services I recommend because I use or trust them. Cookies will be used to track the affiliate links you click.
The amount of time that it takes to cook the Thanksgiving meal can be intimidating for some folks. I know that I have been stressed about time on Thanksgiving before.
Whenever I can save time without sacrificing flavor, I am gong to take advantage.
American's favorite time saver device is the Instant Pot.
I want to show you how to take advantage of your Instant Pot to save you time on turkey day.
?️ Recommended Recipes
I don't want to create a Thanksgiving recipe for the Instant Pot just for the sake of making it in the Instant Pot. It has to do justice to the dish without sacrificing any of the flavor and it also has to save time.
For an example of something I wouldn't do - cranberry sauce. You can cook cranberry sauce on the stove top in no time flat. Taking the time to do in the Instant Pot, waiting for it to come to pressure, really isn't saving much time for you.
Anything that cooks fast anyway, is not something I am going to use the Instant Pot for most situations.
?‍? List of What to Cook
Here is a list of ways you can use your Instant Pot for Thanksgiving:
Main Course
Sides
Make mashed potatoes and keep them warm
Make gravy from the giblets
Stuffing
Sweet potatoes
Dessert
It can also be used just as...
As a food warmer
An extra pot
Let me break these options down for you.
? Cook a Turkey Breast
Whether you are having a small get together or want some extra white meat, cooking a turkey breast in the Instant Pot is a great idea. In fact I did it last year. Look at the results.
You can put the turkey breast under the oven's broiler for long enough to brown the skin. No one will know you cooked it in the Instant Pot!
? Make Mashed Potatoes
Speaking from experience here again, I can tell you that you can make great mashed potatoes in the Instant Pot. And the nice thing about it- you just set the pot to keep warm and keep the mashers ready until dinner time.
? Get our recipe for Making Instant Pot Mashed Potatoes
? Keeping Food Warm
Even if you don't cook your mashed potatoes in the Instant Pot, you can use one to keep them warm. If you decide not to do any dishes in it, you still might as well use it on Thanksgiving for that purpose. It will save you time from having to re-heat cold food.
For easy of use, I like the glass lid you can buy for the Instant Pot that is easy to take off and on the pot when you are not pressure cooking.
? Make Gravy from the Giblets and Neck
You can never have too much gravy on Thanksgiving right? Use the giblets and neck that come with your turkey and make a stock for gravy.
? Ham
If your family likes to serve another meat besides just turkey, you can do a ham in the Instant Pot while your turkey cooks in the oven. My Instant Pot Ham recipe is one of my most popular recipes on the blog. It's easy to do and you can customize the flavor.
The only tricky part might be finding a ham that will fit in your Instant Pot. I can always find some ham that will fit into my 6 quart Instant Pot. You can always trim the ham a little bit if it isn't quite fitting.
? Use As An Extra Pot
By using the saute button you can use the Instant Pot just as you would any other pot on the stove. It gives you more space on your stove as well.
The Instant Pot is great for cooking veggies in, or you could try my version of Instant Pot mac & cheese - which is a great way to get the kids involved in the meal.
RELATED - Best Tools to Use with Your Instant Pot
? Make Stuffing
You can make stuffing in the Instant Pot that will come out moist and delicious. It won't have the crusty exterior of an oven made stuffing, however you can also put it into an oven safe vessel after cooking in the Instant Pot and throw it under the broiler for a couple minutes to brown.
A really fun recipe is to make stuffing bites. Fill egg bite molds with stuffing (no actual egg needed) and cook them for 5 minutes with a cup of water in the bottom. When I tried it they came out amazing. The texture was like pudding or a very good tamale. Yum!
I didn't have a problem with them keeping their shape or falling apart either.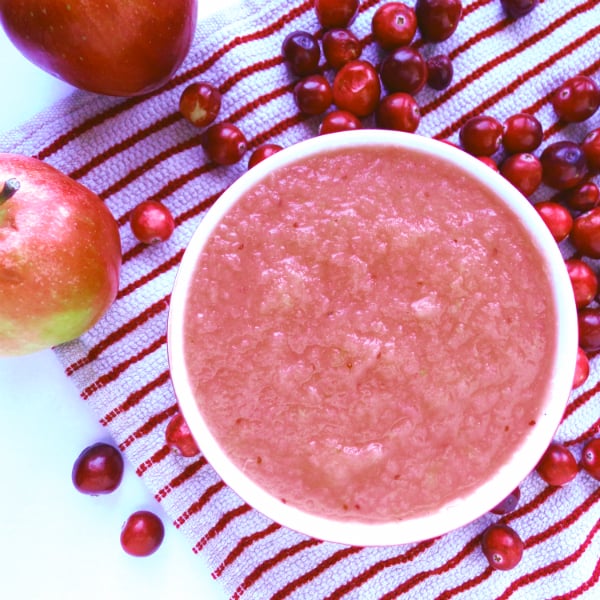 ? Cranberry Applesauce
This is kind of a fun take on cranberry sauce that the kids and adults alike will love. It is super fast, only requiring one minute of cooking in the Instant Pot and it combines two in season ingredients - cranberries and apples.
? Get my Cranberry Applesauce recipe
? Sweet Potatoes
What would Thanksgiving be without sweet potatoes in some form? Use your Instant Pot to make sure your Thanksgiving won't be without them.
You can fit about 3-5 sweet potatoes in your Instant Pot depending on their size and the size of your pot. If you cook them whole about 15-20 minutes is what you will need to cook them if they aren't very large.
The thicker they are, the longer it will take to cook them. I heard the thickest sweet potatoes can take up to an hour. It can be hard to give an exact time, as sweet potatoes vary so much in size.
To take out the guesswork, you can peel and then cube your sweet potatoes into about 1-inch pieces and they should be done in 10-15 minutes.
When they are done you can smash them, add some butter, or garlic. I really like sauteed shallots with my mashed sweet potatoes.
? Squash
Any hard winter squash is a must try in the Instant Pot. My recommendation is the Delicata squash. This squash is small, easy to work with, and the skin is edible.
To make delicata squash in the Instant Pot:
Place your halved squash with the seeds scooped out (don't forget to roast those seeds!) on the trivet.
Add a cup of water.
Pressure cook for 7 minutes
Allow natural release.
Season to your heart's content.
?? Dulce de Leche
Want to blow the socks off your guests? Make homemade Dulce de Leche (caramelized sweetened milk) in your Instant Pot. Can you imagine offer that as a topping for your pumpkin or apple pie? It will be a Thanksgiving to remember.
I have made it in the Instant Pot before and I can tell you it was easy and came out perfect. It will be a challenge for you not to eat it all before hand.
All you need is a can of sweetened condensed milk.
Check out the blog, Cookies and Cups to see how it's done.
? You'll Want to Read These...
Anything I missed here? Share your favorite Thanksgiving Instant Pot uses in the comment section below.