Learn about the difference between two popular steak cuts - NY Strip and Ribeye. Which one is better? Is one cheaper than the other? How does the texture differ? And do you need to cook them differently?
This post includes affiliate links. This means that, at no additional cost to you, I will earn a commission if you click through and make a purchase. These are products and services I recommend because I use or trust them. Cookies will be used to track the affiliate links you click.
Ribeye or New York Strip? Which steak is your favorite?
In this blog post we are going to compare and contrast these two favorite steaks and help you decide which steak you will want to buy at the grocery store.
Jump to:
🐮 Where Does Ribeye Come From?
To kick off our conversation, we are first going to talk about where each steak comes from on the cow. When are selecting cuts it's just like real estate - location, location, location.
Ribeye comes from the Rib primal of the cow. Cuts from that area come from underneath the backbone of the cow, more towards the center of the back. This area is known for good flavor and more tenderness than the chuck primal that is right in front of it. The neck of the cow gets more work and is tougher than the center of the back.
Just think like if you were on all fours, your neck would probably be the first thing to hurt if you are looking straight ahead all the time.
Also from the rib primal, we get Prime Rib, the favorite cut to serve on Christmas day or get at a Las Vegas casino. The names Standing Rib Roast or Ribeye Roast are also used. Prime Rib is only Prime Rib if it's prime graded beef.
RELATED - Learn what a Tomahawk Ribeye Steak is
🐄 Where Does New York Strip Steak Come From?
If you keep going down the cow from the head to the tail, the next section after the rib primal is the short loin primal. This is the most tender part of the cow, where you ge the strip steak and also tenderloin from. These muscles on the animal are used less, so the meat stays more tender.
RELATED - Learn how I cooked a NY Strip Steak using the Instant Pot Sous Vide function
👅 Taste Difference
I have had these steaks numerous times before. But I realized that I never had them side by side at the same time. I choose 1 of each steak from ALDI to try out for dinner one night. Plus I wanted to see if ALDI steaks were any good - verdict they were!
For even cooking, I choose to sous vide them to a medium rare temperature of 136 degrees. Then I finished both of them in a cast iron pan. My wife, my oldest daughter, and I all tasted them together. It was fun doing a steak taste test.
🗒️ NOTE - The steaks I got from ALDI where their USDA Choice Black Angus steaks. My goal was to find the steaks with the most marbling (fat running through the meat). The Ribeye steaks had better marbling than the strip steaks. I did a review of ALDI Grass Fed steaks, so check that out too.
I believe that Ribeye steaks have a stronger beefy flavor than strip steaks. Think about this, a filet mignon while being tender, doesn't have the strongest flavor. A strip steak comes from that same area. Chuck roasts that we use for pot roast have a ton of flavor but aren't tender. So Ribeye falls right in the middle between most flavor and most tender. It's a sweet spot!
👄 Texture Difference
Ribeye steaks tend to be more fatty. What my wife noticed is that the NY Strip was more uniform in texture. It was more solid throughout the steak. That made for a better eating experience for her.
When slicing up a cooked Ribeye there will be pieces you probably will discard for being fatty. I believe you get more usable meat out of a NY Strip than a Ribeye.
🏆 What is Best?
I think it really all comes down to deciding between flavor and texture. Ribeyes bring more flavor and fat to the table, make them more finger licking good. While NY Strip have a more uniform texture that isn't too fatty.
My wife likes the New York Strip better. I like the Ribeye steak better. My daughter just loves steak! And all of us would not turn down either steak ever.
💲 Price Difference
How does cost come into play here? To start our comparison let's look at what the price of each steak was at Costco the last time I checked.
| | |
| --- | --- |
| Choice Ribeye | $12.99/lb |
| Prime Ribeye | $22.99/lb |
| Choice NY Strip | $10.99/lb |
| Prime NY Strip | $17.99/lb* |
As you can see at Costco, Ribeye steaks cost more. Is that true at all grocery stores? At ALDI I found them to be the same price. At Walmart, the prices were about the same. At Trader Joe's, Ribeyes are about about $1 per pound more.
I tend to find more sales on strip steaks than Ribeyes as well. That is just my observation.
I would say that Ribeye steaks are more expensive than NY Strip steaks, but not by a lot.
To add to the discussion as I mentioned earlier, with the NY Strip you are getting less big fat chunks, so more meat that you will. Value wise I am going to give it to strip steaks.
🔥 Should I Cook Them Differently?
I really give them the same treatment when I cook them. What you need to watch out for the most is thickness. Both of these steaks are cut thick or thin. I would say I notice thick Ribeye steaks more often than thick NY strip steaks.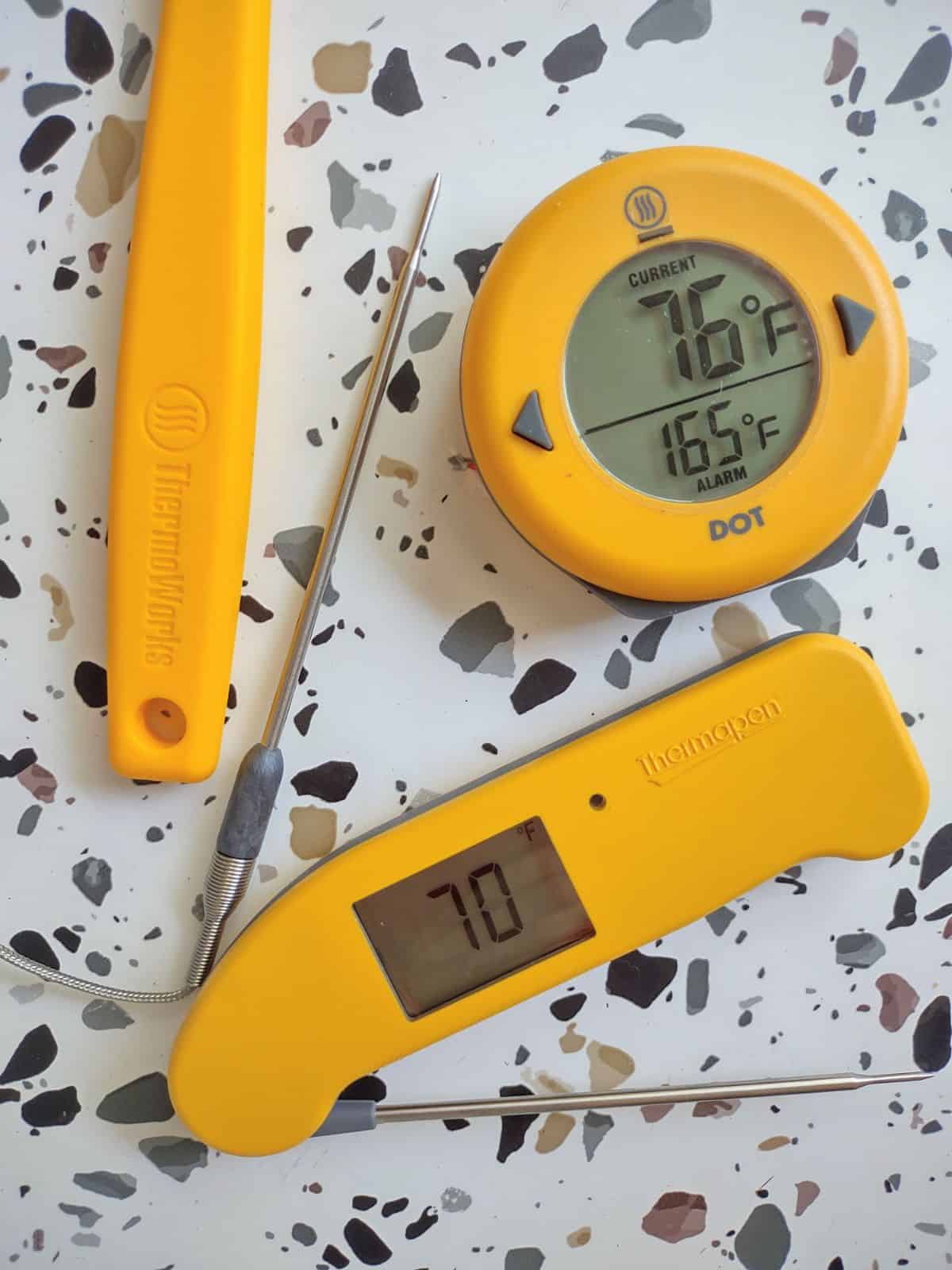 Thickness is a major factor in how long it will take your steak to cook. That is why I always recommend cooking to temperature and not time. We are only talking minutes not hours here, so it shouldn't mess up your plans to just put the timer away and use a quality instant read thermometer like The Thermapen® ONE from ThermoWorks. It really gets a reading in just 1 second, which is a big deal when you are trying to not overcook your steak.