In this episode learn what fruit you should be looking out for in the grocery store during the month of May as we begin the stone fruit season.
🎧 Listen
You can listen to this podcast episode below or listen on any of these podcast players - Spotify, Apple Podcasts, Amazon Music, Google Podcasts. If you would prefer to read the text, you will find a transcript below.
📜 Read
May is one of THE most exciting times for fruit. We are going to start talking about the return of stone fruit - cherries, yellow peaches, yellow nectarines, white peaches, white nectarines, apricots, plums. We will help you navigate the start of the season as well as share what other fruits to be looking out for.
Before we get started if you are loving these fruit pick episodes, please let us know by contacting us at [email protected] or heading over to your favorite podcast player and leaving us a 5 star review. This helps support this podcast and I am grateful for your help. Alright let's get to the episode.
The first peaches are coming this month. Usually out of California first, then we see Southern peaches. Just because they are out doesn't mean they are good. I usually don't commit much money to early varieties. They don't tend to be as sweet and flavorful as I would like.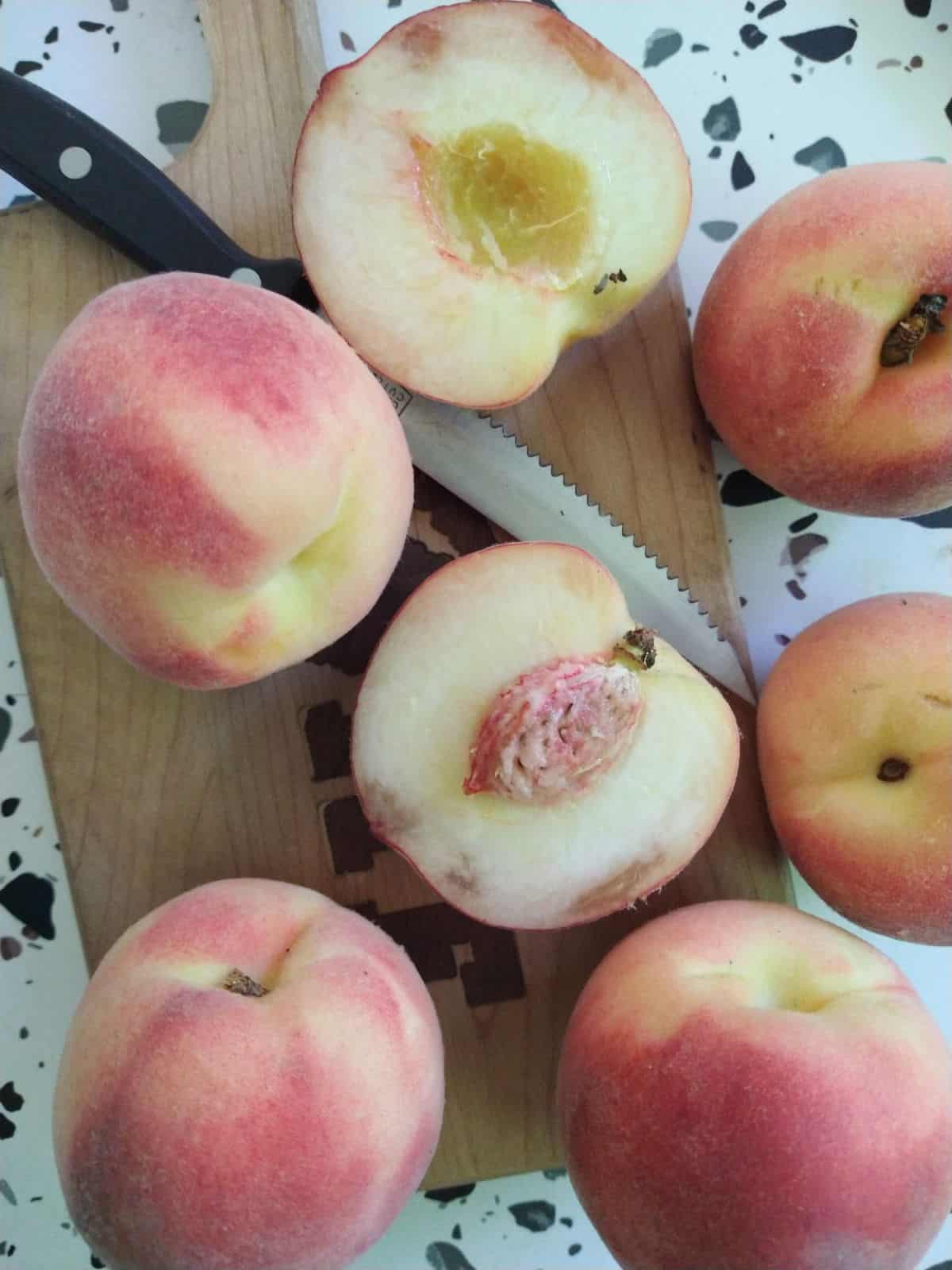 Instead in the early going, I tend to buy more white peaches or white nectarines. Especially if they have sugar spots on them which are small white spots on the fruit that show that sugars are crystalizing on the outside. This means a sweet piece of fruit. Next month will bring better flavors.
Cherries are another one that I don't commit a lot of money to at first. The first varieties that come out out of California tend to be a little lackluster and the prices are high. Wait til the end of May when the California Bing cherries should be in stock. Some bags of cherries will tell you that they are bring cherries. The only other way to know is if the store is selling the cherries right out of their shipping box. Often those boxes will indicate what variety you are getting.
Unlike cherries and peaches, I think the best store bought apricots are the ones that come out first. They are smaller in size and with more flavor. I find the bigger ones we see later in the season are more mealy and not very good tasting, unless you get one of the specialty varieties we will talk about next month.
Plums I ignore in May. Better ones are to come. Pluots or plumcots which are a mix of plums and apricots usually arrive in June. I tend to like them more than most plums.
For apples, you should start seeing some of the apple varieties from New Zealand showing up in stores. One of our favorites is the Lemonade apple. This yellow apple is a sweet-tart apple. It doesn't necessarily taste like lemonade but it's a well balanced apple like any good cup of lemonade should be. The apple is juicy. Store in the fridge for optimal freshness.
Cotton Candy grapes from Mexico will be in stores this month. I like them better than the ones coming from South America in the winter and spring, but not as much as Grapery's California grown ones that we will see in August.
Blueberries from Georgia are coming into stores this month. Besides my home state of Michigan and the wild blueberries from Maine, I think their blueberries are the best tasting ones. They are the first one of the year to come in large volumes and at good prices.
This is the last fruit episode I will mention citrus until the fall. Gold Nugget mandarins and Ojai Pixie Tangerines may be still around and are probably the only thing worth buying in that department anymore.
Sign up for our seasonal fruit email list so you don't miss hearing about the best fruit of the season.
🛒 Before You Checkout
What you need to know before you checkout at the grocery store or market:
Cherry prices will wildly fluctuate this month. Early in the month they will be expensive and depending on good of a year California is having, the prices will go down as we get near Memorial Day.
Go into the store with lower expectations at first. I know it's exciting to see fresh cherries back, but don't overcommit yourself too early or you will end up with disappointing expensive cherries that you have to choke down.