There is nothing like biting into a tall, crunchy glass of lemonade. Wait biting into? Yes you can now sink your teeth into lemonade in all new way with the Lemonade apple. I picked up this New Zealand apple at Meijer (for $1.99/pound) in Ypsilanti, Michigan during the month of July. I saw much earlier last year in the month of May I thought I might have missed out on them this season. They are a product of the Yummy Fruit Company (what an awesome name!). The apple is a mostly yellow with some green undertones in some specimens. You will notice it has a more elongated shape.
My Experience with this Apple (Rating Scale 1-10)
[table]
Aspect, Score
Crispiness, 8
Tartness, 4
Apple Flavor, 6
Sweetness, 6
Juiciness, 8
Where I Bought Them, Meijer (Ypsilanti MI)
[/table]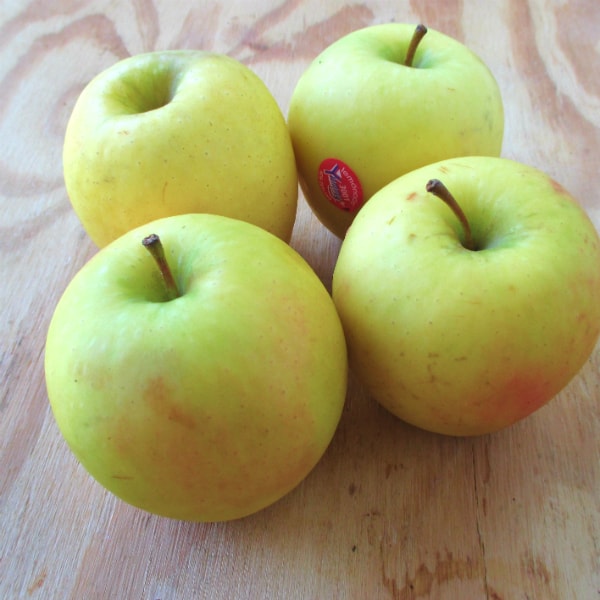 Overall Feeling:
In the spring and early summer it can be hard to find any good apple to eat. Most of the apples in the stores are sweet, crunchy, with little flavor. It is refreshing to have the Lemonade apple come along. It has sweet enough for out of hand eating but with enough tartness to satisfy me. It is a juicy apple. The juice seems to burst in your mouth like bubbles if you can imagine that. I can almost imagine myself drinking sparkling juice. The flavor is good, but don't expect it to taste like lemon. The color of the apple and the tartness to it, is why the lemonade name fits.
Be careful when choosing the apple in the store. They can brush easily if not handled properly. Also if they are too bright yellow this may indicate age and that the apple is not going to be as cris
Want to learn more about the Yummy Fruit Company? Check out this video below that tells their story.