How to use extra-virgin olive oil when cooking potatoes.
Is it worth to use? How to give your potatoes great flavor from the oil for an easy side dish.
This post includes affiliate links. This means that at no additional cost to you, I will earn a commission if you click through and make a purchase. These are products and services I recommend because I use or trust them. Cookies will be used to track the affiliate links you click.
We love using olive oil in our cooking. How about you?
Potatoes are one veggie we often prepare with olive oil. The potatoes need a little oil to help them brown up and taste yummy.
But do you want the potatoes to have some of that olive oil taste. That is a little harder. We will go through the different ways to cook potatoes with olive oil and show you which one is best for retaining that olive oil flavor.
Jump to:
🍳 Cooking Methods
Let's look at these different methods for making potatoes:
Roast potatoes
Deep fry (French Fries)
Sautéed potatoes
Boiled potatoes
Roasting is a method a lot of people turn to because it's really simple. Put the potatoes on a baking sheet in a single layer, drizzle on the olive oil, add seasonings, and roast in the oven until you have tender potatoes.
You can deep fry them in olive oil. This method should impart some flavor of the oil. The downside is that you need enough oil to fry it and that would be expensive. But you can re-use the oil by filtering it when you are done. I have done this with a coffee filter over a funnel. I then place the used oil into the fridge until I use it again. I don't really choose it for deep frying.
Sautéed potatoes in olive oil is my favorite method. It takes less time than roasting and I don't have to turn on the oven, which is especially good on a hot summer day. We have a recipe for sautéed fingerling potatoes below.
You could boil the potatoes and then toss with olive oil. This might be the easiest of all. But I don't like it. Boiling waters down the flavor of the potatoes and without browning them. If you want to boil, I suggest doing it in the Instant Pot where you don't need to completely submerge the potatoes and they are cooked faster.
You could then either eat them whole with a drizzle of olive oil or make mashed potatoes. Did you know you can substitute olive for butter in your mashed potatoes? Add some and then taste then until you like them.
⭐ Easy Recipe
It's an easy recipe for a tasty side is always welcomed.
Like sautéed potatoes with olive oil. Easy to make.
However I have always been disappointed in the flavor. I want to taste the olive oil with the potatoes, not just use it to help the potatoes brown. Let me show you what I do to maximize the olive oil flavor.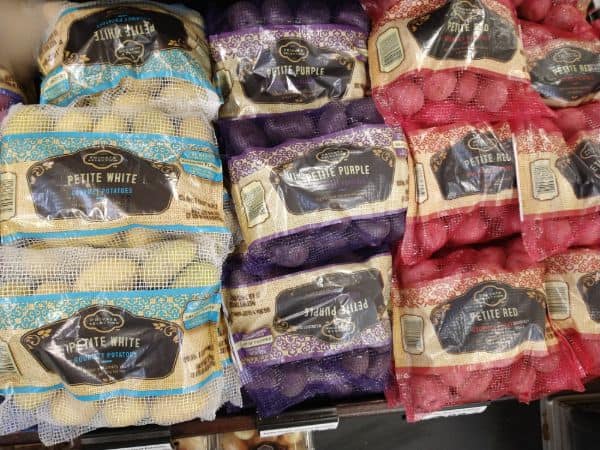 🛒 Ingredient Checklist
Here are some ingredients you will need or could use:
To customize your potatoes, use any of these ingredients:
Fresh parsley or any fresh herbs
Garlic clove
Green onions
Shallots
Smoked paprika
Potatoes
For this recipe, I like to use fingerling potatoes or any small new potatoes. Yukon golds will work as well, you just need to cut them into bite sized pieces.
The fingerling I cut into 2 or 4 pieces, so that they are close to the same size.
RELATED - How to Cook Purple Potatoes
🔪 Instructions
I don't like to peel potatoes. And I don't think there is any reason to, especially with this small potatoes that have a thin skin.
The key step here is to not use too much oil when cooking the potatoes, so you can add more in the end.
I like to measure out the oil as I tend to overdo if I don't. Do it a teaspoon at a time and mix until the potatoes are just covered with a thin layer of oil.
You can either add oil directly to the pan or you could put the potatoes into a large bowl, add the oil, and mix it around. You can use the same bowl for serving the potatoes, so you don't dirty more dishes.
Cook the potatoes over medium high heat.
If they start to turn golden brown before they are done, you can add some water to the pan. This will steam for a bit so the potatoes can be done. You only want a small amount of water a time.
When the potatoes are tender, stir them up to make sure all the water has exporated and each side is browned. You can use a higher temperature at the end once you know the potatoes are done enough to eat.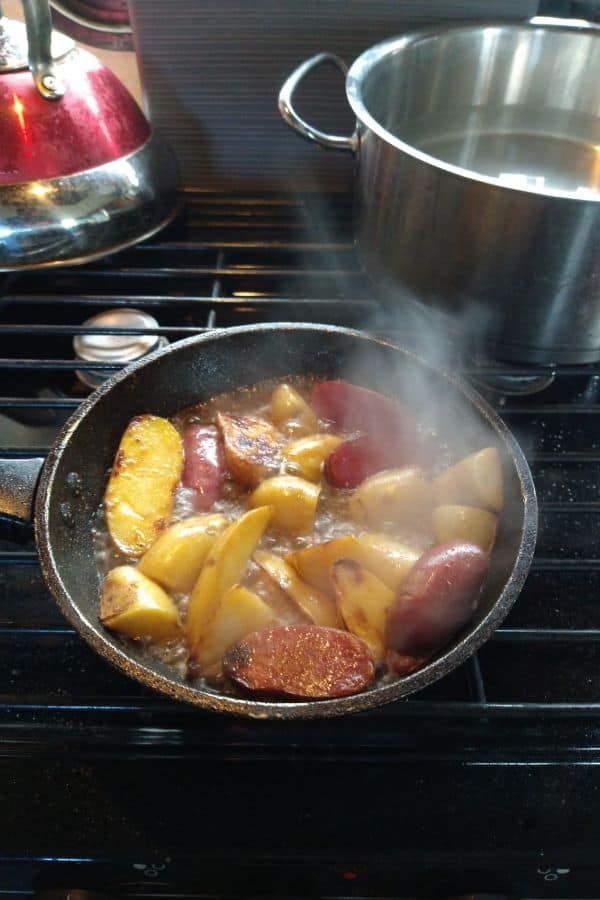 Remove the potatoes from a pan to your serving vessel of choice. Then drizzle on extra-virgin olive oil to taste. Taste them to see if they need any additional seasonings.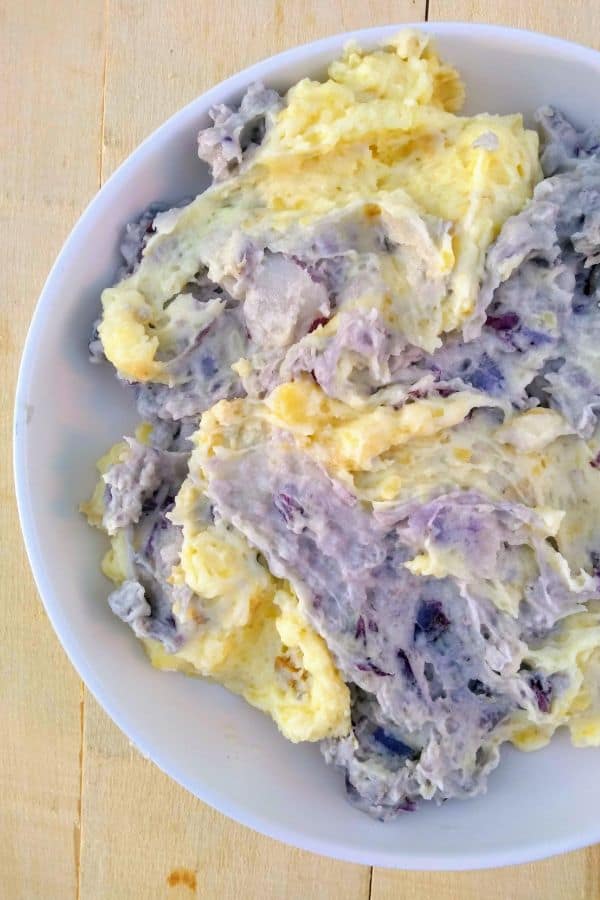 🥔 More Potato Recipes
Here are some more potato recipes
Olive Oil Fingerling Potatoes
A quick easy way to prepare fingerling potatoes with extra-virgin olive oil
Print
Pin
Rate
Instructions
Cut the potatoes into equal bite sized pieces. No need to peel them.

Place the potatoes into a large bowl. Add 2 teaspoons of olive oil and kosher salt to taste. Mix to apply a thin coat of oil to the potatoes.

Heat up a pan over medium heat. Add the potatoes. Give yourself about 20 minutes to cook them through. Time depends on the size and variety of your potatoes.

Stir every so often to make sure the potatoes don't burn. If they are getting brown and are not tender yet you can add some water to the pan. Just enough to cover them half way. All the water will boil off. Repeat if necessary.

When potatoes are tender you can remove them from the pan. If they aren't browned to your liking, then turn up the heat and quickly brown them before removing from the pan.

Drizzle with olive oil and add additional salt if they need it, along with freshly cracked black pepper.
Notes
Add any of these additional seasonings if you like once the potatoes are cooked.
Chopped fresh parsley or any fresh herbs
Chopped green onions
Smoked paprika
If you want to add garlic, shallots, or onions cook them in the pan till soft before you add the potatoes. You will want to add just a little bit of oil.
Tried this recipe?
Mention @eatlikenooneelse or tag #eatlikenooneelse