Find out the best time of year to get everyone's favorite noodle replacement - the Spaghetti Squash. Also learn a simple & easy way to cook spaghetti squash to use for whatever you like.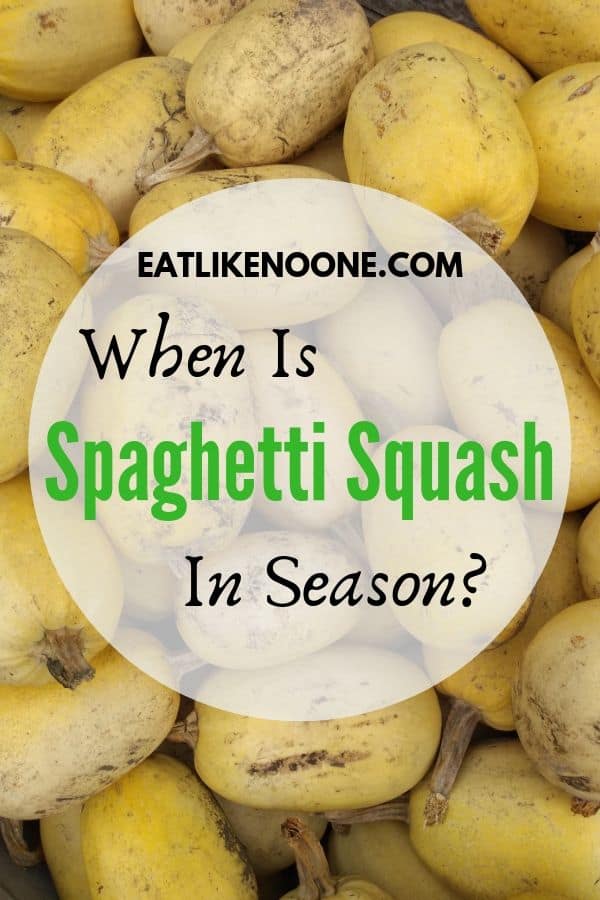 This post includes affiliate links. This means that, at no additional cost to you, I will earn a commission if you click through and make a purchase. These are products and services I recommend because I use or trust them. Cookies will be used to track the affiliate links you click.
If there is any squash that has exploded in popularity over the last decade, it's the spaghetti squash.
The trend is to forgo the traditional wheat based pastas and replace them with veggies. We see lots of places offering veggie noodles on their menus and stores selling them all "spiralized" for you and ready to use.
This is done either to try to get more veggies in one's diet or because one is practicing a gluten free diet.
The spaghetti squash is the classic noodle replacement. It's the one that takes no special equipment to make.
With it's increased popularity are spaghetti squash still an seasonal item, or can you get them year round?
This post will address everything you need to know about this squash wherever you fall on the calendar right now - there is a hint in that sentence 🙂
Jump to:
🍂 When are Spaghetti Squashes in Season?
You can find spaghetti squash year round in many grocery stores.
There could be some shortages in the summer months, but for the most part you can now find them along aside the acorn and butternut squashes any day of the year. You can easily find them all winter long.
📅 What is the Best Time of Year to Buy a Spaghetti Squash?
The best time to purchase spaghetti is the fall season. The freshest squash of the year begin arriving in September before the calendar official turns to to fall.
In the fall, spaghetti squash are available at farmer's markets. The prices should be the best of the year too.
To me, fall just screams squash. It's the time of year I want to eat them - of course that means pumpkins too, which are also a squash family member.
🙋 How Long Do Spaghetti Squash Last?
Spaghetti squash has a thick, tough outer skin, which leads to a long storage life.
You can probably store your spaghetti squash for 1-3 months. The tricky thing is you don't know how long it has been sitting out on a store shelf since there is no sell by date or anything like that on them.
With something like strawberries that you know don't last long, you can more easily tell how long you can have them in your fridge. But hard squash, who knows.
This is why it's best to buy them in the early fall from a source where you know when they were harvested. That way know how long you can store them reasonably.
🗓️ How Long Does Cooked Spaghetti Squash Last?
If you have already cooked the squash, then you can store leftovers in the fridge for on average 5 days. But if you are ever in doubt, throw it out.
📦 How to Store Spaghetti Squash
In the case of hard squashes, storing them in the fridge is not necessary at all. No need to waste the fridge space.
Your best bet is to find a dry, dark place to store them at. And if they are freshly picked, they should last 3 months or maybe even more.
I admit that I have bought spaghetti squash at the start of fall and used them as part of my fall decorations. Then ate them when it was time to change to Christmas decor.
🧊 How to Freeze
Normally when I cook a spaghetti squash I don't have any leftovers, especially if I am using it as a pasta substitute. If I was going to freeze it, I would do it after cooking it. Since they store so long I don't see any purpose in freezing it whole or raw.
Use quart size freezer bags to save individual portions, once your cooked squash as cooled. You could cook more than 1 at a time, to have easy leftovers you can pull out of the fridge. Try to use up within 3 months.
🛒 Where Do You Buy Spaghetti Squash?
Most mainline grocery stores (including Trader Joe's and ALDI) carry them due to their increase popularity. However you may have to search a little harder during some portions of the year.
I have found that Whole Foods Market does a good job of keeping them in stock year round. They even have organic options available both locally and from Mexico during the "off season". Also since they are popular among their customers, they go through their inventory pretty fast.
For the best price, find a farmer's market or farm stand. If you start getting close to Thanksgiving or near the time of year the market or farm stands closes for the winter, you may be able to get them for a cheaper price as they wish to clear out inventory.
Since spaghetti squash last a while, don't be hesitate to stock up if the squash is a regular part of your meal planning.
🌱 Can You Grow Your Own Spaghetti Squash?
Yes you can. They aren't super hard to grow. Get your seeds and plant them as soon as your area is out of the risk of frost for the season.
How to know when it's ready to pick - the squash should be completely yellow without any green. It should be hard that you can't easily pierce it with your fingernail. Often the plant will start looking like it's dying off. If the squash is ripe, the plant has done it's job, producing seeds, so it's ready to die!
🟠 Orangetti Spaghetti Squash
When I was in Florida in the winter time, I found the Orangetti Spaghetti Squash at Detwiler's Farm Market in Palmetto, FL, near Tampa.
It looks and cooks like a spaghetti squash but it's orange instead of yellow. The inside is orange as well. That orange color means more beta carotene. I think the flavor is a little sweeter as well.
These ones you probably won't find year round. More so in the fall and winter. I have heard of people finding them at Publix stores. I would check out your local farmers markets in the fall to see if anyone is growing them. They are a great find if you can find them!
🔥 How to Cook
There are 3 methods that I have used for cooking spaghetti squash - roasting, air fryer, and Instant Pot.
Here is a table that shows how long it will take with each method:
| | |
| --- | --- |
| Oven | 40 minutes |
| Air Fryer | 30 minutes |
| Instant Pot | 7 minutes (plus time to come to pressure) |
No doubt, Instant Pot is quicker. Even when you add it time for the pot to come to pressure, it's still going to be done in half the time. You are steaming the squash, so it's moist.
Below I will go over each cooking method with instructions and pros & cons.
For each recipe you are going to cut the squash in half. Remove the seeds. I prefer doing this with a wide ice cream scoop. Save the seeds for roasting (I will talk more on that in a moment). I season the squash with kosher salt.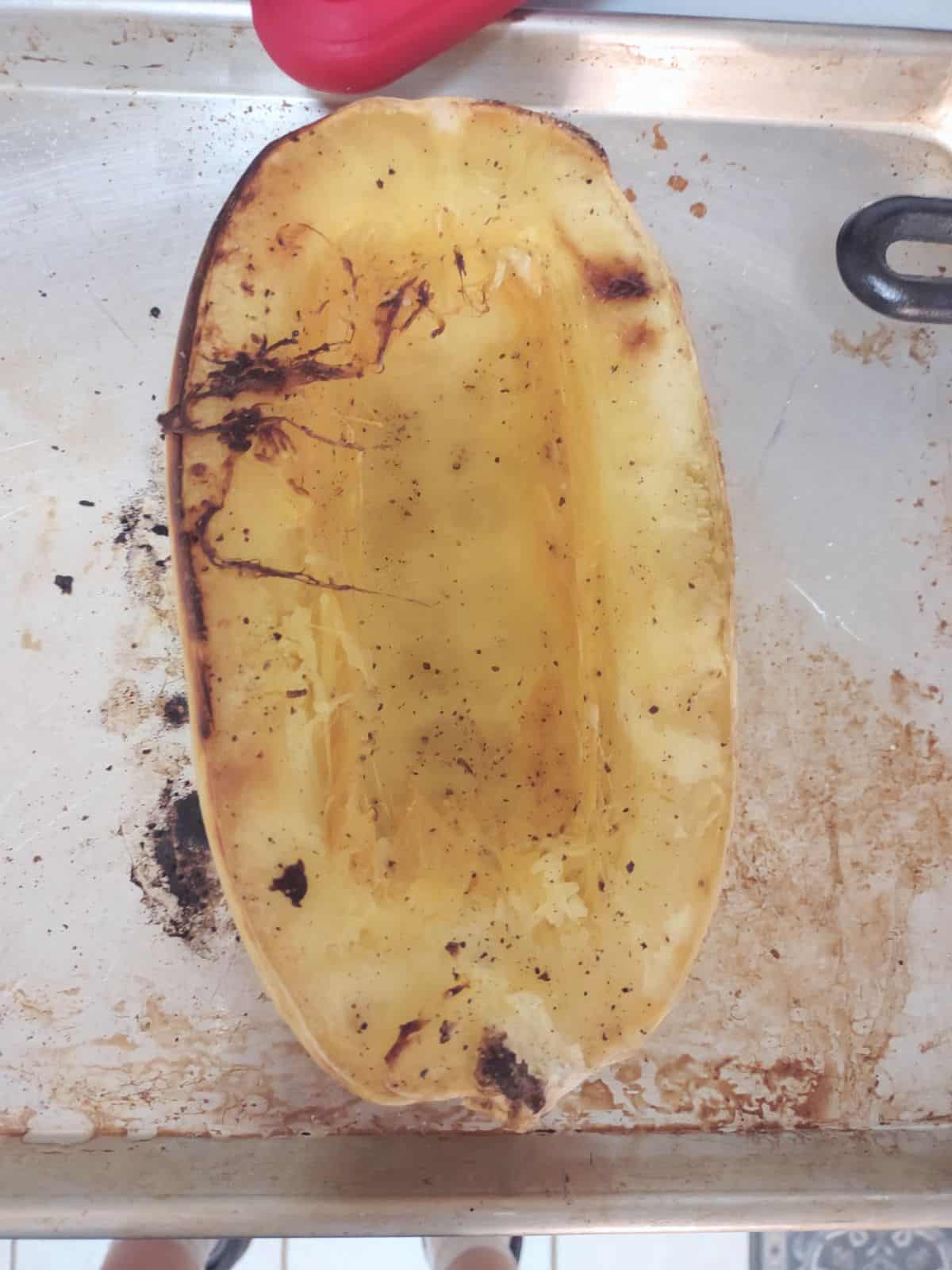 Oven Instructions
Preheat your oven to 400 degrees.
Place your squash onto a sheet pan with the skin up. Poke some holes with a fork or knife in the top of the squash.
Roast for about 40 minutes or until tender enough that the squash will form strains when you scrap with a fork.
👍 Pros - Very easy to do. Squash will brown a little adding flavor. 👎 Cons - This method is the slow, so you will need to plan ahead.
Air Fryer Instructions
Cut the squash so that it fits into your air fryer. You may need to trim the ends and likely need to do one half at a time unless you have a dual basket air fryer.
Drizzle oil on the half and place it cut side down.
Air fry for 25-30 minutes at 400 degrees until until tender enough that the squash will form strains when you scrap with a fork.
👍 Pros - You don't need to turn your oven on and your squash will get some browning. 👎 Cons - You need to add oil or I find the squash gets too dry. A large one can be hard to fit or you need to work in bathces which will increase your cooking time.
Instant Pot Instructions
Cut the squash in half. Remove seeds. Save the seeds for roasting.
Season with salt.
Fill the pot with 1 cup of water.
Add the trivet.
Cook on high pressure for 7 minutes. Then do a manual release.
Scrap with a fork and serve
👍 Pros - It's down quickly and works really well. 👎 Cons - The downside to the Instant Pot is you don't get to caramelize the squash at all, so you will miss out on some flavor.
❓ Can You Eat the Seeds?
If you love roasting your Jack o'Lantern pumpkins seeds on Halloween, then you are going to love roasting spaghetti squash seeds. They are edible and tasty. They are smaller in size as well, which I like as I feel like it's easier to get them crispy.
Check out our instructions on Can You Roast Delicata Squash Seeds. The recipe will work for any type of squash seeds including spaghetti squash.
🍴 Check Out These Squash Recipes
We have several squash recipes on the blog you should check out -
Air Fryer Butternut Squash Zig-Zags