Find out the best time of year to get everyone's favorite noodle replacement - the Spaghetti Squash.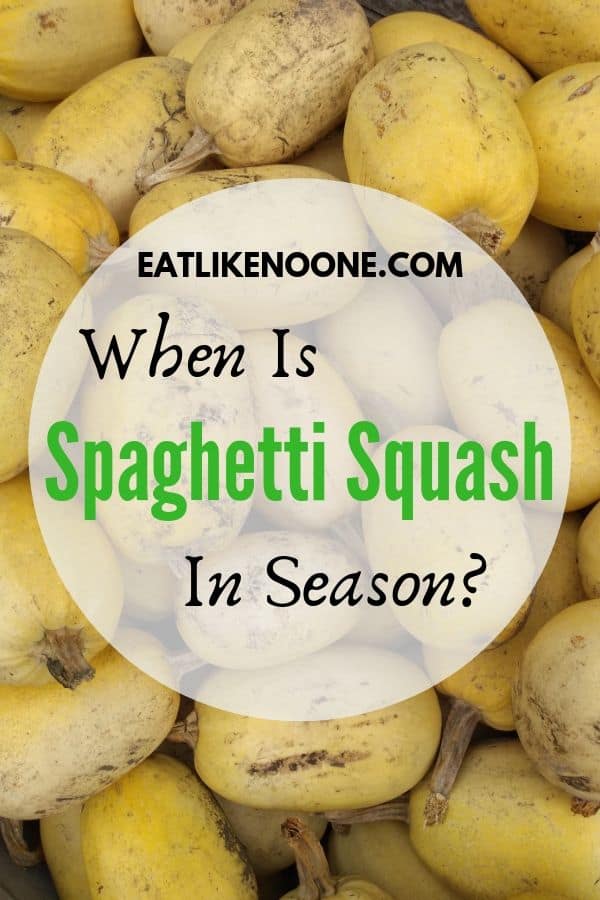 If there is any squash that has exploded in popularity over the last decade, it's the spaghetti squash.
The trend is to forgo the traditional wheat based pastas and replace them with veggies. We see lots of places offering veggie noodles on their menus and store selling them all "spiralized" for you and ready to use.
This is done either to try to get more veggies or because one is practicing a gluten free diet.
The spaghetti squash is the classic noodle replacement. It's the one that takes no special equipment to make.
With it's increased popularity are spaghetti squash still an seasonal item, or can you get them year round?
This post will address everything you need to know about this squash wherever you fall on the calendar right now - there is a hint in that sentence 🙂
When are Spaghetti Squashes in Season?
You can find spaghetti squash year round in many grocery stores. There could be some shortages in the summer months, but for the most part you can now find them along aside the acorn and butternut squashes any day of the year.
What is the Best Time of Year to Buy a Spaghetti Squash?
The best time to purchase spaghetti is the fall season. The freshest squash of the year begin arriving in September before the calendar official turns to to fall.
In the fall, spaghetti squash are available at farmer's markets. The prices should be the best of the year too.
To me, fall just screams squash. It's the time of year I want to eat them - of course that means pumpkins too, which are also a squash family member.
How Long Do Spaghetti Squash Last?
Spaghetti squash has a thick, tough outer skin, which leads to a long storage life.
You can probably store your spaghetti squash for 1-3 months. The tricky thing is you don't know how long it has been sitting out on a store shelf since there is no sell by date or anything like that on them.
With something like strawberries that you know don't last long, you can more easily tell how long you can have them in your fridge. But hard squash, who knows.
This is why it's best to buy them in the early fall from a source where you know when they were harvested. That way know how long you can store them reasonably.
How Long Does Cooked Spaghetti Squash Last?
If you have already cooked the squash, then you can store leftovers in the fridge for on average 5 days. But if you are ever in doubt, throw it out.
How to Store Spaghetti Squash
In the case of hard squashes, storing them in the fridge is not necessarily at all. No need to waste the fridge space.
Your best bet is to find a dry, dark place to store them at. And if they are freshly picked, they should last 3 months or maybe even more.
I admit that I have bought spaghetti squash at the start of fall and used them as part of my fall decorations. Then ate them when it was time to change to Christmas decor.
Where Do You Buy Spaghetti Squash?
Most mainline grocery stores (including Trader Joe's and ALDI) carry them due to their increase popularity. However you may have to search a little harder during some portions of the year.
I have found that Whole Foods Market does a good job of keeping them in stock year round. They even have organic options available both locally and from Mexico during the "off season". Also since they are popular among their customers, they go through their inventory pretty fast.
For the best price, find a farmer's market or farm stand. If you start getting close to Thanksgiving or near the time of year the market or farm stands closes for the winter, you may be able to get them for a cheaper price as they wish to clear out inventory.
Since spaghetti squash last a while, don't be hesitate to stock up if the squash is a regular part of your meal planning.
Can You Grow Your Own Spaghetti Squash?
Yes you can. They aren't super hard to grow. Get your seeds and plant them as soon as your area is out of the risk of frost for the season.
Check Out These Squash Recipes
Chicken & Spaghetti Squash Soup
Roasted Delicata Squash with Hatch Chile Butter
This post includes affiliate links. This means that at no additional cost to you, I will earn a commission if you click through and make a purchase. These are products and services I recommend because I use or trust them. Cookies will be used to track the affiliate links you click.