(Last Updated On: February 9, 2017)
The produce world can be a confusing place at times. We got sweet potatoes sometimes called yams, we called cabbage that looks clearly purple, red cabbage, and what are those little orange fruits that come in 5 pound boxes? Clementines, Cuties, Halos, Dimples, Tangerines, Mandarins? The world of single serving, easy to peel citrus can leave one wondering. I am going to shine my years of produce experience on the subject today and talk about what is the difference between the popular Cuties and Halos. In the process I am doing my part to prevent any of these terms from becoming the next Kleenex (genericized term to refer to all facial tissues).
What is the Difference Between Cuties & Halos?
Are Cuties and Halos the same thing? Is the answer
A) Yes
B) No
C) Maybe
D) All of the above
….
…
..
.
If you answered D you are correct! How can that be? Let's start with the most basic thing. Whether it's a Cutie or a Halo it is a mandarin. A mandarin is "a small flattish citrus fruit with a loose skin, especially a variety with yellow-orange skin" (thank you Google dictionary). It does not have to be seedless but in the case of Cuties and Halos, it is.
Two Different Companies
What the name "Cuties" and "Halos" comes down to is marketing names. They are not actual varieties. The name "Cuties" is owned by Sun Pacific. The name "Halos" is owned by Paramount Citrus, who also has the trademark POM Wonderful. Paramount Citrus use to own the "Cuties" name. A split occurred in the company and Sun Pacific parts with the "Cuties" name. "Halos" is the brand name that Paramount choose as a replacement for "Cuties".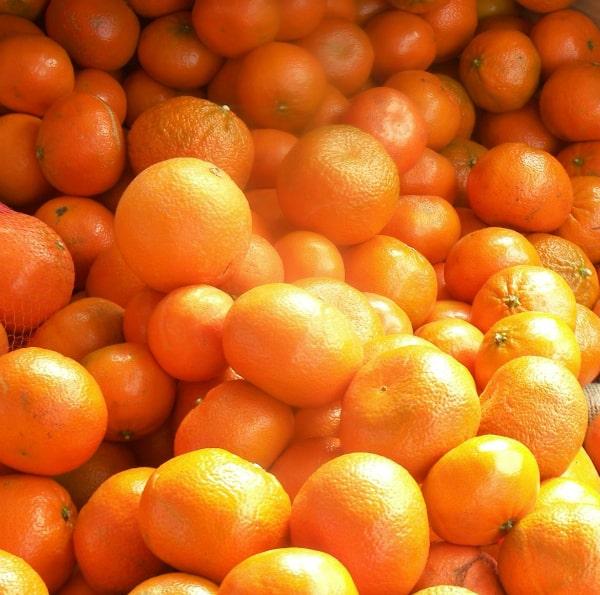 Different Types of Mandarins
Here is something that I don't think most people know. Cuties and Halos are different types of mandarins depending on what time of year it is. They are not always the Clementine variety. In fact, Clementines are only available during the beginning part of the citrus season (from November to January). The other mandarin commonly used is the W. Murcott. Often I see grocery stores naming even the Murcotts as Clementines as that name sells better. Just look at the calendar and you will have an idea of what you are really getting.
Availability Calendar
Below you will find what variety is in a box or bag of Cuties or Halos during the season:
Cuties

| Variety | Availability |
| --- | --- |
| Early Clementines | November 1 to Thanksgiving |
| Clemenules | Thanksgiving to Christmas |
| Clemenules | Christmas to January |
| Late Mandarins | January 16 to April 1 |
Halos
| Variety | Availability |
| --- | --- |
| Clementines | November to January |
| W. Murcott | February to April |
Seedless?
Have you ever found a seed or two in either a Cutie or a Halo, or any other seedless mandarin? What gives? Read my post on Why There are Sometimes Seeds in Halos or Cuties.
End of Cuties and Halos Season
The Cuties and Halos brands are NOT in store year round. By spring, usually in May, maybe even early June, they disappear until next fall. For when that happens you can buy mandarins in their dried form. They make for a great snack year round.
Just for kicks, I decided to film my son in the grocery store. I had him pick if he wanted to buy the Cuties or the Halos. I wouldn't call this a perfect scientific study, but he sure is cute making his choice.
Clementine Chicken Recipe
Check out my recipe for Clementine Chicken. You can use Cuties, Halos, or any mandarin for this recipe, whether they are a Clementine or not.
If you enjoyed this post and want to more produce picks and shopping tips as well as all the updates from the blog, sign up below for my e-mail newsletter.
If you are interested in my citrus-specific newsletter, sign up for that one below.