Wondering how early you can get your potatoes before Thanksgiving dinner? Our post will tell you about when to buy them and how to store them so that the yare ready to go on Thanksgiving day.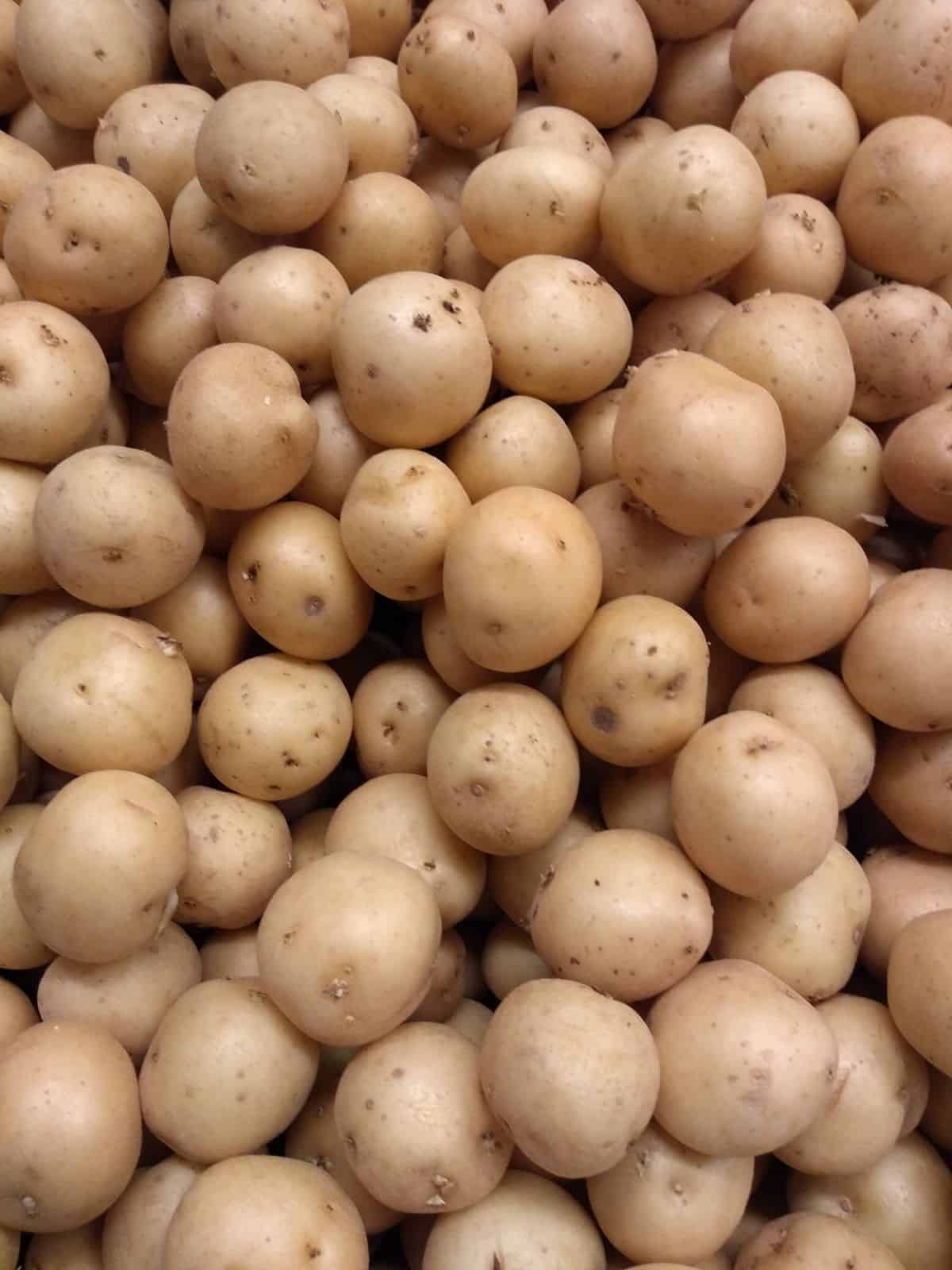 Don't want to wait until the day before Thanksgiving to buy your potatoes?
You don't have to. You can stock up on them during a regular grocery shopping trip before Thanksgiving.
But when is the best time to buy them? After all you also don't want them to go bad.
Don't want to buy your ingredients for Thanksgiving dinner at the last minute? Then you need to check out our Low Stress Thanksgiving Shopping Guide for all the answers. This guide will help you get ahead of the game and avoid the long check out lines. Know how early you can buy each ingredient with customizable printable shopping lists.
Jump to:
🕰️ Best Time to Buy Potatoes
First it's important to know how long potatoes last that you get from the store. Most people get a week or two out of their potatoes before they are bad in some way. You could easily get 3-5 weeks or even longer under ideal storage conditions. More on that in a moment.
Ideally I would buy the potatoes exactly 1 week before Thanksgiving.
Why? First off Thursday tends to be the slowest grocery shopping day of the week, so it's a great day to buy those ingredients that will last a week or more. Also you might get a sale on them as early as the week before. It depends on what your grocery store does for the timing of their ads (some start on Wednesday, other Sunday, etc.)
You will also find a better selection for potatoes closer to Thanksgiving. Stores tend to store more different varieties because they sell more potatoes at this time of year. For example maybe you want to try making mashed potatoes with purple potatoes. Or the delicious fingerling potatoes.
If you buy potatoes directly from a farmer like a farmers market, you will get a lot more time out of them. The grocery store potatoes will have spend more time in storage and transient from farm to packing house to store distribution center to the store itself.
RELATED - What are New Potatoes or Baby Potatoes?
📦 Storing Potatoes
If you are going to follow these storage tips you can for sure buy your potatoes earlier. These tips apply to all potatoes varieties.
Get them out of any plastic bags, this could trap in moisture. Brown paper bags are ok.
They love a dark place and dry conditions.
Wet condition will cause the potatoes to rot and light will cause them to turn green.
My mother in law stores her potatoes inside a cardboard box she has cut up. The box covers the potato as well. This keep them dark and dry.
If you have extra space in your cabinets the best way to store potatoes could be to set aside a drawer just for potatoes. It's worth it if you cook potatoes often. Pick a drawer that is away from the sink or stove. Many people often have too many kitchen tools that they don't use that just sit in a drawer. This would be a great time to purge those and free up some space.
I do not recommend storing them in the fridge. Raw potatoes that are stored in that cold of temperature for a long time will start to convert it's starches to sugar, which will give the potatoes a sweet taste that you may not find appealing. You don't want people to wonder if you put sugar in your mashed potatoes.
Worried your potatoes have already gone bad? Check out our post - How to Tell if Potatoes Are Bad
📧 Sign Up for Our Email List
Feeling anxious about cooking the meal? Not sure whether brining your turkey is worth your time? Hate peeling potatoes for mashed potatoes but don't know any other way? Never sure when a pumpkin pie is done?
If you have questions like this that have brought stress or anxiety to what should be a fun meal to cook, then you need to sign up for our Thanksgiving Anxiety Reducing email list.
🥔 Potato Recipes
Here are our potato recipes like our Swirled Mashed Potatoes recipe from the blog:
🗓️ Other Ingredients to Buy in Advance
Here are some Thanksgiving ingredients that you can buy in advance and when to buy them