What varieties of apples can you find that are certified organic in the grocery store? Check out our list below along with our recommendations.
Lots of new varieties have been heading into the market over the last 10 years. If you are someone that opts to only buy organic maybe you are feeling like you are missing out on getting to try some of these new varieties.
Well I am here to say you are in luck. Many of the new varieties (not all) are available as certified organic apples. I don't want to forget about "the classics" as well. Below you will find a list of organic apples that I have seen in stores.
Jump to:
🍎 What is an Organic Apple?
Before we get into the list I want to establish what an organic apple is. For that, I turn to the apple commission for the largest apple producing state in the country - Washington. Here are some key points from the Washington Apple Commission website.
Organic food production is based on a system of farming that maintains and replenishes soil fertility through the use of non-synthetic fertilizers and biological pest controls. Only substances found in nature can be used in organic farming.
Organic apples may not commingle with conventionally grown apples in either the orchard or in the packing houses.
In order to become a certified organic apple orchard, the land on which the apples are grown must have been farmed organically for three years or fallowed for three years.
Due to Washington's climate, they deal with less pests and diseases than other apple growing regions in the country. Nearly all of the organic apples you find in the store are from Washington. You might as well assume they are from Washington unless you read otherwise!
I also want to note that while organic apples can't come in contact with conventionally grown apples at the orchard or packing house, it then becomes the responsibility of the grocery store to keep them separate. Not all grocery stores are careful about this.
I used to work in produce at Whole Foods Market and we, at all times, had to make sure that organic produce never came into contact with conventional. They were stored in separate areas in our cooler. On the sales floor we were required to have a physical barrier between organic and conventional. Also, conventional produce could not be higher up on a display than organic. And when a display was changed from conventional to organic we had to completely sanitize the surface. Other grocery stores do not go to these lengths.
📋 Organic Apple List
Here is a list of organic apple varieties that I have found in the grocery store over the years. I include common varieties like Granny Smith and some of the newer ones like Lady Alice.
Ambrosia
Autumn Glory
Braeburn
Crimson Gold (small apple, look for around the holidays)
EverCrisp (coming soon from Superfresh Growers)
Granny Smith
Premier Star (from New Zealand)
Pink Lady
Rosalynn
🛒 Where to Shop
You aren't going to find these in all stores. Gala, Honeycrisp, Fuji, Pink Lady, and Granny Smith are going to be the easiest to find. The others might be more of a search.
Kroger-owned stores will carry organic apples in bags under their Simple Truth line. Look for all the ones I just mentioned along with Jazz apples.
You can usually find a separate section at Publix stores that carry bagged organic apples and another spot with organic apples sold by the pound.
The Fresh Market is a good source. I found the Premier Star apple there for the first time and it was organic. HEB in Texas (and their Central Market stores) carries a good amount of bagged organic apples under their HEB Organics line that includes Envy, Ambrosia, Jazz, Kanzi, and Opal.
Whole Foods Market is going to be the most reliable choice. They will almost always have other organic options besides the usual. Off the top of my head, I have seen organic Opal, Lady Alice, Rosalynn, and Autumn Glory. I'm sure there are more. In the past I have seen them source local organic apples. That will be seasonal and location specific.
Always remember, when in doubt look for 5 digit PLU sticker on an apple. It will always start with a "9".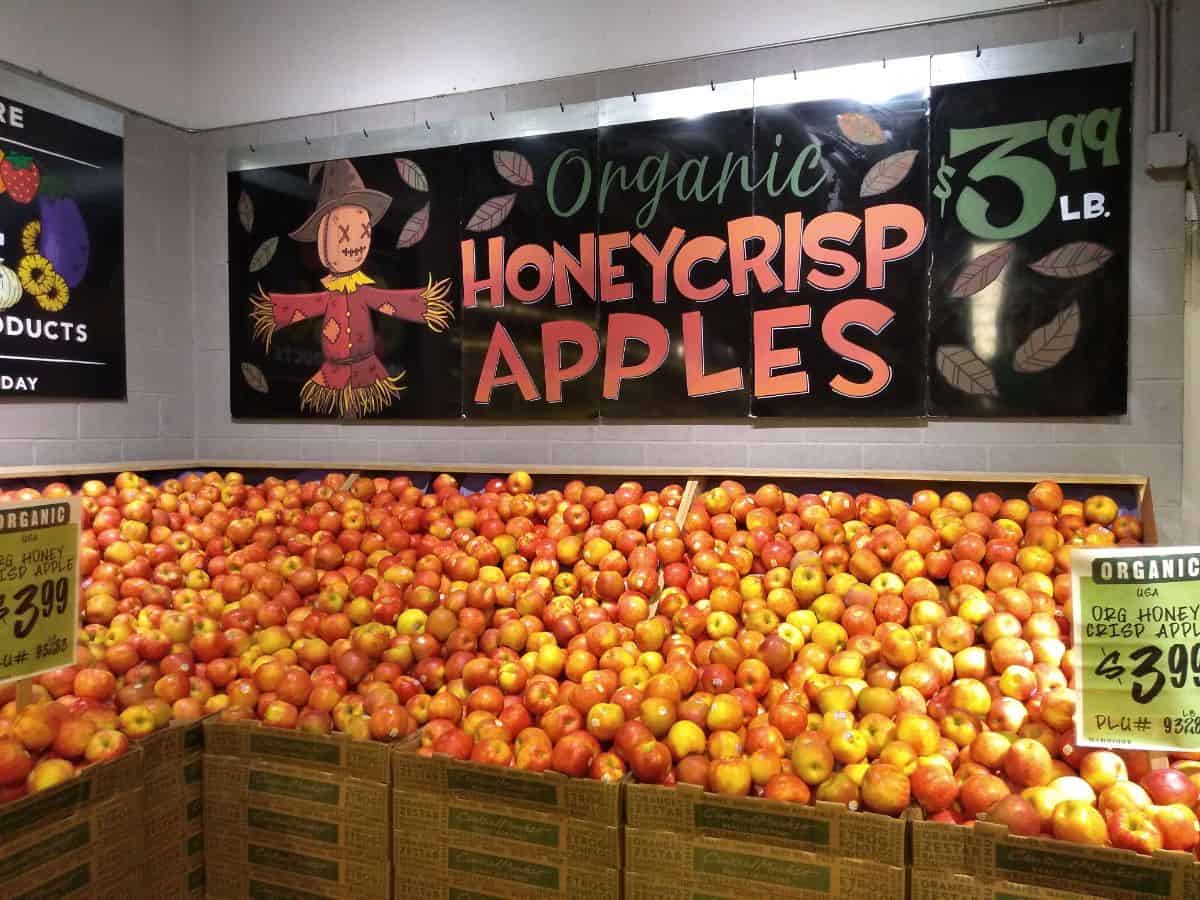 💲 How Much Do They Cost?
What can you expect to pay for organic apples? It does depend on the variety. Be ready to pay $1-$2 more per pound on average for organic apples. It's not often you can find them for under $2 a pound, unless there is a sale like this one in the past at Whole Foods.
Honeycrisp are going to be on the expensive end. You probably are going to be paying around $4 a pound, maybe less or maybe more.
🎧 To learn more about how to know when an apple is at it's best flavor, listen to our podcast : Episode 015 - How to Know When Apples are Perfect
🥧 Best for Baking
If you are looking to do some baking with organic apples, here are the ones on the list that I would go with. I tend to like a more tart apple for baking as it better balances out the sugar you are going to add.
Braeburn
Granny Smith
Honeycrisp
Pink Lady
Honestly your options are pretty limited, especially since organic Braeburn are not very common. Most of the newer varieties on the market are more sweet than tart. I haven't tried baking with it yet, but if you can find organic Cosmic Crisp that might work out similar to Honeycrisp. Granny Smith, while not very exciting, are your most reliable option.
Unless you can find some organic heirloom apples....
🚜 Heirloom Organic
There is a grower out in Hood River, Oregon that grows some heirloom apples that are also organic. They are called Heirloom Orchards. Not all their apples are organic but they do have an orchard that produces them.
Their apples are not super easy to find though. I have only seen them at two stores, one of them is Central Market in Texas. They are a specialty grocery store that is owned by HEB. They have the biggest selection of apples I have ever seen at a grocery store.
One fall, I found Northern Spy apples there. People always say, "spies for pies!". And it's so true, they are one of the best if not the best apple to make pie with.
The other store was New Seasons Market in Oregon. They had the Pink Pearl apple there, which is a tart apple that is yellow outside, and pink on the inside. I have made the most beautiful applesauce with these apples.
Not finding the apple you are looking for on our organic list? Leave a comment below and tell us which variety you are trying to find grown organically.