Planning to have a quiet steak dinner at home? Whether it's Valentine's Day, a date night, or just a regular day for a household of two, learn how to pull together a quick, tasty steak dinner with 2 sides and a bread option.
This post includes affiliate links. This means that, at no additional cost to you, I will earn a commission if you click through and make a purchase. These are products and services I recommend because I use or trust them. Cookies will be used to track the affiliate links you click.
So you want a steak dinner but don't want it be hard or time consuming to make? And you still want to bring all the flavor to the table? I think those are requests that can be easily handled.
Steak isn't that complicated. You don't need to be fancy, just pick out a quality steak, have some good salt on hand and freshly cracked black pepper and you are good to go.
Let us show you some ideas for steaks along with easy to make delicious sides. Perfect for just a night at home whether that is Valentine's Day or any other day of the week that you want to spend time with a special someone.
Jump to:
🧾 Menu
Here is a sample menu for a simple steak dinner for two.
2 Steaks (or 1 large one to share)
Boiled Small or Fingerling Potatoes
Sautéed Carrot & Bean Medley
Cornbread Honey Muffins
We are going to give you some time and flavor hacks in order to make this simple menu something that will stand out.
🥩 Steaks
Here are the types of steaks I would look into for a great dinner for 2
Filet Mignon/Tenderloin Steaks
Ribeye Steaks
New York Strip Steaks
Flat Iron Steak
Top Sirloin Steak
Sirloin Filet Steak
I find New York Strip Steaks go on sale in family packs at many grocery stores. You can freeze the steaks you aren't going to use. They can be a great deal and are most often found around Valentine's Day.
RELATED - Steaks on a Budget for Valentine's Day
For the smaller appetite
Filet Mignon is the tenderest of steaks that is perfect for those that want a smaller steak. However, I often think cost can be a big factor here, as they are the more expensive steak per pound. An alternative is the Top Sirloin Filet Steak. This steak is cut from the most tender, leanest part of the Top Sirloin. Not quite as tender as Filet Mignon, but a great substitute on budget. It's still quite delicious.
🍴 RECIPE - Pan Seared Sirloin Filet Steak
Faster Cooking
If you don't want a big beefy steak you can pick out thinner cut New York Strip or Ribeye. A lot of stores will offer this option. I would avoid anything labeled as a minute steak or a cubed steak. Even if thin, these are not tender cuts, and still would be best with a longer cooking time.
⏱️ Time Hack - Costco has their New York Strip Shabu Shabu style steaks. They are very very thin, so you just quickly throw them into a pan or on the grill. The steaks need about 60-90 seconds per side to cook depending on how you like them.
Sous Vide
From faster cooking to slow cooking - sous vide is my favorite way to cook a steak. Yes it does take longer. However once you get your steak all set up in the water bath you can work on the rest of the meal while the steak cooks. I usually cook my steaks for 1 hour unless they are tougher ones that need longer time. This gives you plenty of time to put the rest of the meal together.
I also like that sous vide takes the stress out of cooking a steak. Since it's cooked to a perfect temperature you don't have to worry you are going to serve a raw or overcooked steak. You simply sear it for 1 minute or 2 right before serving when all the rest of the food is ready. So the most important part of the meal is served pipping hot.
If you have been to a Mexican restaurant you likely have seen people ordering fajitas that comes sizzling to the table. They are served on a cast iron griddle usually with a piece of wood underneath it. I got one of those for myself (I have the Lodge brand one) and I love to finish my sous vide steaks on them and use the skillet as my plate. The steak stays warm throughout eating it.
Share a Steak
The Flat Iron steak is a perfect steak that you can share. They usually come pretty large and you can just cook one steak and share it with your sweetheart. Not only are they one of the best tasting steaks they often cost less than Ribeyes, Strips, and Tenderloins.
🍴 RECIPE - How to Cook a Flat Iron Steak
🥔 Potatoes
Now that we have our steak plan down, let's look at the sides, starting with potatoes.
The fastest way to cook potatoes is by boiling them. For this you want smaller potatoes or fingerling potatoes. These are cooked whole with the skins on. The skins themselves tend to be thinner, so I think even someone who prefers a peeled potato would still be ok with these unpeeled.
Boiling isn't the most flavorful way to cook potatoes. However, you can easily add some great flavor to them by serving them with garlic butter. Fresh dill is a great choice as well. Not only does this pair well with potatoes, but it does with beef too.
🧂 Flavor Hack - Got an air fryer? Cut off the top of a bulb of garlic. Drizzle with olive oil, then completely wrap in foil. Cook in your air fryer at 390 degrees for about 20 to 25 minutes until the garlic is soft. Then serve this with your boiled potatoes. It will take about the same time or so to boil the potatoes.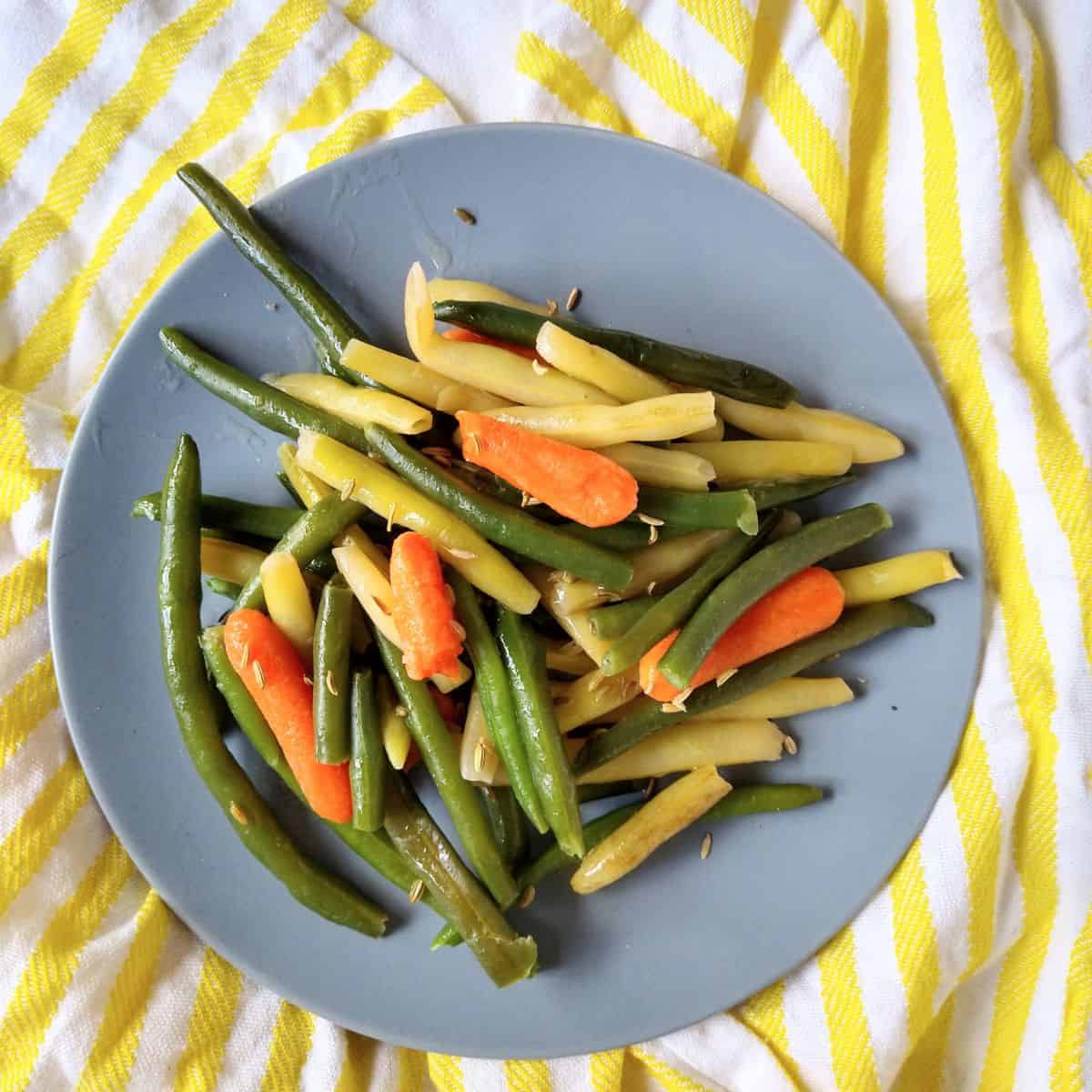 🥕 Vegetables
A medley of green beans, wax beans (optional), and baby carrots will add some color to your plate. You can buy fresh or frozen. The frozen will take a little longer to cook but honestly not much, only a couple minutes.
Here are my instructions
In a pan, add 1 pound of a mix of beans and baby carrots along with 4 tablespoons of butter and just enough water to cover the bottom of a pot. We are going to steam them just a little at first to get them started.
Once the water boils off, reduce the heat to medium and cook until the vegetables have softened. You will probably need about 10 minutes to make this.
🧂 Flavor Hack - At the end I like to drizzle on some dark honey, like a darker wildflower or Buckwheat honey along with some freshly chopped tarragon. Cumin or fennel seeds can also be a welcomed edition to elevate this simple side.
🍞 Bread
Sure you could just buy bread in the store and serve that up. But if you are looking to make this meal 100% homemade, then think about making a quick bread. That is any bread you can make that doesn't require any rise time. This includes your banana breads, your zucchini breads, your biscuits, etc..
To also save on time, you want something that you can make without having to kneed or roll out any dough. What I recommend is Cornbread Muffins. They are easy to throw together and super tasty. My recipe uses blue cornmeal but you can use any cornmeal you got.
⏱️ Time Hack - Baking individual muffins is going to be quicker than baking an entire loaf of cornbread. My muffins take about 12 minutes to bake while a loaf of cornbread is going to be closer to 20-25 minutes depending on thickness.
Another bread that is easy to make is Irish Soda Bread. It's made using baking soda and buttermilk. No rise time. Serve it up with some Kerrygold Irish Butter.