In this post we examine the canned tomatoes you can find at Trader Joe's with a particular focus on their San Marzano tomatoes. Are they authentic and worth buying?
When it comes to canned goods, I typically won't even consider them.
The only exception I make is tomatoes. Canned tomatoes are canned at their peak.
The tomatoes you find in the grocery store are often picked early, and then treated to turn them red, so their sweetness and flavor aren't as developed.
When I can't get my own tomatoes from my garden or farmers market, I turn to canned. Like the ones from Trader Joe's!
Today we are going to talk about what Trader Joe's offers and what San Marzano tomatoes are.
Jump to:
🙋 Why San Marzano
Why would you want to buy San Marzano tomatoes? If you are making a sauce they are the best tomato for that. They are meaty with less water than beefsteak tomatoes. This means you get more sauce out of them then you would a beefsteak that you have to boil off water.
Authentic San Marzano tomatoes that grown in volcanic soil in Italy are world renown. The authentic ones will come with a DOP label that looks like this: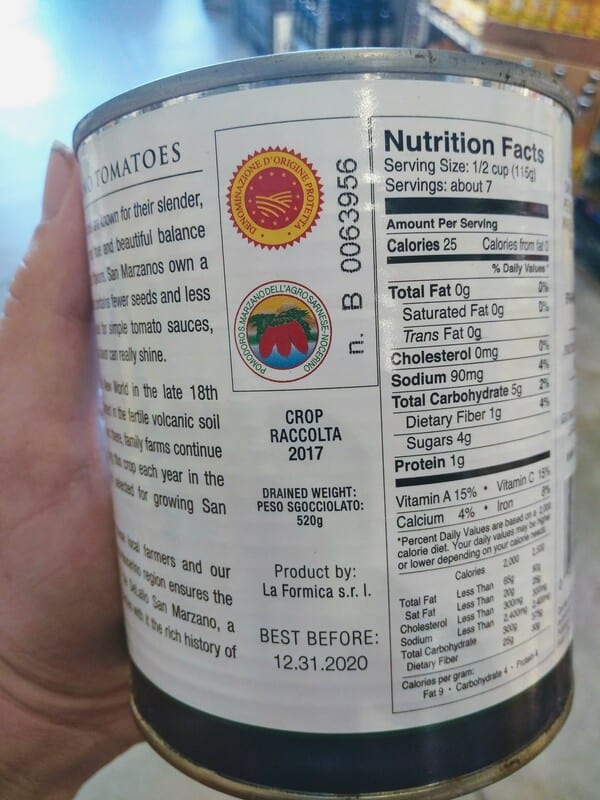 Did I find that label on any Trader Joe's tomatoes? No I did not. Does that mean the tomatoes are not good then? No. It just means they are certified from the growing region in Italy that is best for San Marzano.
These are San Marzano variety tomatoes I grew in my garden.
I don't claim they are as good as the Italian ones, but they were still pretty good.
Trader Joe's now carries canned San Marzanino. The "nino" add the end means small. These aren't your full sized tomatoes, they are petite tomatoes. I am not sure if they are a different variety altogether or just really small tomatoes that they found a use for. Anyway you cut it these are perfect for making sauces or anything that you are just going to puree in the end anyway.
🟡 Cento Tomatoes
As you saw in the picture at the top of the post, Trader Joe's carries Cento brand tomatoes as well. These are in fact a product of Italy. But the cans were lacking the DOP label on them. They actually got involved in a lawsuit.
Regardless they are still good tomatoes. I don't have an issue with buying them. If you don't care about the actual size of the tomatoes, then go with the Trader Joe's San Marzanino as they are $1 cheaper a can.
🥫 Unsalted Plum Tomatoes with Basil
These are the canned tomatoes I originally wrote about when I first published this post. On my most recent trip to Trader Joe's they did not have them. I liked them because
Good value
Plum shaped
No added salted
Already peeled
They were $1.49 for a 28 oz can, which is a great deal. Was my Trader Joe's out or do they no longer carry them?
Another thing I like about them is that they were plum shaped tomatoes. These make for a better sauce, due to their meaty interior. I also like that they were unsalted, which means I have full control over salting, which is always something I want.
I used to buy two cans of the tomatoes to made enough sauce for 16 ounces of bucatini pasta as well as some leftover which I froze to make a pizza at another date. Even thought the cans contained some basil already, I still always added some fresh basil to the sauce, as I wanted that fresh taste.
Read our post to help you find the authentic DOP San Marzano tomatoes.
❔ Do They Contain GMO Ingredients?
There aren't any genetically modified tomatoes currently in mass production. It was attempted in the 1990s with the Flavr Savr variety but it ended up being a miserable failure. I think with the rise of green house grown tomatoes you may not seen another attempt at producing a GMO tomato any time soon.
🍅 Heavenly Villagio Marzano Tomatoes
Over in the fresh produce section you will find the Heavenly Villagio Marzano Tomatoes. These are from Mexico, not Italy. I heard someone else say they saw they were from Canada, so could be from either. They are hot house or greenhouse grown.
So what you are getting here is a tomato that is larger than a cherry tomato but still on the same size. These are tomatoes that are good for those that want a more meaty tomato on their salads or to just snack in. I think they also would be good for sub for cherry tomatoes in my One Pot Linguine with Tomatoes & Cream.
⭐ More Reviews for Trader Joe's Fans
Here are some more reviews I have written about Trader Joe's products.