Ideas of what side dishes you can make ahead of time for Thanksgiving day that will save you time and stress. From cranberry sauce to brown & serve rolls to mashed potatoes there are plenty of foods you can prep ahead of time.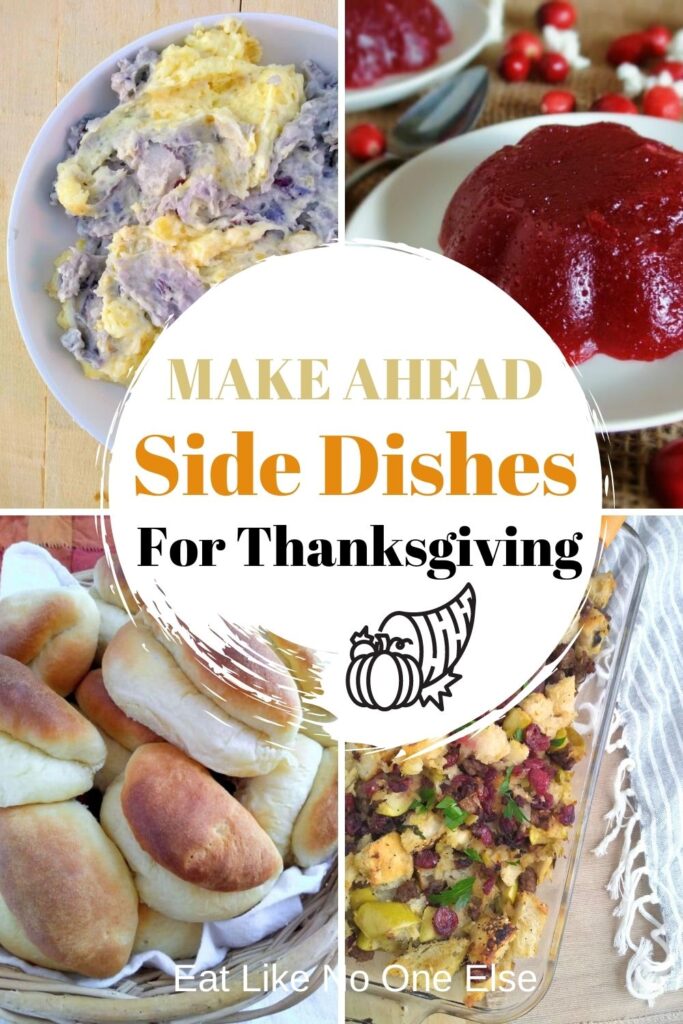 Thanksgiving is alot.
We plan for it to be a feast full of turkey and more sides that we would ever make on a normal day of the week.
With that can come stress and frustration.
We want to help.
One thing you can do is make food ahead of time, that way you have less to do on the day of Thanksgiving.
This guide will take you through the dishes that you can best make ahead.
Here are what side dishes you will hear about in this post:
Jump to:
Cranberry Sauce
Let's start with the easiest make ahead side dish - the cranberry sauce
There is really no reason to make it on Thanksgiving day. The sauce needs time to setup, so it's best when chilled. You can make it the night before, the Monday before, or even the weekend before.
The tartness of the fruit and the sugar that you add will keep the sauce from going bad for a long time.
Cranberry sauce is often the first thing I make for Thanksgiving.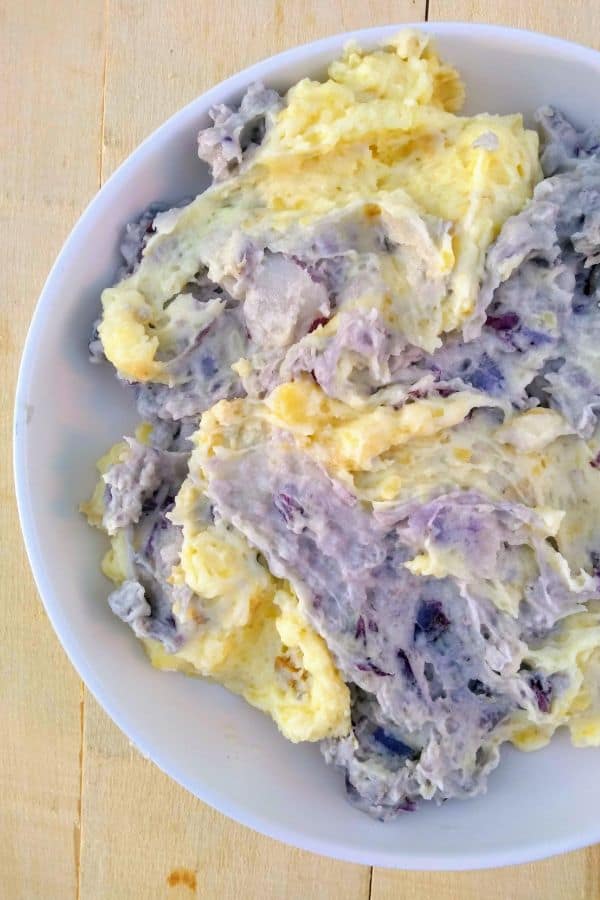 Mashed Potatoes
Yes, you can for sure make the mashed potatoes and reheat the the next day. It can be a challenge to reheat if you have a lot besides just throwing them in them microwave and I am one the rule that the microwave should not be used on Thanksgiving (unless you are melting butter or chocolate!)
What you could do is make them ahead of time and put them in the oven right when the turkey comes out. Put some Parmesan cheese on top. Man, would those be delicious!
My advice would be to put the mashed potatoes in a wide vessel in a thin layer so that they reheat faster and you get more browning on them.
? Got a sous vide machine? Try my Make Ahead Sous Vide Mashed Potatoes
Brown and Serve Rolls
We all would live to have freshly baked rolls on Thanksgiving. But something that is too hard to do.
Let me submit the idea of making brown and serve rolls. What you do is you make the roll ahead of time, even a week or more ahead, and bake them but not all the way until they are browned. You cool the rolls and place them into a gallon size plastic bag and into the freezer.
Than on Thanksgiving you bring them out to thaw and pop them in the oven to finish once the turkey is out. Then you have freshly baked rolls for your meal.
To make brown and serve rolls:
Bake in a 275 degree oven until outside of the rolls is just beginning to set but has not browned. Should take about 20-30 minutes .
Allow to cool to room temperature before freezing.
Thaw the rolls before browning in the oven at 400 degrees (about 8 to 12 minutes)
Casseroles & Stuffing
When turkeys are done you need to let them rest for 30 minutes before carving in order to redistribute the juices in the turkey so they won't just run out when you slice it.
That is a great time to throw something else in the oven that can finish in about 30-45 minutes. Stuffing or casserole that you put together ahead of time and then pop into the fridge overnight are perfect to be finished during the resting/carving time.
I did this recently with a Cheesy Grits casserole. I made the casserole up to the point in which it needed to go in the oven. Came out, hot perfect when the meal was ready to eat.
Gravy
Gravy isn't too bad to make ahead of time. But there is one issue. If you have ever noticed leftover gravy is too thick once cold? It never seems to come out right once you reheat it. Not as good as freshly made at all.
There is one thing you can try that will help. I learned from Alton Brown that it if you use two different types of starch to thicken your gravy that it won't turn into one big lump in the fridge.
I would try using half flour and half corn starch if you are going to make gravy ahead of time.
♨️ Make sure to check out my tips on how to keep gravy warm on Thanksgiving
Sweet Potatoes
Sweet potatoes are as easy to do as mashed potatoes.
I think they work really well for cooking ahead of time and then placing into a dish. Throw them into the oven once the turkey is out, making sure to bring the sweets out of the fridge for an hour before hand to get the chill off.
My favorite thing to do is sauté some shallots up. Mix them in and add some dried sage. This is really yummy if you can get some white or purple sweet potatoes.
Want to avoid last minute Thanksgiving shopping? Check out our guide to Low Stress Thanksgiving Shopping and have less anxiety this year about shopping for the big meal.
Prep the Turkey
I didn't want to end this post without taking a moment to talk turkey. While I don't recommend cooking the turkey ahead of time and reheating it - I do recommend seasoning and preparing the turkey ahead of time.
Every year I make a dry brined, butterflied turkey. The turkey is flatten out making it cook faster, and giving it crispy skin. All the brine seasonings go on the turkey on the Sunday before hand and it just hangs out in the fridge til Thanksgiving.
Then all you have to do is put in directly into the oven when it's time to cook it. You are not spending time seasoning it before hand. Great time saver and stress reducer.
Do you have any more make ahead ideas where that I didn't mention? Or anything you want to know how to make ahead.? Leave a comment below.