This post is a part of my What is ____ Cheese Series? featuring | Muenster | Brick | Gouda | Colby
The wonderful world of cheese. It's a rather big world. You can spend a lifetime trying different types of cheese and a fun lifetime it would be. It's amazing what you can do by just starting with milk. My mission is to help you better understand some of them, so you can better know how to select them and use them. Today, we are looking at that favorite Dutch cheese, Gouda!
Origin of Gouda Cheese
Like many cheeses (such as Colby), Gouda is named after it's place of origin, Gouda, Netherlands. This town has been a cheese center for quite a while. A weighing house, a place where one brings their cheese to be weighed, was built way back in 1668. This building has been restored and still stands to this day. Most of the cheese that is produced in Holland today is Gouda. If you can find Gouda labeled Noord-Hollandse Gouda, then you know you are getting Gouda from southern Holland.
How is Gouda Made?
Gouda is made by a process of washing the curd. Here is what takes place
1) Some of the whey is drained
2) It is replaced by warm water
3) Then drained again
4) More water is added
5) Water is heated, which will help expel moisture from inside the curd
6) The cheese is pressed for hours, even days (giving the cheese it's flat round shape)
7) The cheese is aged on average from as little as 1 month up to 3 years.
The purpose of washing the curd is to reduce the amount of lactose in the cheese. Lactose is the naturally occurring milk sugars.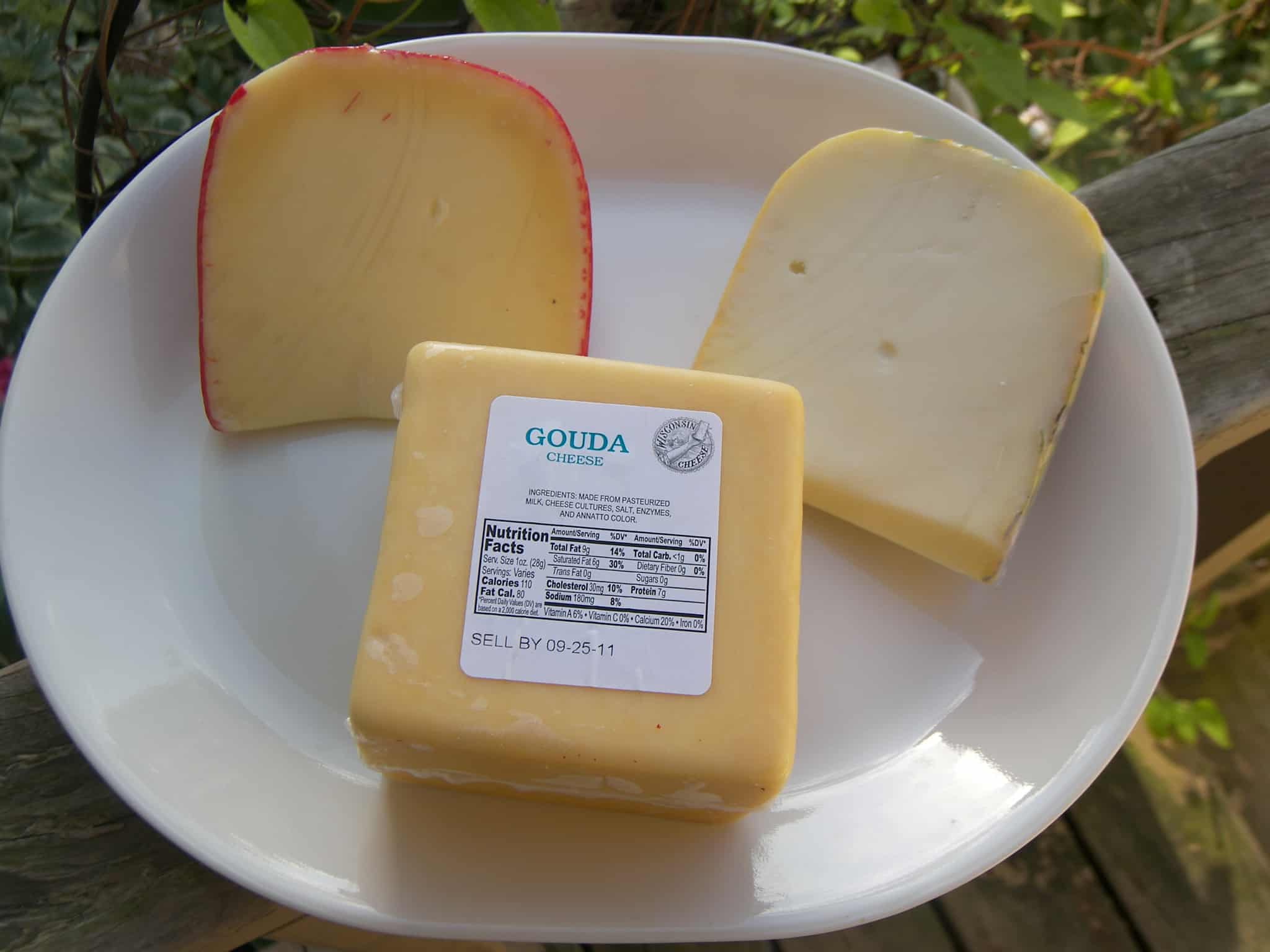 What Does Gouda Taste Like?
Never had Gouda before? Well it has a sort of sweet, slight fruity taste that increases with age. The cheese become harder and more brittle. It's a creamy cheese, a lot more so than cheddar. The best Goudas will also be the creamiest. Cheesemakers like to add spices to the milder young Goudas. Some popular choices are cumin and caraway. You can also find smoked Goudas at most supermarkets.
Black Wax vs. Red Wax Gouda
Often you will see Gouda come in either a black wax or a red wax. These colors can be used as a guide. The red wax Gouda tends to be the younger Gouda, aged around 6 months or so. While the black wax Gouda is older, usually aged from 12-18 months.
What to Use Gouda For?
Gouda is a great melting cheese. I like to combine some with cheddar for mac & cheese. (Check out my post on How to Use Gouda in Mac & Cheese) It works well on any cheese board. I sampled some recently along with some relatively mild cheeses and it went really well. I also have heard that it works well in cheese soups. Emeril Lagasse has a recipe online for smoked gouda mashed potatoes. Alton Brown recommends using Gouda for grilled cheese sandwiches and in fondue.
My Favorite Gouda - Beemster Graskaas
The best tasting Gouda I have ever eaten is Beemster Graskass. This Gouda comes directly from Northern Holland. The unique thing about this cheese is the milk that is used for it. The milk is from the first milking of the spring, when the cows are released to graze the fields for the first time since before winter. This produces a cheese that is extremely creamy and delicious. I used 4 ounces of this cheese along with 4 oz of sharp cheddar to make the best macaroni & cheese I have ever made.
Another top gouda that I recently tried is Jeffs Select Gouda. It has a bold, salty taste that I also enjoyed melting over some noodles.