Shopping for ham for Christmas? Or maybe some lamb? Below you will find our guide to what Costco has to offer for Christmas in 2019. We got all the prices and some tips as well.
While Thanksgiving is about the turkey, Christmas is more wide open.
People cook all different meats.
Does your family have a tradition? Or do you like to change it up every year?
Ham & lamb are both good choices that many people do for Christmas, although I think even more do them for Easter, especially lamb.
And if you are going to buy a ham or lamb at Costco this year (and there is probably a good chance of that since your reading this post). Then let me get right into it.
Check out all of our guides for Shopping for Christmas Dinner.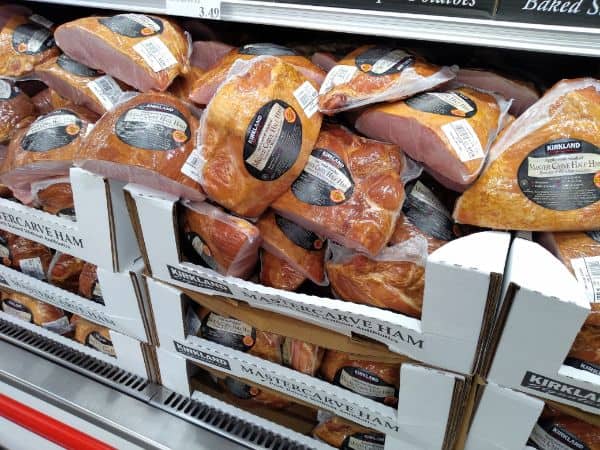 What is the Price of Ham at Costco?
Here are the prices of ham at Costco. I recorded these prices while at the Costco store in Ann Arbor, Michigan.
| | |
| --- | --- |
| Kirkland Master Carve Applewood Smoked Half Ham | $3.49/lb |
| Kirkland Spiral Sliced Ham | $2.29/lb |
| Noel Spanish Serrano Ham (14 lbs) | $99.99 |
Costco use to offer a Master Carve ham in a full size until they went to the half size a few years ago. Also there use to be a currant glaze that came with the ham.
Many people have complained about the glaze being gone, so I came up with a new glaze recipe that I like more than the one that use to come with the ham.
It's easier to still get a full ham, buy two halves!!!!
The Spiral ham in the red foil has been the same as long as I have been checking for hams at Costco.
What is the Best Ham to Buy at Costco?
Which ham do I choose?
For a while I was going for the Master Carve Ham. The reason being is that I like that the Master Carve is a boneless ham that hasn't been shaped into a log. The ham has a more natural look. Reason why it's called a Master Cave is that it is so easy to carve since the bone is gone and you don't have any weird fatty areas.
However, the price continues to go up, and now at $3.49/lb, it's not the best value anymore. The Spiral Ham is $2.29 a pound, however you get $5 off instantly per ham.
The spiral hams range between about 10 and 12 pounds. Here is what you would expect to pay with the $5 discount.
| | | |
| --- | --- | --- |
| Size | Cost | Price Per LB |
| 10 pounds | $17.90 | $1.79 |
| 10.5 pounds | $19.05 | $1.81 |
| 11 pounds | $20.19 | $1.83 |
| 11.5 pounds | $21.34 | $1.85 |
| 12 pounds | $22.48 | $1.87 |
| 12.5 pounds | $23.63 | $1.89 |
Even though the per pound price listed on the ham went up from $1.99 last year if you look in the column to the right above, with the $5 discount it actually ends up being cheaper per pound than last year.
How to Keep a Spiral Ham Moist
One of the biggest problems I have had with eating spiral hams cooked is that they dry out easily. So we came up with some tips on How to Keep a Spiral Ham From Drying Out.
What is a Serrano Ham?
You may or may not have noticed a huge boxed ham called a Spanish Serrano Ham and wondered what in the world is that? At $99.99 you also may be wondering why so expensive.
Serrano Ham is a dry cured ham. It's closer to prosciutto than to the other ham at Costco. It's not something you would necessarily cook. It's the kind of ham you are going to cut thin pieces off of and serve to your guests.
Serrano Ham is a great choice for a party along with cheese, crackers, other sliced meats, olives, fruit, etc. Not something you would really serve as Christmas dinner.
The ham is dry cured for 12-16 months and includes a stand and knife., hence the $99.99 price tag. I have seen them going for a long more, so Costco is actually offering a pretty good deal.
This is something Costco only offers at Christmas time unlike the other ham that is available year round.
What is the Price of Lamb at Costco?
If lamb is your thing for Christmas, here is what Costco offers.
| | |
| --- | --- |
| Rib Roast (Rack) | $13.99/lb |
| Boneless Leg Roast | $5.99/lb |
| Loin Chops | $6.99/lb |
The only difference in price from last Christmas is the lion chops went down to $6.99/lb from $7.99/lb.
I haven't published any lamb recipes on the blog yet, but here are a couple I recommend:
How to Cook a Leg of Lamb with a Garlic Sauce
Lamb Loin Chops with Lemon Mint Salsa Verde and Flageolets
My Favorite Tool to Use for Cooking Ham or Lamb?
As a final word of advice, I always recommend that whenever you are roasting beef, that you use a probe thermometer. These take the guess work out of to when your meat is perfectly done the way you want it.
A thermometer has saved me so much stress and heartache over the years. I am always telling people to get one, for good reasons!
Disclaimer: This posts includes affiliate links. This means that at no additional cost to you, I will earn a commission if you click through and make a purchase. These are products and services I recommend because I use or trust them. Cookies will be used to track the affiliate links you click.