It's time again for my popular post of the season. Everyone loves Costco and it's a great place to get your turkey for thanksgiving, whether you want a fresh turkey, organic turkey, or a smoked turkey. We will answer all of your most frequently asked questions.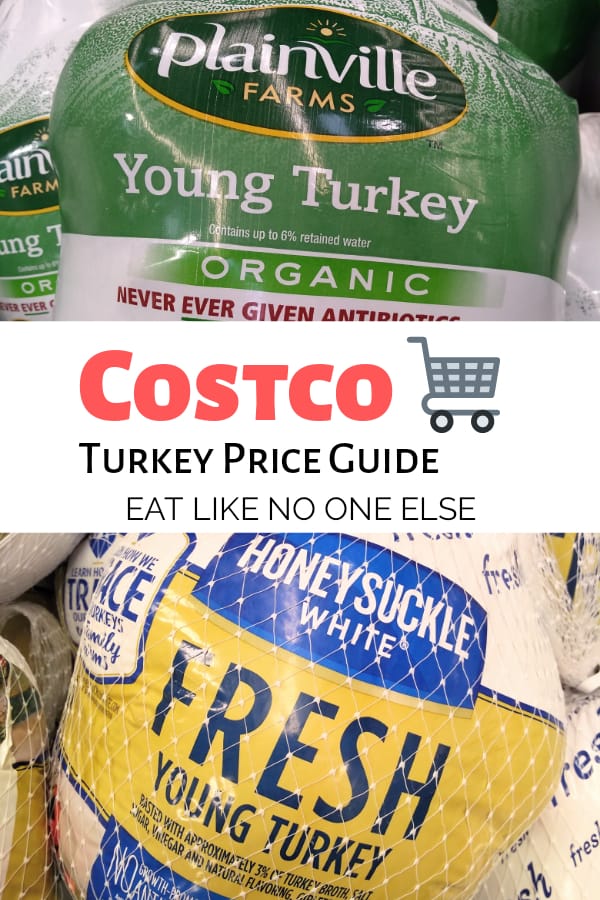 ? Looking for the 2020 Costco Turkey Price Guide. CLICK/TAP HERE!
Oh how I love Thanksgiving.
And how much do I love shopping at Costco for Thanksgiving.
They have so many great deals going on right now, I could write an entire post about that (and I have before too!)
But today we are focusing on the star of the Thanksgiving show, the turkey.
We are going to take you through all the turkeys available at Costco as well as answering the most commonly asked questions.
Let's get down to business! Gobble gobble!
How Much Do Turkeys Cost at Costco?
Here is the selection of turkeys I found at my Costco store in Ann Arbor, Michigan on Monday, November 18th, 2019 (2020 prices coming shortly once turkeys arrive in store)
Looking for 2020 prices, check out our 2020 Costco turkey guide**
| | |
| --- | --- |
| Honeysuckle White Fresh Whole Turkey | $.99/lb |
| Plainville Farms Organic Turkey | $2.99/lb |
| Kirkland Hickory Smoked Turkey | $2.99/lb |
The best price for a turkey at Costco is the Honeysuckle White Fresh Whole Turkey at 99 cents per pound.
Frequently Asked Questions
Here are the most commonly asked questions I get about buying a turkey at Costco.
What is the Best Day to Buy a Turkey?
Since they don't sell frozen turkeys you don't need to consider buying one in time for it to be thawed. Also you should know that typically when fresh turkeys arrive their sell by date is after Thanksgiving, so you don't have to be concerned about it going bad on you.
For the best selection, I think if you go on the Friday before Thanksgiving or the Saturday morning before you will find the best selection and are most likely to find the perfect sized turkey for your meal.
The more popular sizes sell out faster. If you try get one the day before you may only have larger turkeys to choose from. I have even heard of stores selling out by then.
Does Costco Sell Fresh Turkeys?
Yes. Unlike most retailers, Costco sells nothing but fresh turkeys, no frozen turkeys at all. You won't need my quick thaw instructions if you buy a turkey at Costco!
If you are wondering why your fresh turkey feels hard, like it is frozen, just know that turkey are deep chilled and may appear harder than say a fresh whole chicken.
Sometimes a fresh turkey can be accidentally frozen so if you open the packaging and it is frozen than you should take it up with the store you bought it at.
Does Costco Sell Hen or Tom Turkeys?
The words "hen" and "tom" are just used to describe the size of the turkey. In general hen turkeys are under 16 pounds and tom turkeys are over 16 pounds.
Does Costco Sell Organic Turkeys?
Yes. I have seen Costco offer two different brands of organic turkeys - Foster Farms and Plainville Farms. The selection may vary depending on where your store is located. Plainville Farms is based in the east and Foster Farms is based in the west.
The price is normally $2.99 per pound, which is what I found the Plainville organic turkeys going for this year.
I you want to learn more about what is and what isn't an organic turkey, read this post.
Does Costco Sell Butterball Turkeys?
Every year since I have been shopping at Costco I have found Butterball turkeys. This season either they did not have them when I went in or they are carrying Honeysuckle White instead, which until now I had not seen at Costco.
I am going to check again later this week again. If you have found Butterballs at your store this year, leave a comment below.
Does Costco Sell Diestel Turkeys?
My west coast readers, have shared that Costco does carry some turkeys from Diestel. Their turkeys usually don't make it past the Rocky Mountains. If you can get one, I highly recommend them. They are high quality and Diestel raises their turkeys the right way.
You can learn more about Diestel turkeys by checking out Why Buy a Diestel turkey?
When Does Costco Get in Smoked Turkeys for Holidays?
Smoked turkeys arrived at Costco in early to mid November. They are one of the first ones to hit the stores. They should have them in stock to near Christmas but it doesn't hurt to get one early.
The smoked turkeys at Costco are the Kirkland store brand. They are hickory smoked and whole. They usually run pretty small in size, averaging between 9-12 pounds and come vacuum sealed.
I haven't seen just smoked drumsticks before at Costco in case you were wondering.
Read all instructions on How to Reheat a Smoked Turkey
Does Costco Sell Already Cooked Turkeys?
No, I have never seen already cooked turkeys for sale at Costco unless you count the smoked turkey I just mentioned.
What is the Largest Size Turkey at Costco?
Around 22-23 pounds are the largest size turkeys I have seen at Costco.
What is the Smallest Size Turkey at Costco?
Typically I don't find any of their turkeys to be under 12 pounds.
Does Costco Markdown Turkeys After Thanksgiving?
I can't gurantee every year they will, in the past they have marked down fresh turkeys after Thanksgiving to clear them out. People have reported them being $5 off for a hen size and $15 for a tom size turkey.
It really will just depend on much they sell before Thanksgiving and your particularly store. It's worth a shot heading in to grab one to freeze for later - if you can handle the long Black Friday lines!
Can You Order a Fresh Turkey from the Costco website For Pickup at a Local Store?
This is a very good question. I have searched all over Costco's website and there is no listings of any fresh turkeys on it. The "best" you could do is use a service like Instacart to get your Costco turkey. You could make an order through them and have the turkey along with any other food you want delivered directly to your doorstep.
I do know employees can put in order for turkeys because I saw a notice saying that went I passed their offices on the way to the restrooms. If doesn't mean that service is extended to customers.
Other stores will do orders such as Whole Foods, which you can start ordering right at the start of November.
How Are You Going to Cook Your Turkey?
Every year I like to cook a turkey that is dry brined and butterflied or spatchcocked. I follow Alton Brown's method. This makes all the hard work of preparing the turkey to be done the Sunday before.
A fresh turkey from Costco makes it easier. I have tried to butterflied a turkey that was frozen a bit in the middle still and my hands can't take that kind of cold!
As a Thanksgiving bonus, I wanted to share with you my favorite tools that will make your Thanksgiving easier.
Are you finding different turkeys in your store or different prices? Let us know what your store has by leaving a comment below. Thanks! Also feel free to ask any question you have.