Planning on doing your Thanksgiving shopping at the Fresh Market? Let me show you some of the things you can pick up for your meal that will make it a memorable one. Of course we will talk about the price of a turkey.
UPDATE - Turkey prices have bene updated for 2022, the other foods on the list are not updated yet.
Check out ALL of our turkey price guides for your favorite stores
Most people probably don't remember the first time they went to a certain grocery store.
A food blogger does.
I remember the first time I went to the Fresh Market. It was New Year's Eve. My wife, I, and our oldest (and at the time only) daughter were spending it in Fort Wayne, Indiana as a short getaway.
I was excited to check out a new grocery store in the Fresh Market. I was a brand new blogger a the time. It was my first time trying Cara Cara Navel Oranges. Fun times!
When we moved closer to Toledo, Ohio, yet still very much in Michigan, the Fresh Market is a store that I can visit every so often.
This year I wanted to share with you some tips on shopping there for your Thanksgiving feast.
Jump to:
Turkey Prices
Got to start with the turkey. Here are the prices of the turkeys I found at the Fresh Market in November of 2022.
| | |
| --- | --- |
| Whole Fresh Whole Turkey | $2.79/lb |
| Organic Fresh Whole Turkey | $4.49/lb |
| Bell & Evans Fresh Whole Turkey | $3.49/lb |
| Boneless Fresh Turkey Breast | $6.49/lb |
| Bone-In Fresh Turkey Breast | $5.49/lb |
Those were the only two options. Since the Fresh Market is about fresh foods, they don't have an extensive freezer section. You won't find any frozen turkey.
What I can tell you about Fresh Market turkeys is that they are never given antibiotics or any grown hormones. They are vegetarian fed.
The turkeys do not contain any added ingredients like salt, sugar, or broth like you see a lot with frozen turkeys and many fresh ones. This I do like.
No, they are not USDA organic turkeys. The Fresh Market says they are ethnically raised and given room to roam. I do not have any more details beyond that.
Thanksgiving Shopping List
Here is a list of other items you may want to buy for your meal. I will go into more detail after the list. Prices have not bene updated yet for 2022.
| | |
| --- | --- |
| Hard Squash | $1.99/lb |
| Pie pumpkin | $2.99/lb |
| Cranberries | $5.99 for 2 pound bag |
| Cranberries | 2 for $5.00 for 12oz bags |
| Organic Cranberries | $4.99 for a container |
| Apples for pie | $2.49/lb-$3.99/lb |
| Green or purple Brussels sprouts | 2 for $7 for 9oz cup |
| Sweet potatoes | $.69/lb |
| Purple sweet poatoes | $1.99/lb |
| Orgnaic potatoes | $5.99 for 5 pound bag |
| Fresh Market Turkey stock | 2 for $4 (1 quart) |
| Arrowroot Starch/Flour | $5.99 |
| Fresh Market 100% Pure Canend Pumpkin | $1.99 for 15o |
Hard Squash
Squash is a stable veggie to serve at Thanksgiving.
The Fresh Market has a great selection of squash from acorn to butternut to golden acorn to Turban, etc. They sell everyone's favorite squash as well - the pie pumpkin. They were out of stock when I was there, so if you might have to resort to canned pumpkin for your pie.
Or you can make a pie with a Hubbard squash (they had those). This huge sweet squash is known for making great pies. Read more abut pie pumpkin alternatives.
Cranberries
Fresh Market had plenty of choices when it came to cranberries. You get get the standard 12 oz bag of Ocean Spray cranberries. Or go bigger with a 2 pound bag of Naturipe cranberries.
Organic cranberries are another option as well. Your fresh cranberry needs will be met and cranberry sauce will be in your future.
Apples for Pie
Want to really wow your guests with your apple pie this year? Try out the Lucy Rose or Lucy Glo varieties. These apples are red on the inside making for a beautiful pie your guests will be stunned by.
Both of these varieties bake up nicely too. I highly recommend them. Lucy Rose is red on the outside and Lucy Glo is yellow on the outside.
I recommend if you use them to do a lattice top or a crumble topping instead of a full pie crust on top so you can really see the color.
Purple Brussels Sprouts
I love different colors in veggies that people aren't expecting. And I love Brussels sprouts for Thanksgiving. Two of my loves are combined here. Buy a cup of the green and purple Brussels sprouts to create a dish with a beautiful contrast of colors.
The purple Brussels sprouts don't taste too different, sort of like green cabbage vs. purple/red cabbage.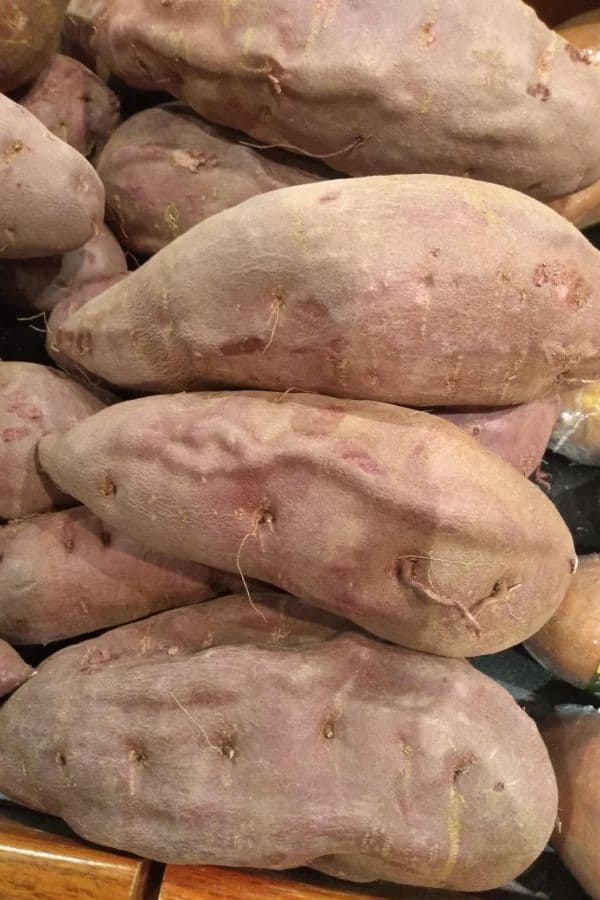 Purple Sweet Potatoes
Speaking of purple, give these Purple Sweet Potatoes a try. Purple inside and out. I think they have a better flavor than the orange flesh ones you are use to. They are my favorite to make sweet potatoes fries out of.
Want to make a sweet potato pie? You have to try it with these potatoes. You will be amazed by the bright vivid purple color that gets even more bright when you cook them.
Between these sweet potatoes and the Lucy apples, the Fresh Market is the place to go to make beautiful looking pies!
Turkey Stock
Lots of recipes for Thanksgiving call for chicken stock. Why not use turkey stock? Tis' the season!
Use this turkey stock to make your gravy. Or add it to your stuffing/dressing.
Potato Chips
I didn't have the guts to buy these myself, but I wanted to show them to you. These potato chips are suppose to take like stuffing and turkey. I looked at the ingredients, they include turkey powder, which I can't recall every seeing an ingredient before.
They are made with Irish potatoes.
If you have tried these potato chips, leave us a comment. I would love to hear what you think.